1882 Patent Gives a Whole New Meaning to the Word Overkill
---
---
---
Bohs Hansen / 7 years ago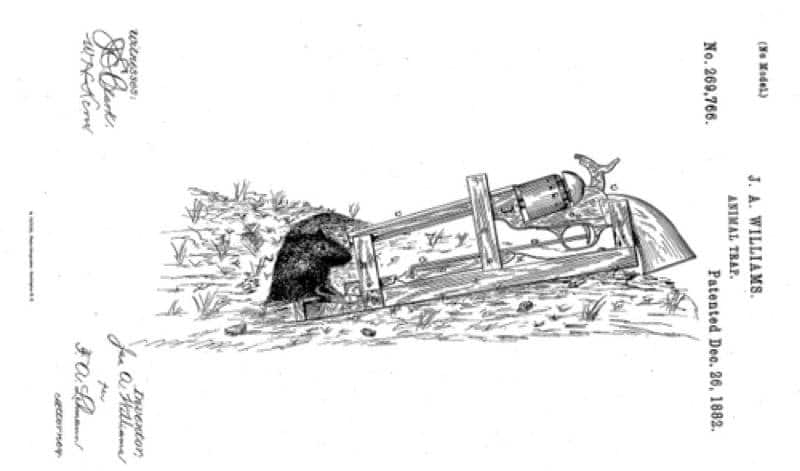 We mostly associate a patent and technology with modern times,. Our computers, and our inventions are the primary things to gain a patent, but it is something that dates way further back than you first expect and the patent offices have had plenty of work to do for quite a long time. These days we mostly hear about the wars fought between the market giants such as Apple and Samsung and lately even between NVIDIA and Samsung in the courtrooms all over the world and the weapons that they're wielding are patents.
Luckily all of these patents are harmless in themselves but the 1882 patent application for a mousetrap could be a dangerous one. We all know of the default snap traps used like we saw in cartoons to catch the rodents, but this one by James A. Williams of Fredonia, Texas is a little different as it uses a revolver as part of the trap.
The southern part of the US has always had a special reputation when it comes to firearms and that goes especially for Texas, which also might be the reason for the added bonus in this invention. It can also be used to keep larger rodents, AKA burglars, out of your home due to the added bonus where "this invention may also be used in connection with a door or window, so as to kill any person or thing opening the door or window to which it is attached."
While this is kind of funny, I'm personally looking forward to some more technology related patents and inventions that will revolutionize our world once more. What huge new invention are you hoping to see next? My faint hopes still lie on holographic displays and maybe even rooms or will we start to see an end to patents as a whole as we've seen from electric car manufacturer Tesla and it's CEO Elon Musk?