18L Project Nova Case Reintroduced as The Cerberus
---
---
---
Bohs Hansen / 7 years ago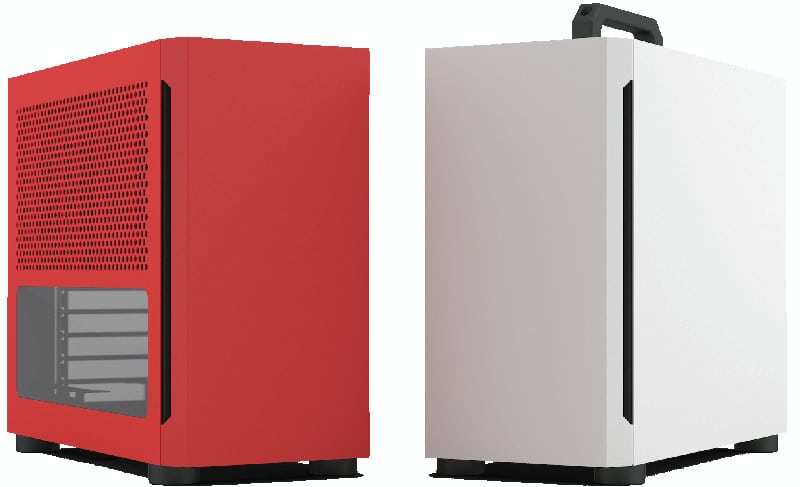 We could post the news that the impressive Project Nova was nearing its end and turn into a full-fledged product a couple of days ago and now that time is upon us. Project Nova got its official name which is the Cerberus and the company behind is called Kimera Industries. We could also reveal that the case would make its appearance on a crowdfunding site before making it to the retail market and the campaign date for this has also been announced.
So let us dive right into it with the most important information: The fundraising campaign will be launched on March 1st via Indiegogo which is when we'll find out about its pricing too.
The team behind the Cerberus mATX SFF enclosure made a few changes since the last test build, and these changes make the case even better in my opinion. The top handle has been removed and made an optional upgrade for those that would like that kind of feature and they also introduced a version capable of using AIO cooling solutions along with a full sized ATX power supply.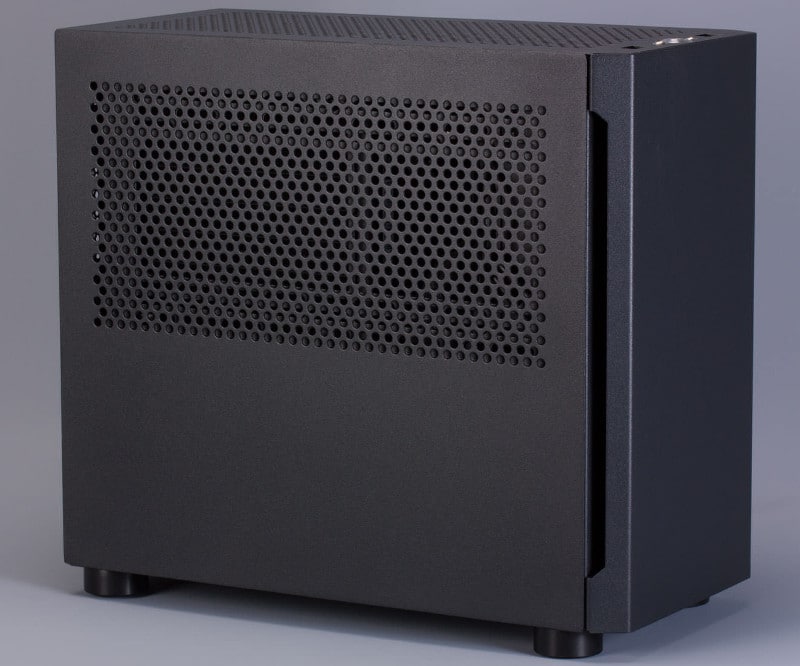 "After many design iterations, and following all of the enthusiast feedback we've received, we couldn't be more excited to announce Cerberus — as well as the impending crowdfunding campaign we'll be launching on March 1st, to support production" said Joshua Ramirez, cofounder and design lead of Kimera Industries. "With Cerberus, it's possible to create almost any high-end system — from octa-core workstations, to dual-GPU powerhouses, to multi-radiator liquid-cooled rigs — in a desktop you'll actually want to put on your desk."
Another one of the new changes in design is the optional side panel with a plexiglass window at the bottom. This will allow you to show off your high-end graphics cards in this impressive little chassis. The entire Cerberus chassis started as a scratch-build project by modders so this was an update that was to be expected and it is great that it's an optional upgrade. Not everyone wants to show what's inside.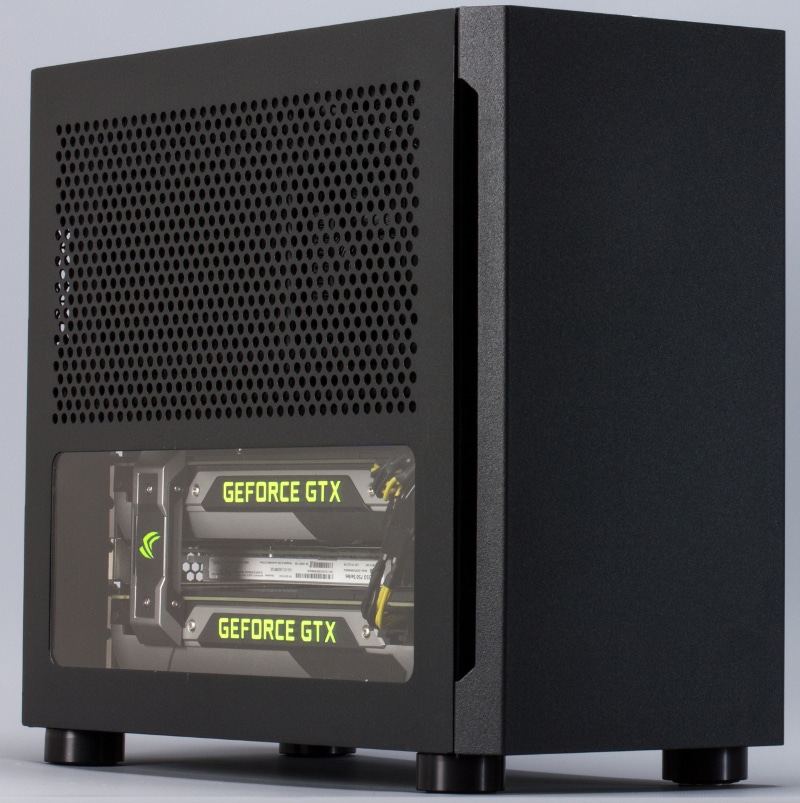 While SFX power supplies have come a long way, they're still not close to the wattage that is possible with normal ATX sized PSUs. Although you can get SFX PSUs up to 600W these days, Kimera Industries also created a second version of the case that takes higher needs this into consideration. In the ATX-PSU version the power supply is mounted in the more default rear location which also frees up the front for the AIO cooling that doesn't fit the mounting arm anymore.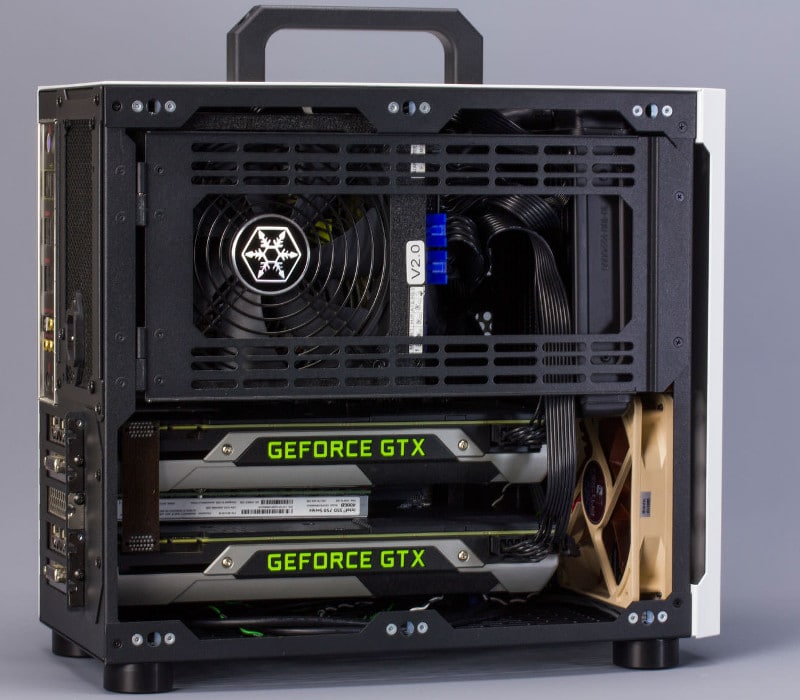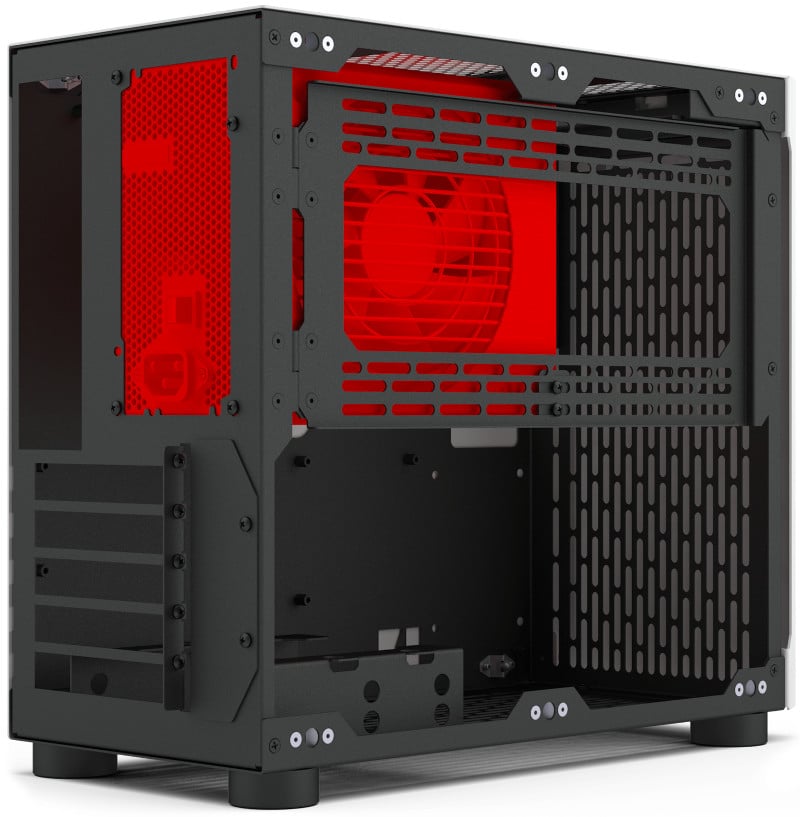 Colour is another thing where the Cerberus comes in several options. It will be available in default Obsidian Black as well as Pearl White and Carmine Red versions to match the colour of your internal hardware. The red version will be a stretch goal for the fundraising campaign, but I have no doubt that the goal will be met quickly.
The Cerberus breaks with the norm in more places that we've already covered and the next is the way it's put together. Most cases rely on screws or simple plastic clip-and-pin systems, but not so with this case. The Cerberus is built with industrial-grade clips and pins made entirely of steel and that allow the case to come with a convenient yet reliable mounting system.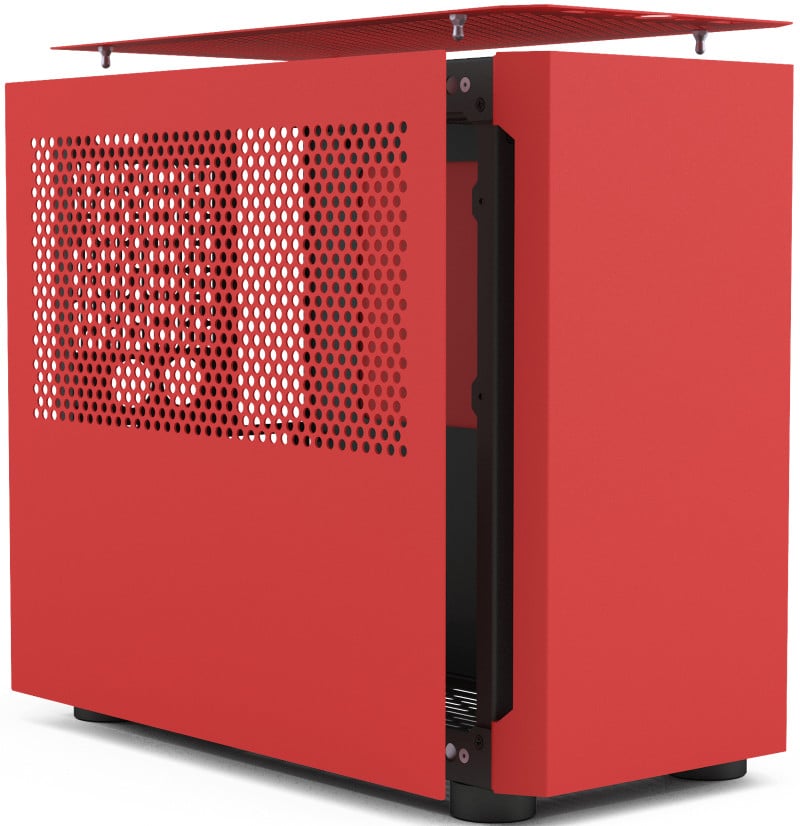 Cerberus Features
Size: At just 18.2L, Cerberus is smaller than some of the most popular mITX cases on the market, from Fractal Design's Node 304, or BitFenix's Prodigy. When compared to most mATX cases, Cerberus typically bests the competition by 10L or more – a whopping 40%+ volume reduction.
Quality: Made entirely of powder coated steel, and assembled in the United States, Cerberus is built to last for the long haul, with thoughtful features such as user replaceable parts, durable metal hardware, and all-steel panel clips and pins.
Design: Cerberus embraces a minimalist, refined aesthetic, with a luxurious matte finish and industrial design that embraces clean edges and understated features over bright lights and garish plastic accents.
Customizability: With multiple colors on offer, additional colors available as stretch goals, and the option to add an optional metal handle and/or plexiglass window, Cerberus is engineered to be customized to enthusiasts' exact preferences.
Flexibility: From SFX and ATX PSU support to the hinged side bracket, to the innovative Infinite Vent system, Cerberus retains some of the most diverse hardware support in the industry, and can comfortably contain systems as simple as HTPCs and as sophisticated as water-cooled, multi-GPU gaming powerhouses.
Craftsmanship: Through a unique partnership with Sliger Designs, every Cerberus is built by trained and talented engineers on Sliger's production floor, located in Sparks, Nevada, USA. By manufacturing enclosures domestically, instead of through nondescript factories in China or Taiwan, Kimera Industries is able to maintain strict quality controls, communicate constantly with engineers on the floor, and greatly expedite production and shipment of units to backers – all while supporting local workers, businesses, and communities.