1990s Flying Car Prototype Up For Auction
---
---
---
Ashley Allen / 8 years ago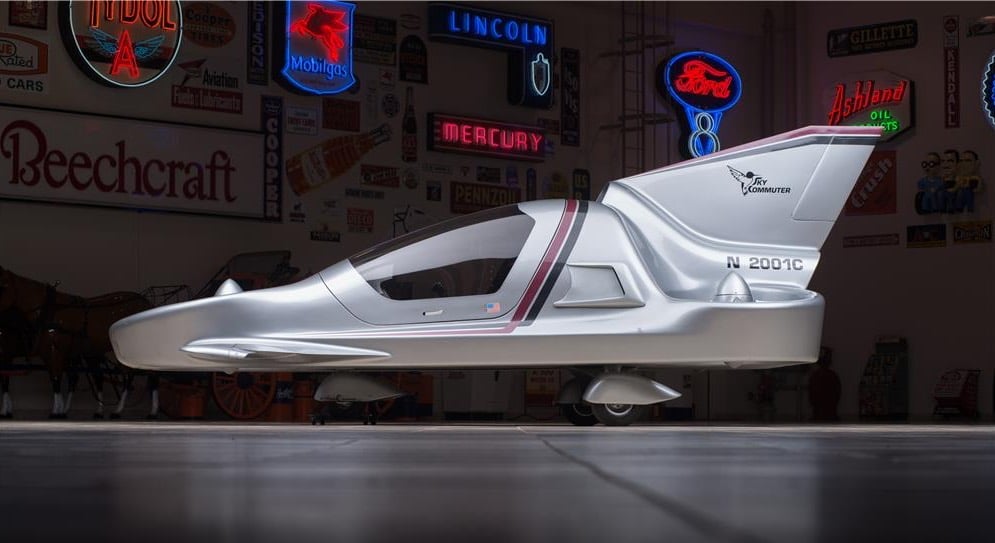 Back in the late-eighties, ambitious aeronautics company Sky Innovations pumped $6 million into the production a flying car. The result of that folly, the Sky Commuter, helped bankrupt the business. Only three prototypes of the Sky Commuter were produced in 1990, and the last surviving model is being put up for auction this coming weekend.
The technology behind the Sky Commuter is the same that allows a Harrier Jump Jet to take off from a standing position, known as vertical take-off and landing (VTOL). However, Sky Innovations were never able to prove – either in practical demonstrations or photographs – that any of the three Commuters produced could achieve VTOL flight, and the model on sale is being sold as a non-working prototype.
The Sky Commuter last sold back in 2008 for $130,000. Here is the description of Sky Innovation's VTOL from that previous auction:
It has a operational electric gas assisted lexan bubble canopy. Electric controlled directional driving and landing lights. Electric Joystick and two foot pedals on both side and the craft was meant to be controlled from either seat. Advanced front dash shell made of Carbon fiber and Kevlar. Rear engine and electronics bay accessible by tilting seats forward and removing the back panel. (3) huge 3 foot lifting fans CCW/CW rotation. This was made to take off in vertical fight and land. It can be landed on water and float like a boat and take off of water. The targeted dream was to lift above it all and not deal with the daily gridlock traffic. Nearly at the finish line it all came to an abrupt stop and all the years, investment, R&D and production remains in this one craft shown here.
The Sky Commuter is being sold at the Barrett-Jackson classic car auction in Scottsdale, Arizona on Saturday, with no reserve.
Source: Gizmodo