1More Evo Wireless Headphones Review
---
---
---
Peter Donnell / 4 weeks ago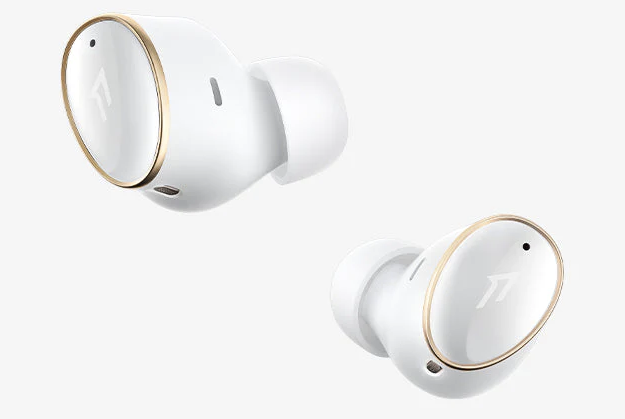 I seem to have been cursed with headphones in recent months. Firstly my old 1More headphones decided to fail on me, absolutely may have been due to them being dropped… a lot, because I'm an idiot. I managed to keep them going long enough to last my trip to Taiwan for Computex, only to drop one of the earbuds down the side of my seat and watch it vanish into the depths of the hull of the plane never to be seen again. My Audeze headphones broke and are currently on their way to America for an RMA, and my Creative Theatre has died (again, tut-tut Creative), and… my Creative Amp is having software issues too. So imagine my amazement when 1More stepped up and sent me these fantastic 1More EVO headphones. For review? Yes, sort of, but really, they're helping me out of a bind here, and I couldn't be more grateful.
This has been a cursed review too though, constantly getting pushed back, which isn't usually how things happen here, but on the plus side, it's given me a solid few months of using them outside of work to really get to know them, the good, the bad, all of it. It's good for our readers too, as they launched at £159.99 but are now 50% off and available for just £89.99! So… are they worth the investment? Short answer, yes, long answer… keep reading!
Features
WIRELESS AUDIOPHILE SOUND– A hybrid acoustic solution of a 10mm dynamic driver paired with a balanced armature and a Grammy award-winning sound engineer work together to reproduce studio sound quality that musicians and sound engineers strive for. Experience crystal clear highs, accurate mids and warm bass in your music.
LDAC TECHNOLOGY– The 1MORE EVO is designed to provide an uncompromising wireless listening experience. With the integration of LDAC codec technology, certified to provide Hi-Res Audio Wireless with a decoding rate of up to 900Kbps, the 1MORE EVO can deliver fully enriched details and accurate music reproduction. Every fine detail in your music will be shining.
ADAPT TO YOUR SURROUNDINGS– Our proprietary QuietMax active noise cancellation technology allows the earbuds to automatically adjust the noise cancellation level (up to 42dB) to fit your ever-changing environments, bringing you the most immersive audio experience. And there are multiple noise cancelling modes available, so you can control how much of the outside world you let in wherever you are, whatever you're doing.
AI-ENHANCED CALLS– Triple microphone array with an AI-powered DNN (deep neural network) algorithm detects and removes background noise, delivering unrivalled speech clarity when making calls on the move.
SEAMLESS SWITCHING– 1MORE EVO can be connected with two devices simultaneously and effortlessly switch between music, online meetings, videos, and calls on the two connected devices.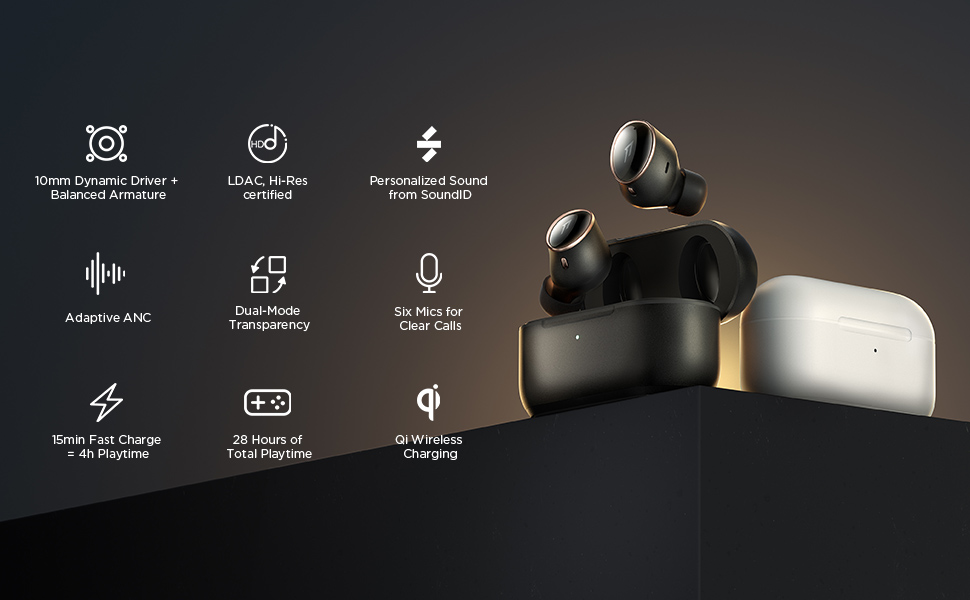 Multiple ANC Modes
Designed to satisfy your noise-canceling demands in different environments.
ANC Strong: Up to 42dB noise cancellation depth. Effectively eliminate the deep rumble produced by airplane engines, trains etc., perfectly suitable for traveling by airplane, high-speed trains.
ANC Mild: Keep a delicate balance between reducing the ambient noise and in-ear pressure. It's a wonderful solution when you want to relax in the coffee shop or keep focused in the office.
Adaptive ANC: Feel your favorite beats, not the whistling wind. The microphones will detect the wind noise that enter into the earbuds and automatically suppresses it to provide clear music enjoyment or calls. Suitable for the beach, outdoors and on windy days.
WNR(Wind Noise Resistant): Automatically adjust the noise cancellation depth to the surroundings. No need for manual adjustment to get a most suitable listening experience.