1MORE Quad-Driver Hi-Res In Ear Headphone Review
---
---
---
Peter Donnell / 5 years ago
---
1MORE
There are many amazing audio brands on the market, but few are making as much noise as 1MORE right now. We've had the pleasure of testing a few of their headsets, and we'll have the reviews to prove it soon enough. Of course, this is the first one we're sharing with you, and when I saw the specifications and history of these headphones, I literally couldn't wait to test them. They're as premium as they come, and the fact that they're the world's first THX Certified in-ear headphones should give you some indication of what they offer.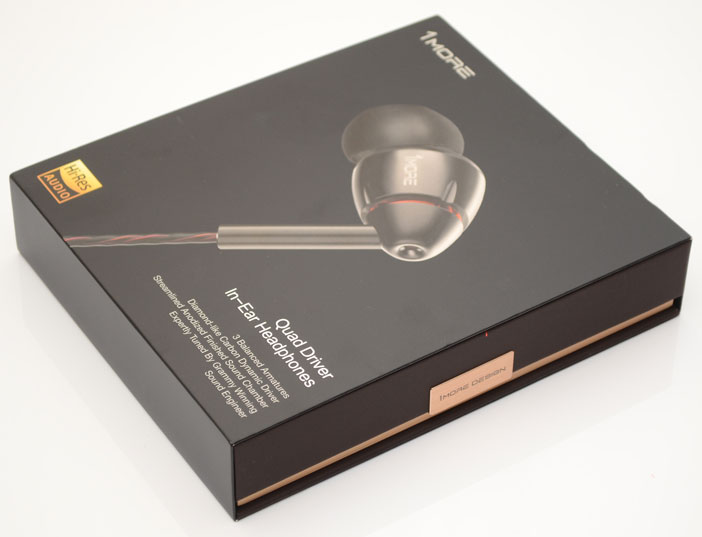 Using a carbon dynamic driver for the main drive, as well as three balanced tweeters, they promise to produce way beyond the lows and highs of the human hearing range with crystal clear quality. Of course, as $199.99, they're hardly typical consumer tech. However, for audio-purists, they're far from the most expensive headphones in the world, yet promise to be some of the finest. If you're still interested, read on!
Features
World's First THX® Certified Headphones
FOUR DRIVERS- Diamond-like carbon dynamic driver (like mini speakers) + 3 balanced armatures (like mini tweeters) deliver unsurpassed dynamic power and definition.
METICULOUS DESIGN- Streamlined aluminium sound chamber with perfected ergonomics ensures exceptional comfort and noise isolation.
INTELLIGENT CONTROLS WITH MICROPHONE-Conveniently located in-line controls allow you to effortlessly change volume, skip songs, and make crystal clear calls.
TUNED TO PERFECTION- Expertly tuned by Grammy® winning sound engineer Luca Bignardi for a fully balanced and ultra-realistic soundstage.
DELUXE ACCESSORIES- Luxurious Gift Box, Leather Traveling Case, 9 Ear Tip Sizes, ¼" and Airline Adaptors, Matching Shirt Clip.
What 1MORE Had to Say
"Having FOUR drivers is equivalent to having FOUR speakers in each ear exclusively dedicated to silky highs, detailed mids, and deep bass. Every nuance comes alive like hearing your favorite music for the first time." – 1MORE
Specifications
Weight: 18.5 g
Cable Length: 1.25 m
In-line Remote Control and Microphone
Oxygen-Free Copper Wire
Plug: 3.5 mm Gold Plated
Frequency Range: 20-40,000 Hz
Impedance: 32 Ω
Sensitivity: 99 dB
Rated Power: 5 mW
For in-depth specifications, please visit the official 1MORE product page here.
What's in the Box?
Every aspect of the packaging is a premium experience. Furthermore, it comes bundled with a hard-leather protective case, in-flight adapter, shirt clip, and a 1/4″ adaptor. Of course, all of the jacks are gold-plated too, and I wouldn't expect anything less.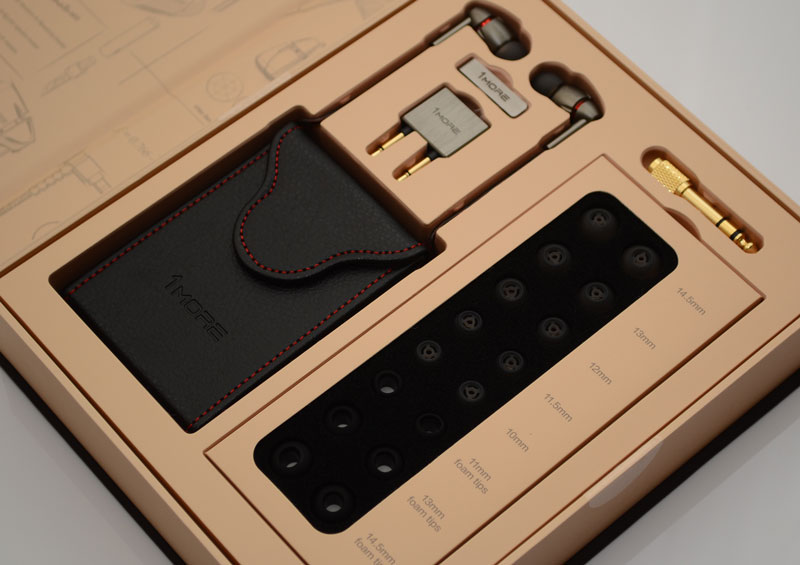 What's surprising though, is just how many in-ear buds you get. All shapes and sizes, including some foam tip if you're not fond of the silicone ones. Either way, you'll find a perfect fit with relative ease.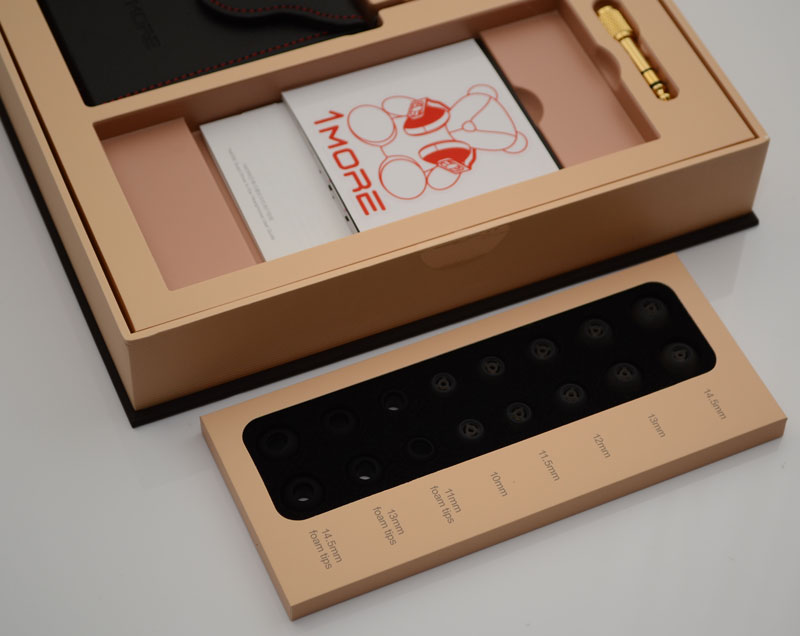 Everything in the box is built to a high standard, and if the headphones are going to match, they'll have to be pretty special. Spoiler, they are!