2015 Keyboard Buying Guide
---
---
---
Peter Donnell / 7 years ago

Picking the right keyboard is a fairly complex battle these days, there's a huge range of products out there and so many well established (and relatively new brands) that all have shiny and attractive products. Even then, the prices and configurations can vary wildly from model to model, even though they all do the same basic things, so which one is the right one for you? We don't actually know! What I can tell you are some of the best keyboards we've tested recently here at eTeknix, round-up some of their best features and help you find one for your budget, and one that ticks all the right boxes for you in terms of features.
We've got one fantastic collection, as you can see in the image above. There are mechanical, membrane, plunger and Romer switches, different sizes, prices and more in our keyboard pile. We've tried and tested every single one of them and would happily go out and spend out hard-earned cash on any of them, but we would love to know which one you would want to buy? Let's jump right in and take a quick look at what each one of them has to offer.
---
Ozone Strike Battle

The Ozone Strike Battle has long been my favourite keyboard. It's quite a contradiction for me too, as I love a big keyboard, full of features and packed with macro keys, but the TKL design of the Strike Battle was something I fell in love with quite quickly. It has virtually no bezel on the body, so the desktop space it occupies is incredibly compact, leaving more room for your mouse and other desktop treasures.
This is also one of the lightest keyboards I've ever seen, at least for a mechanical, which combined with the small size means that it'll fit in your backpack with ease, making it a great weapon of choice for travelling to LAN gaming events. It's also exceptional value for money, especially for a keyboard that features the well tried and tested Cherry MX Switches. The only downside of the lightweight design is the keys are quite clanky, something that I personally fixed with a set of O-ring mods.
Check out our full review here.
---
Razer Blackwidow Chroma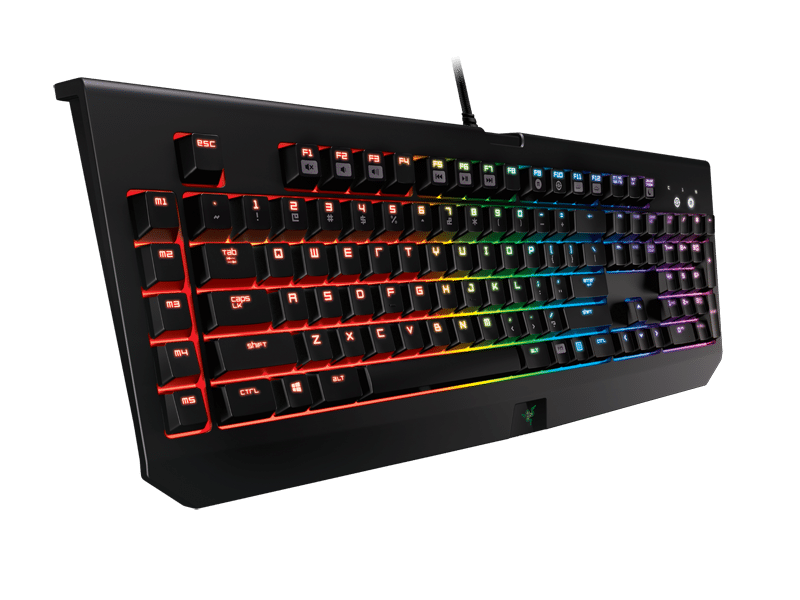 One of the more expensive models on the market is the Razer Blackwidow, but it's one that is loved by gamers all over the world. Razer is a great gaming brand with a huge range of products, and the Blackwidow Chroma is certainly a stand out product in their range. The backlighting on this is some of the best RGB lighting I've seen, with really vivid colours that will excite those who love a bit of customisation.
In terms of the performance, the BlackWidow is a slight diversion from the usual Cherry MX boards we see, as Razer developed their own brown and green variant switches. They're finely tuned for gaming and offer even better durability, but subjectively, they're at least just as great as any other premium switch. The angular design and slick build quality are certainly standout features, making this a great addition for any desktop gamer, Razer fan or otherwise.
Find more information on the Chroma here.
---
Logitech G910 Orion Spark RGB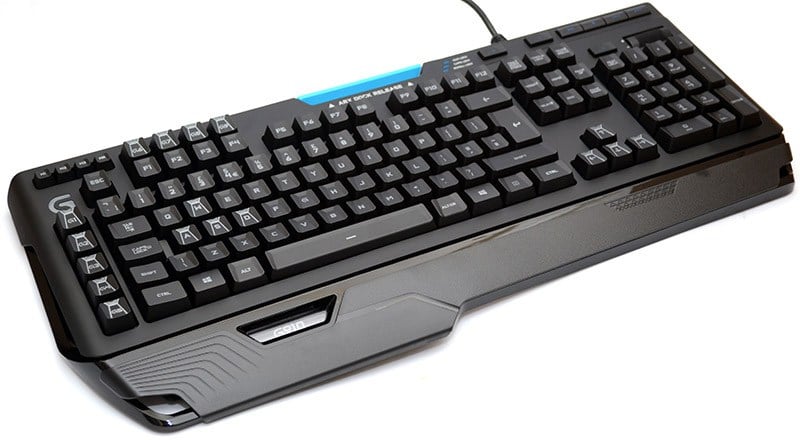 Another expensive model here, although when you're looking at the best of something, prices are often going to sweep to the higher end of the spectrum more often than not. The G910 is the latest and arguably the greatest keyboard from Logitech. It comes packed to the brim with exciting features that make it well suited to PC gaming, from a range of dedicated macro keys, ARX dock, multimedia controls, custom shaped ergonomic key caps, two detachable wrist-rests, per-key RGB lighting and more.
What really stands out here, however, is the Romer-G mechanical switches, a hybrid of traditional mechanical and plunger switches, which feature a light action, a tactile bump and a lower actuation point for super fast response times. They tick all the boxes for an almost greatest hits of different switch types, all bundled into a single package.
Check out our full review here.
---
G.Skill KM780 RGB

G.Skill may have made a great reputation in the memory market, but recently they've taken the peripherals market by surprise, with the release of the rather amazing KM780, a fully featured mechanical gaming keyboard that has every feature you could ever hope for and more. The build quality is exceptionally good, with a huge black brushed aluminium chassis, a durable rubber grip wrist rest, dedicated macro keys, dedicated multimedia controls, RGB lighting and so much more. It's certainly one of the more unique looking keyboards too.
They are an unproven name in the peripherals market, but with such great looks and build quality, as well as a fully Cherry MX switch layout, it's not hard to guess how well it performs. Additional features, such as the detachable wrist rest, optional gaming key caps, USB and HD audio cable pass-through and lovely RGB lighting make this a great keyboard for gaming and day-to-day desktop use.
Check out our full review here.
---
TteSports Poseidon Z

The TteSports Poseidon Z is quite a simple looking beast and quite frankly, it is. It has all the basics and little else, but what it does have, it does really well. The compact design is great for those who want to free up a bit of desktop space, and the slimmer design means it's much easier to transport too.
Build quality is rock solid, there's some LED backlighting for a little extra flair, but at the end of the day, that's about all you get. The keyboard is equipped with Kailh mechanical switches, which come with the advantage of being a lot cheaper to buy, making it a great mid-price entry to the mechanical keyboard market and a big step up for those coming from a membrane switch keyboard. It's great for gaming, but the simple design means it wouldn't look out of place in the office either.
Check out our full review here.
---
TteSports Commander

Another entry from Thermaltake, with their super affordable Commander, what's so special about this one? It's incredibly cheap! Using the more common membrane switches and cheaper construction, it's now about to blow you away, but there's a lot of keyboard here for very little money, with the added bonus that it also comes bundled with a gaming mouse!
If you're looking for an affordable entry into PC gaming, then this is certainly the best place to start. It's keys are light and responsive, the design looks great and there's still some nice features, such as the LED lighting and multimedia key shortcuts to add to the already excellent value for money.
Check out our full review here.
---
CM Storm Quick Fire XTi

Much like the Poseidon Z, the Quick Fire XTi is a little back to basics in terms of features. The no-fuss design is certainly something that appeals to me and it's also a proven choice for many pro-gamers too. The slim design doesn't take up too much space, but what really makes this keyboard stand out is the build quality. Cooler Master keyboards are one of the things that will still be around in a thousand years time, they're incredibly durable, which is great if you're prone to rage quitting.
Fully equipped with Cherry MX switches, and one of the few keyboards on the market that offers MX Green as a switch type, this is simply one of those keyboards that once you try it, you won't want to stop typing on it, ever. It's a joy to use, looks nice and sleek and the price is pretty reasonable too given the build quality. A great option for LAN gamers, at home gamers, the office or anywhere for that matter. I also love the red and blue lighting, which can be combined to give you pinks and purples, but it offers up some lovely warm colours that certainly add to the appeal.
Check out our full review here.
---
Cougar 700K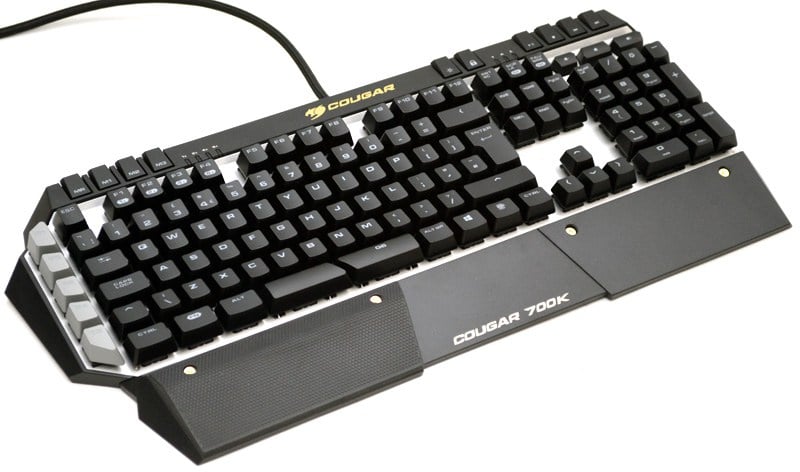 Cougar have been cropping up more and more this last year, with an absolutely fantastic range of gaming mice and keyboards. One of the ones that stoop out for me was the Cougar 700K as it's one of the best looking mechanical gaming keyboards on the market, and also one of the more unique ones at that. With detachable wrist guards, a fantastic ergonomic layout, brushed aluminium chassis, dedicated macro keys, dedicated multimedia controls and an on-board macro engine, it's certainly versatile.
There's a range of Cherry MX switches on offer, so it's easy to find the one that best suits your needs, although I personally think the MX Red is especially good on this model. It's a little expensive, but with such great build quality, as well as a cool bonus features such as the USB and audio pass-through, it's a competitive option for those wanting a fully featured mechanical gaming keyboard.
Check out our full review here.
---
Roccat ISKU FX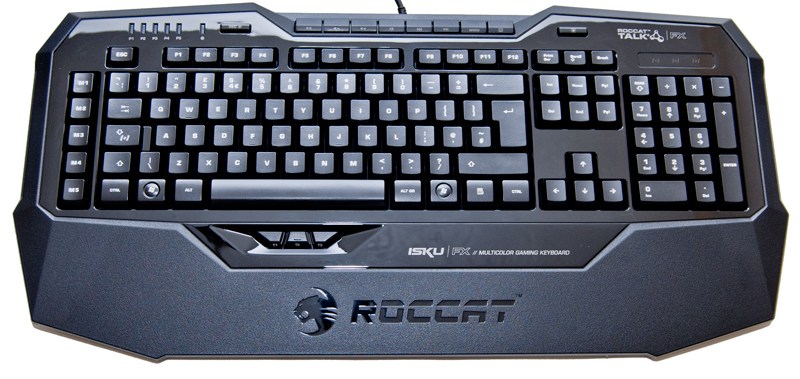 The Roccat ISKU FX is, in my opinion, one of the absolute best membrane keyboards on the market. It's got super fast and low set keys that are an absoulte joy to work on, but with all the bells and whistles you would expect from a high-end mechanical gaming keyboard. There's full RGB lighting, dedicated multimedia keys, dedicated macro keys with on-the-fly recording, three rather handy thumbster keys, a built-in and durable wrist rest, and so much more.
It's a little greedy in terms of required desktop space, but for this money, you're going to struggle to find so many features anywhere else. It also comes with the benefit of the rather sublime Roccat Talk desktop software, which allows extensive settings customisation, as well as syncing features with other Roccat products.
Check out our full review here.
---
Roccat RYOS MK Pro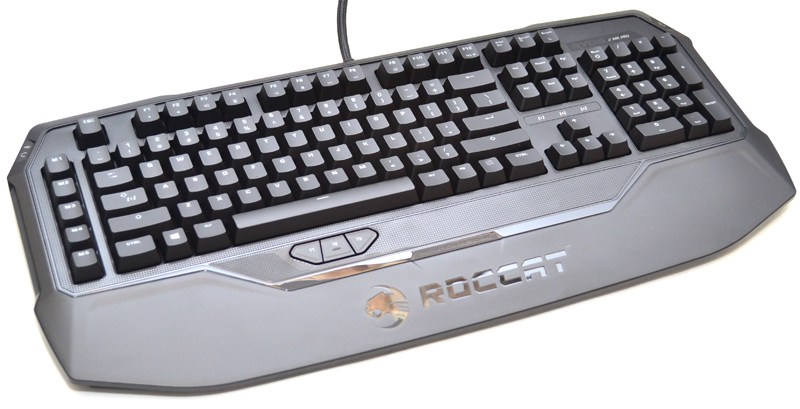 Not a fan of membrane keyboards? Don't worry, you can still get all those lovely gamer focused features of the ISKU FX from Roccat in a more premium model, the RYOS MK Pro. Now, I'm sure Roccat would like me to class this as an entirely different keyboard, but just look at it, it's very similar to the ISKU FX, just with a fully mechanical switch setup and a slightly thicker, heavier and more durable design overall.
It's just as featured packed as the ISKU, but with better build quality and world-class Cherry MX switches, as well as USB and HD audio pass-through, making it a great choice for those who love their mechanical keyboards, so long as you can spare the extra financial investment, of course.
Check out our full review here.
---
CM Storm Octane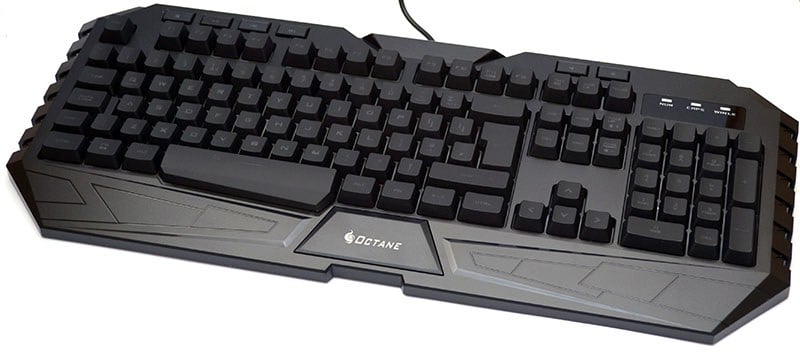 We finish up with another budget friendly offering, the membrane switched Octane from Cooler Master. It's a pretty humble keyboard, but the design looks great with the matte black finish key caps, a little LED lighting, and as a very welcome bonus, a set of basic multimedia keys on the top row.
For gaming on a tight budget, the Octane is hard to beat, but its value is even further improved by the bunded 3500 DPI optical mouse, making it great for those who need a complete setup. Both the keyboard and mouse feature 7 colour LED lighting, giving you some scope for desktop customisation, and the membrane switches are remarkably pleasant to type on overall.
Check out our full review here.
---
Looking for a great mouse to go with your new keyboard? Check out our Best Gaming Mice of 2015 feature!