21:9 Monitors – a Viable Alternative to 4k?
---
---
---
John Williamson / 7 years ago
Introduction
---
4K monitors have been touted as the next mainstream standard to replace 1920×1080 displays, but the Steam Hardware survey suggests this may take over a decade. Currently, 34.33% of gamers are using 1920×1080 and 26.89% play at a surprisingly low, 1366×768 resolution. The problem with 4K revolves around Windows' poor scaling on high PPI displays, and the graphical horsepower required to drive 300% more pixels than 1920×1080. It seemed for some time that 4K was the only option on the horizon, but 21:9 ultra-wide monitors have been gaining momentum in two variants. Typically, you can choose between 2560×1080 panels or 3440×1440 models. For the purposes of this feature, we decided to use the highly-regarded AOC U3477PQU and establish if 21:9 monitors are an aspect ratio worthy of your attention.
21:9 monitors are equivalent to dual 15″ or 17″ setups depending on the 29″ or 34″ screen size. The primary benefit to a single large monitor is the lack of bezels which can cause eye strain or distract you during full-screen tasks. In terms of desktop usage, 21:9 displays are nothing short of revolutionary due to the massive real estate. It's incredibly simple to glance at 3-4 visible windows without having to press ALT+TAB.
This means you can write articles, whilst referring to sources or compare an edited photo to the original. The possibilities are endless and massively increase your productivity. Additionally, the PPI of a 34″ 3440×1440 panel is almost equivalent to a 27″ 2560×1440 screen. As a result, the text is a sharp and readable size. If you want to go down the 4K route, the minimum screen size for a pleasant desktop experience is 28″-32″ but I would personally recommend 40″. I don't think this is a viable option for most people and believe that you would be better off with a 29″ 2560×1080 display. Similarly,  I find it rather perplexing that 24″ 4k monitors exist and wonder who the target market is.
Productivity and Desktop use
---
As you can see from the picture, this particular model utilizes a straight panel without any curvature. Many of the upcoming 21:9 displays adopt a slight curve to help the user naturally look at the extreme edges without too much head movement. However, I'm quite skeptical how much of a difference this actually makes. I've been using a 21:9 monitor for approximately a month and it's surprising how quickly you adjust to mammoth size.
Within a few days, 34″ doesn't feel overpowering and I'd struggle to go back to any traditional 16:9 display. It's important to remember though that 21:9 panels are optimized for multi-page workloads and look terrible with a single, full-screen application. If you access a webpage at 3440×1440 and cover the entire screen, only a tiny proportion will be used to display the website.
Watching Video Content
---
The industry standard of 16:9 video production can cause a myriad of problems on unusual aspect ratios and results in black bars or a stretched image. This is far from ideal and you cannot utilize the entire screen or enjoy video content in an ultra-wide cinematic manner. Despite this, I adjusted to the black bars pretty quickly and my eyes began to fixate on the 16:9 image. Although, I am fairly used to watching old 4:3 footage on 16:9 Televisions, so your experience may vary.
For example, Thunderbirds was originally filmed in 4:3 during the 1960s and transferred to 16:9 for the UK Blu-Ray release. This was an abomination with parts of the set being chopped off and characters looking stranger than usual. So how does this relate to 21:9 monitors? Stretching any content from one aspect ratio to another is always going to end in tears. In theory, you can use VLC and set a specific aspect ratio, despite what the original source might be in, but the image might leave you feeling a little dejected. Personally, I tried a number of anime shows and stretched the feed, but it was fairly hard to watch.
Watching any online content via YouTube, Neflix or Amazon Instant compounds this issue and you cannot stretch the image without a third-party plugin. The snapshot above shows a 4K sample being played on the monitor's native resolution. Obviously, the panel cannot output 4K, but it's interesting to see how beautiful the colours and detail can be on an IPS, 3440×1440 display. If you can look past the black bars, and mentally think about having two monitors; a 34 ultra-wide and a 27 inch 16:9 panel, then video playback is wonderful. It's all about perception and if you can accept the black bars.
Gaming Experience
---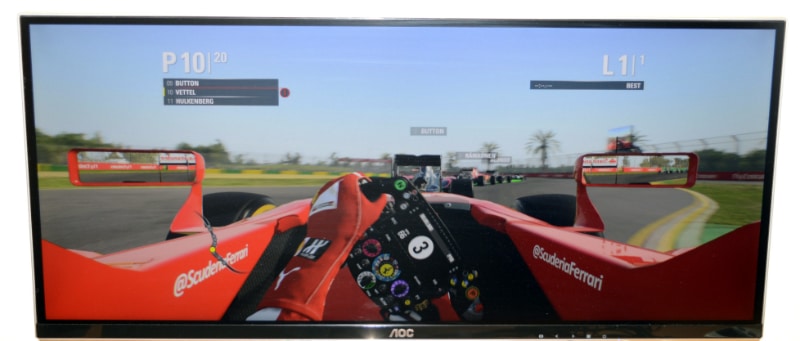 Playing games on a 21:9 display is immersive, exhilarating and adds a whole new dimension to titles you've already completed. This immense experience comes from the ultra-wide field-of-view which allows you to soak up the atmosphere and notice nuances in a game's environment. From first-person shooters to racing games, the 21:9 aspect ratio provides a stunning picture which feels surprisingly natural.
Competitive shooters like CS:GO didn't suffer from significant motion blur or latency, but this will all depend on the individual panel quality. I particularly enjoyed tense shooters like Metro Last Light and felt the panel width enhanced my connection with the gunplay overall. After using 21:9, 16:9 just seems so limiting and counterproductive. You can no longer gaze over such a wide viewpoint and games work much better on a rectangular screen shape.
There is one caveat to the gaming experience which isn't as major as I first expected. Some titles do not support 21:9 screens, so you have to manually enable the resolution through a .ini or .cfg file. If you encounter this problem, an excellent source of information is the Widescreen Gaming Forum. This site grades each game for its 21:9 support, and includes a number of fixes to help with UI scaling and graphical abnormalities. What did shock me is the amount of games which allow for a 21:9 resolution without any tweaks. Surprisingly, most games within the last 5 years should work very well unless they are a poor PC port of a console game. If you're thinking about buying a 21:9 monitor, but you're worried about the lack of compatibility, don't be! For gaming purposes, a 21:9 screen is simply magical.
Final Thoughts
---
Selecting any monitor requires a degree of compromise and this is especially the case with 21:9 displays. For gaming purposes, the aspect ratio is sublime and delivers a breathtaking experience. Furthermore, the ultrawide format works pretty well with most games and doesn't require huge amounts of tweaking. Usually, the main issue revolves around the HUD becoming enlarged and not scaling to the display properly. Although, this isn't overly prominent and documented on the Widescreen Gaming Forum. The wide FOV on 21:9 monitors enriches the experience and enhances your appreciation for the art assets.
However, 21:9 panels are not suitable for professional gamers at this time. Currently, the panels are either VA or IPS/PLS featuring a 60Hz refresh and between 5-15ms response time. In all honesty, a TN monitor would struggle to reproduce a consistent colour palette on an ultrawide screen. The situation might change in the coming months as IPS panels are now reaching 144Hz as illustrated by the Acer XB270HU.
The ultrawide format provides a splendid workspace for multitasking and led to a sharp increase in my productivity. I'm now able to browse multiple windows at the same time without any hesitation. The huge screen real estate and sensible PPI rating makes text clear without squinting. 21:9 monitors are a superb alternative to a dual monitor setup.
Video content is predominately produced to support the mainstream 16:9 standard. As a result, 21:9 panels cannot cope with non-native videos and your only option is to acclimatize yourself to black bars or stretch the video feed. Personally, the black bars didn't irk me and I accepted this flaw fairly quickly. If you decide to stretch the image, it looks unnatural, and fairly bizarre. Subsequently, if you intend on watching movies, TV shows and don't play games, I would recommend a large 16:9 4k monitor instead.
Using a 21:9 monitor for the past month has been an enthralling experience and despite its flaws, I wouldn't trade the aspect ratio for 4K, multi-monitors, or 2560×1440 144hz products.