32GB Crucial Ballistix Sport LT DDR4 Memory Review
---
---
---
John Williamson / 7 years ago
Introduction
---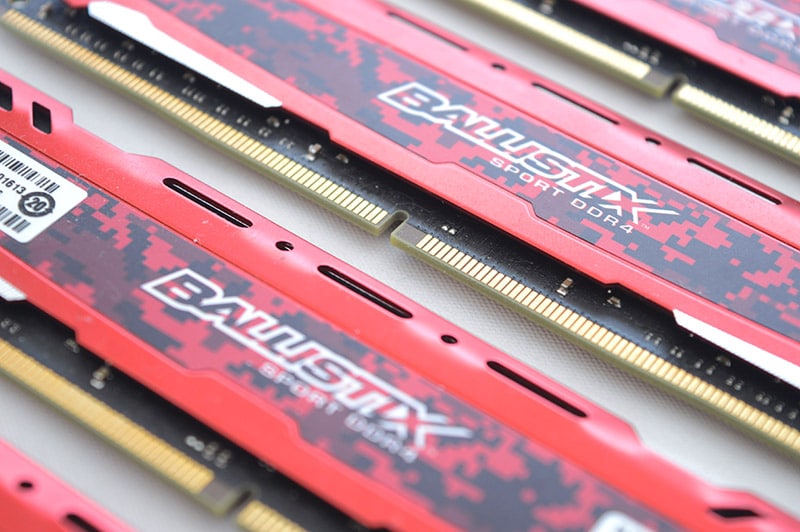 Prior to the release of Intel's LGA1151 chipset, consumers could only access the benefits of DDR4 memory including lower voltages and higher frequencies by entering into the very expensive X99 platform. Thankfully, Skylake dramatically changed the status quo and it's now possible to acquire high capacity memory kits at affordable prices. While there are DIMMs on the market with speeds beyond 3200MHz, it's not usually sensible from a price to performance perspective. Therefore, it's advisable for mainstream users to opt for modules between 2400MHz-3000MHz.
Crucial is one of the most respected companies in the technology industry and their reputation for creating reliable memory products is unprecedented. Even though the Ballistix Sport LT was released some time ago, Crucial have recently added a new colour. Upon seeing this striking design, I instantly become enamoured with the retro-inspired pixel finish and couldn't wait to put the memory kit through its paces. The edition provided for review includes four 8GB modules with a low voltage rating of 1.2v. Additionally, the memory utilises 16-16-16-39 timings and is backed by a comprehensive lifetime warranty.
Specifications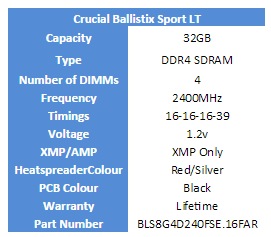 Packaging and Accessories
Typically, memory packaging isn't very exciting and I'm not going dwell on it too much. As you can see, the memory is contained in a traditional blister pack with a sticker denoting key details about its core specification.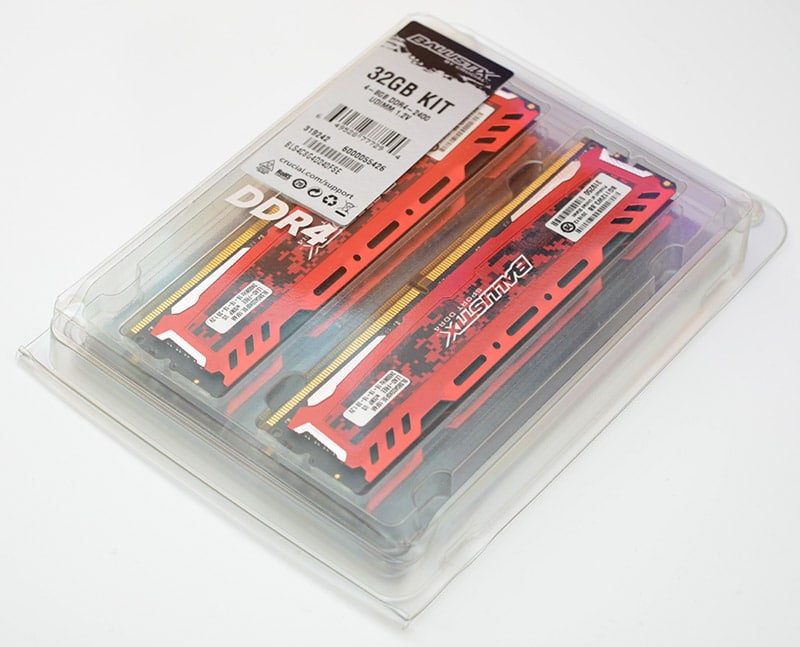 A Closer Look
Aesthetically speaking, the memory's low-profile heat spreaders which implement stylish cut-outs look stunning. This is due to the contrast between the black PCB and red colour scheme. On another note, the 8-bit pixellated section is unlike anything I've seen before on a memory kit and it's a wonderful idea. This pays homage to games from a bygone era and caters to the DIMMs target market extremely well. Also, the subtle silver accents add to the memory kit's finesse and contribute towards a more striking design. Even the Crucial Ballistix logo works alongside the red theme and it's certainly an eye-opener.