4K Content From Netflix and Amazon Floods Torrent Sites
---
---
---
Ashley Allen / 7 years ago
Did you spend all your money on a 4K television in the Black Friday sales, leaving you unable to afford food, clothing, or legal on-demand video streaming services? Well, fear not, because 4K content from Netflix and Amazon has hit torrent sites with a vengeance. Granted, it won't fill your belly or cover your modesty, but who needs basic human comfort when you can watch Jessica Jones in Ultra HD?
Online video content is, more often than not, protected by High-Bandwidth Digital Copy Protection (HDCP) version 2.2 or higher, but pirates have discovered a loophole that allows them to bypass the protection and rip 4K video.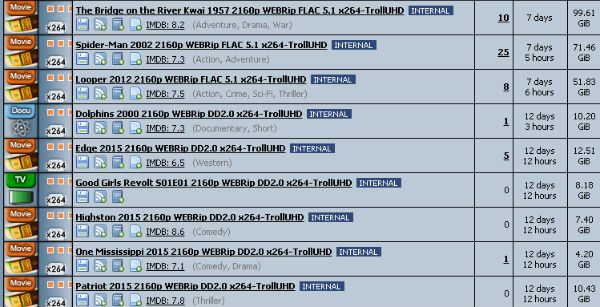 The first Ultra HD file – an 18GB copy of Breaking Bad's first episode – hit three months ago, with more content expected to follow, but encoding problems and quality issues stymied the tide. Those issues seem to have now been resolved, though, with 4K copies of Marvel's new small-screen offering Jessica Jones and movies such as Looper, Spider-Man, and The Bridge on the River Kwai leaking to torrent sites within the last few days, with many of the initial 100GB+ files being squeezed down to a more manageable 5-15GB.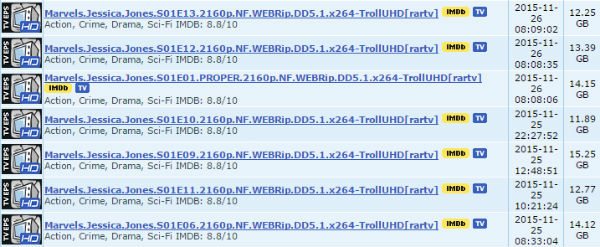 "Many groups started releasing 4K rips recently and they are working perfectly. I expect that 4K resolution releases will become more popular now," an anonymous source from a release group responsible for the recent 4K content told TorrentFreak.
Some of the content, though, has been criticised for its quality. For that, the source added, the blame should be aimed at Netflix itself: "For example for Marvel's Jessica Jones new TV series from Netflix the 4K captures look bad, because the master from Netflix is probably bad [sic]."
Image courtesy of DealsPlus.