A.M.P Antec Mobile Products Review
---
---
---
Peter Donnell / 9 years ago

The mobile industry is ever growing, that much is obvious, but with growing consumer demand for gadgets on the go, smartphones, tablets, notebooks and MP3 players, so too grows the demands and needs of the individual consumer. It's safe to say that these days almost all of us own a mobile phone or MP3 player, that we use on an almost daily basis, with that use comes the need for high quality peripherals that will allow you to make the most of what your doing with that device. It's this kind of product that I will be taking a look at today.
Many of our readers will no doubt be PC gamers, already well versed in the world of peripherals, so too will fans of console gaming. We all love to have the right tool for the job, be that a quality mouse, high performance headset, or generally anything that makes our experience that little bit better. The same can be said for smartphones, given today's phones can generally chew through their batteries in mere hours, especially when gaming. We can spend hours talking on the phone while we work, play, rest, drive and anything else you can think of. Then there is watching movies, listening to music, browsing sites like Facebook, in short, a lot of people are spending more and more time on our portable devices and less time at our PC and I'm one of those people.
Today we'll be taking a look at a range of products from Antec, who many of you may better know from their Power Supplies, Kuhler Water Coolers, chassis' and maybe even their Sound Science or cleaning product ranges. I have with me the Iso Wireless music and calls headset, Gain wireless music and calls headset, PowerUp 3000 mobile battery and the SP1 mobile speaker.
"Antec Mobile Products (a.m.p.) is a global consumer electronics company committed to putting state of the art mobile and audio technology into the hands of every user. As a division of Antec, the world-renown market leader in PC hardware, a.m.p. is committed to bringing Antec's winning VIP principles of Value, Innovation and Perfection to the mobile world."
eTeknix have seen great things from Antec in the past with their award winning chassis designs, superb water cooling solutions, quality power supplies and much more, so let's take a closer look and see if the Antec reputation holds true in their a.m.p. product range.
Please note that all devices were fully charged via USB over night before testing.
From left to right we have the Iso, Gain, PowerUp 300 and SP1. Normally with Antec products we find there are a similar theme in package design but that's no longer the case. The Iso and Gain are in subtle display boxes that both feature a clear section to allow viewing of the headset and wireless adaptor. So too does the PowerUp 3000, which is the only product that sports the original black and yellow Antec colour theme. Finally we have the SP1 which has been nicely presented in a perspex hard case, giving us no only a great view of the product but also a handy little storage box for the device.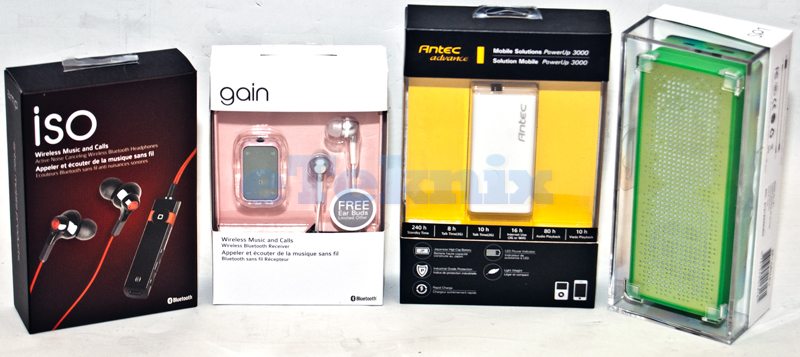 Around the back we have a nice run down of all the technical features of the devices, which we will take a closer look at shortly.