ADATA Premier Pro SP920 256GB Solid State Drive Review
---
---
---
Chris Hadley / 8 years ago
Introduction
---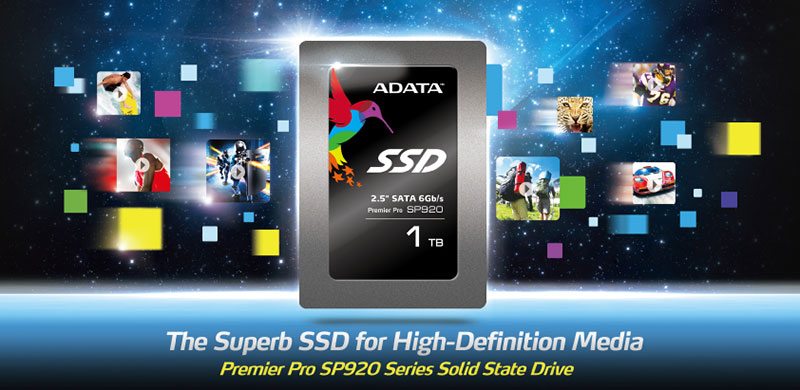 In the world of solid state drives, there are a vast number of advantages to be seen and had over the older mechanical counterparts and aside from raw capacity and the consequent price per GB of storage, the SSD is bar far the superior option to opt for when upgrading or building your new system. On the face of it, solid state drive are all about pure speed and whilst they are able to hit the limits of what the SATA III interface can handle, there is a whole lot more to the humble SSD to what lies on the surface and the crib sheets that are laid beside them.
The behind the scenes operations that hard drives rely on are pretty set in concrete and whilst there are some minor differences in performance to be seen, the way in which data is read and written to the drive stays the same with the iconic spinning platters and a read / write head which flickers back and forth hundreds of times a second. Solid state drives as we know by now are much more different and the lack of moving parts as indicated in their name means that everything is electronically altered within the silicon chips that are laid out on the PCB. How this data is read and accessed though does vary and overall we find three types of NAND available; synchronous, asynchronous and toggle. Typically we see most drives on the market offering up asynchronous or toggle mode NAND and this on the basic level comes down to the price. As we know, if you want better and more consistent performance, then you'll be expecting to pay that bit more and this is exactly the case with synchronous NAND. The performance levels that are on offer on paper may look vastly greater, but in the real world the differences in speed are a lot closer than expected – the real advantage comes in sustained performance. I will go into this all a little later on to explain how it all works.
In the latter part of last week, ADATA gave us all a bit of a tease with an image on their Facebook page that teased us all with a portion of the drive on show with today's date (2nd April 2014 for those not reading this on the launch date) down the left hand side. Buy why are ADATA keen to do this? Surely the launch of a new drive can't be that special?
Well in some respects this is just another SSD; it doesn't offer up a 2TB capacity as I've seen some speculate and ADATA haven't found a way to rip through the limitations of the SATA III interface – nor is it a RAID0 drive within a single 2.5″ frame – damn I love it when people try to spread rumours! What the SP920 is, is in fact a drive that has been designed and built to meet the demands of our home entertainment driven lives and this where the aforementioned synchronous NAND comes into play.
Built around one of Marvell's latest controllers, ADATA have chosen to use the more expensive NAND in favour of faster and more efficient file transfers from the drive – something which async and toggle mode drives struggle with as the volume becomes more congested with stored data. Multimedia files such as high-definition films and audio files or uncompressed data as we techs refer to them can put a lot of strain on the drive and in some cases we see the performance slowly drop down when being read – especially as the volume fills as mentioned above. This is what the SP920 is made to combat and thus why ADATA are proud to get the enthusiast community wanting more information.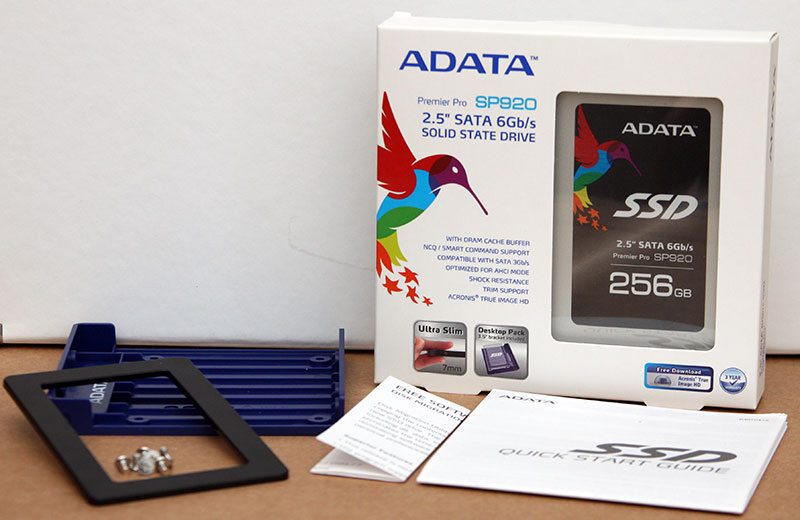 Inside the SP920 packaging we get what is becoming a somewhat new industry standard bundle with a 2.5″ to 3.5″ drive bay adaptor, 7mm z-height to 9mm drive converter, screws for installation, quick start guide and a copy of Acronis' drive migration software to make the upgrading process much quicker and less painful.