Aerocool Dream Box Chassis Kit Review
---
---
---
Peter Donnell / 7 years ago
Introduction
---
What will your next chassis be? I'm sure you've asked yourself a few times when you're planning a build. Do you go for the big and expensive one that's going to look great and offer lots of space, or do you save on costs and get something more reserved, allowing you more budget for that graphics card you like? How about the Aerocool Dream Box? I can assure you, you've likely never thought of having this chassis in your build list, but given that this can be virtually any  shape, size or configuration you desire, it's certainly one of the most interesting chassis we've ever seen land here at eTeknix HQ.
From mini-ITX to E-ATX, the Dream Box can hold any of them. The idea is that you take this "chassis" and built it how you want it. I use the word "chassis" in quotes, because a chassis isn't exactly what you're buying here. What this really looks like to me is a several hundred piece Meccano set with a few screw holes to put on a motherboard and PSU, and well, that's because that's exactly what it is. Free from the box-like constraints of most chassis, you don't even have to build a chassis from this, you can build whatever you want. We've seen people build helicopters, bridges and more. Today though, we'll be building a PC case, that's what we want to see.
"Dream Box" is a revolutionary DIY kit created by Aerocool to give you the flexibility to build a computer case like no other! Furthermore, you can make anything you want out of this DIY kit. The creation can be a table, a lamp, a cup holder, a coat hanger, a toy and the list goes on and on. There are NO LIMITATIONS!! THE ONLY LIMITATION IS YOUR IMAGINATION!! Have fun with "Dream Box" DIY kit!! Make your own creations and make your dreams come true. BE UNIQUE! BE COOL! BE AEROCOOL!
Aerocool provides a guide to building a tower from the parts, but that's a little boring, so we're just going to let you watch this video then we'll move on and "try" make something of our own doing.
The box gives us a few examples on the front, such as a full-tower chassis, a helicopter style mini-ITX build and a headphone stand. I love the bright yellow box too, it certainly stands out.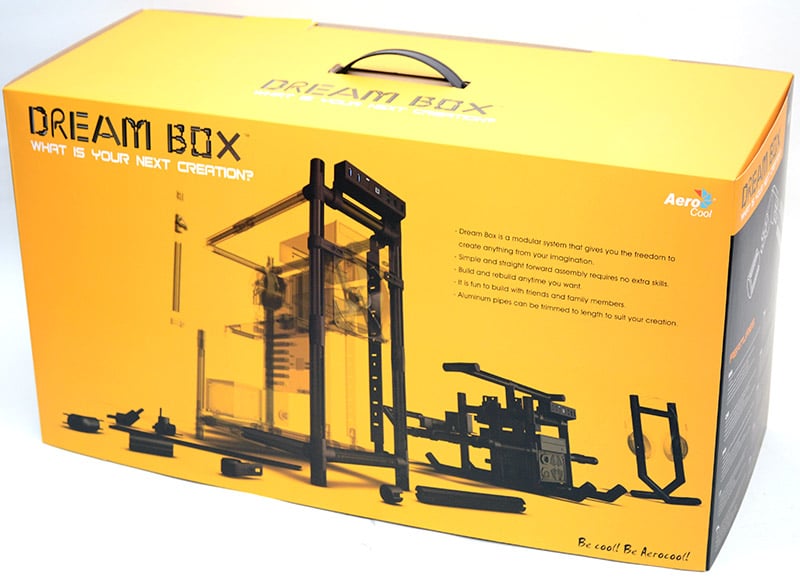 On the back, another set of random examples of what you can do; a cup holder and a hat and coat stand!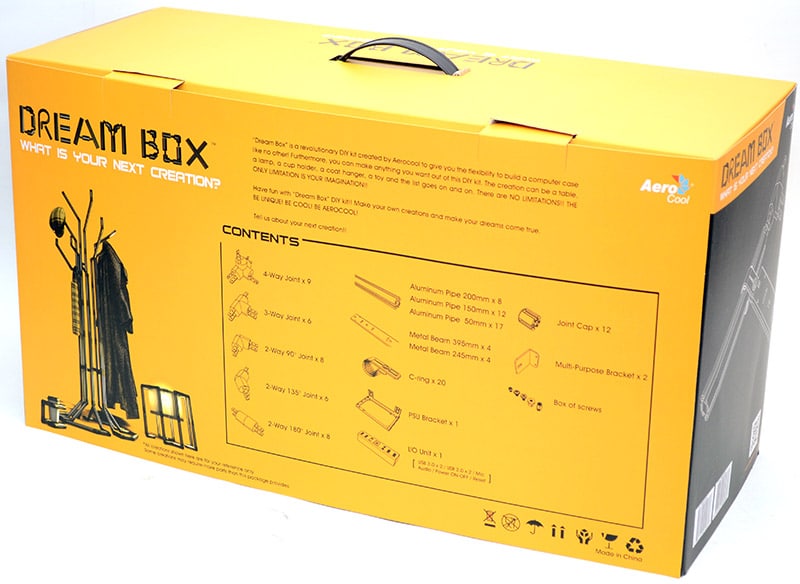 There's a run down of the components too and well, there are a LOT of components. We've got a grand total of 118 parts and around 500 screws; this build isn't going to be quick, that's for sure!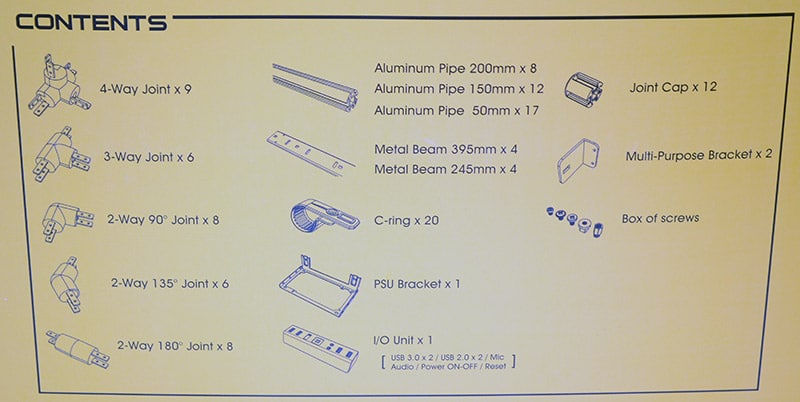 Opening the box, you'll find that every single component is carefully packed in protective foam. This not only keeps the parts safe but also makes them incredibly easy to find while building your system, almost like a custom tool drawer.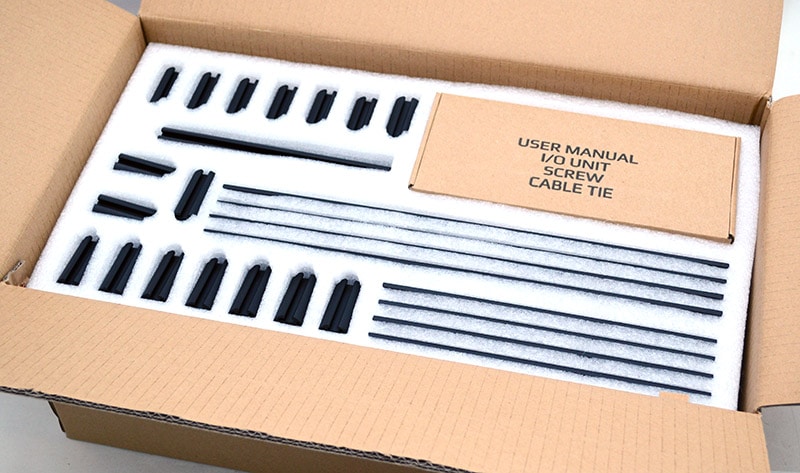 All the components come in four of these trays and as you can see, there's really not much in terms of a chassis here, at least not yet.

All of the components are of a fantastic quality, all aluminium tubing and a gorgeous matte black paint job that gives everything a premium look and feel. Here you can see the longest and shortest poles, as well as the two sizes of mounting plates (used for motherboards and other hardware).

The two mid-size poles, as well as some joint caps and the angle bracket.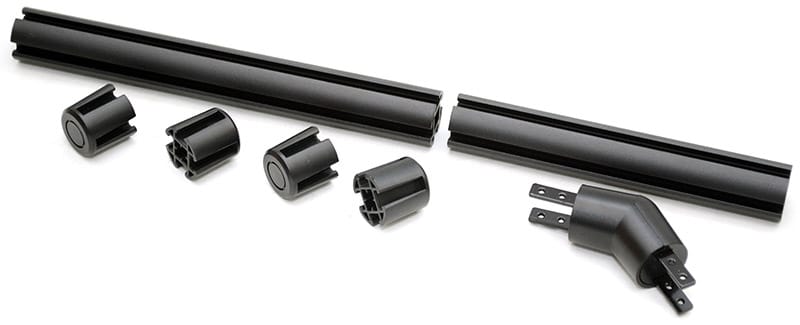 More joint adaptors here, offering a wide range of installation options, as well as the ATX PSU support bracket.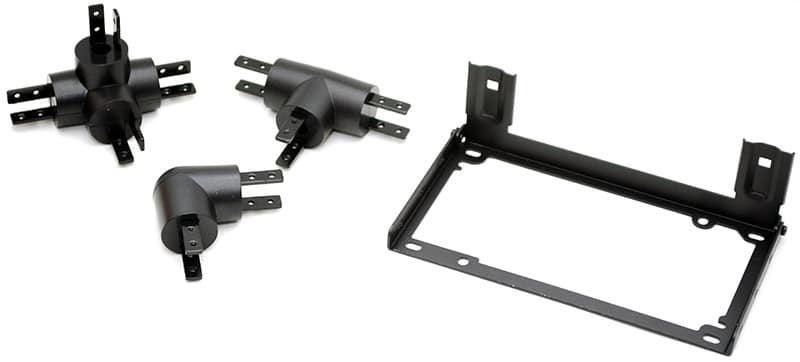 Extra fittings allow you to extended poles, angle brackets are self-explanatory, and those C rings are used for mounting virtually anything to the poles; hard drives, fans, motherboards, radiators, you name it.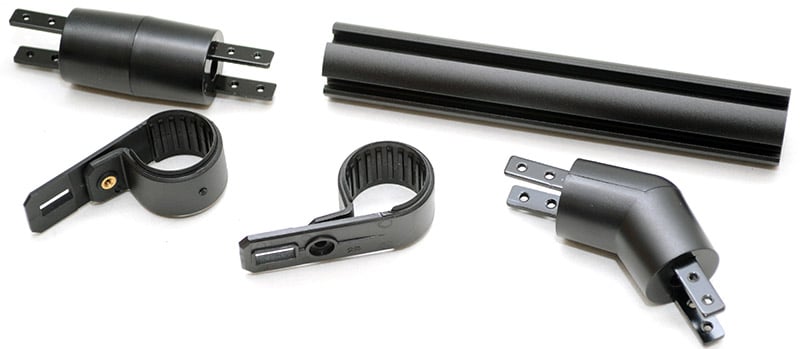 Finally, we have the I/O panel, a frighteningly empty instruction book and about five hundred screws!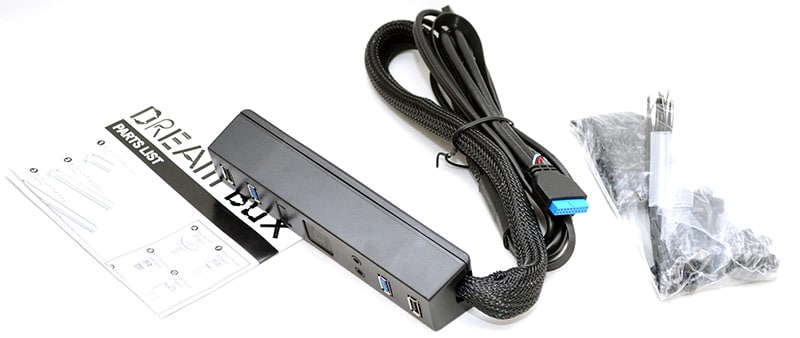 The I/O panel is quite nicely designed, with a thick braided cable keeping all the important stuff neat and tidy, there are four USB ports, HD audio jacks and a nicely designed power and reset button arrangement. so that's all the basics covered, let's try to build something!