Affordable 720P Gaming System For Under £400
---
---
---
Mike Sanders / 4 years ago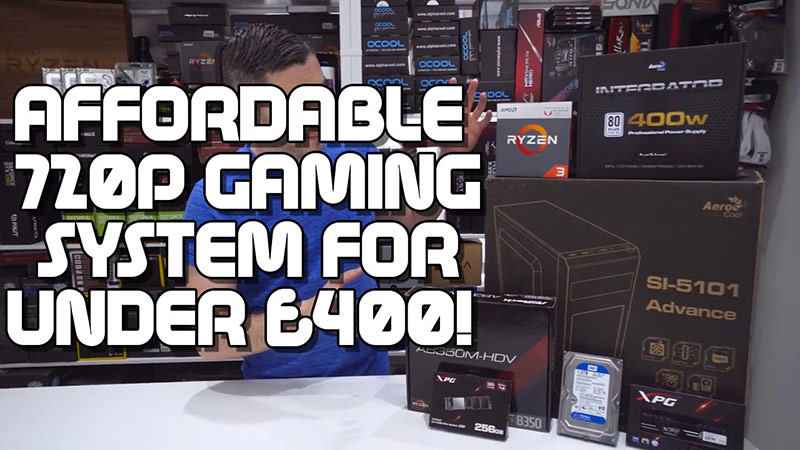 A budget gaming system for less than £400
In the last 12 months, we have seen a significant rise in many PC components. Graphics cards and RAM, in particular, has caused many to either delay or put off completely their next system build. Additionally, the pricing is also steering those away those who would like to get involved in PC building or gaming but believe it to be too expensive.
With AMD releasing their latest Ryzen 3 2200G CPUs though, a gaming system is a real option. Better still, you can build one for less than £400.
Ryzen 3 2200G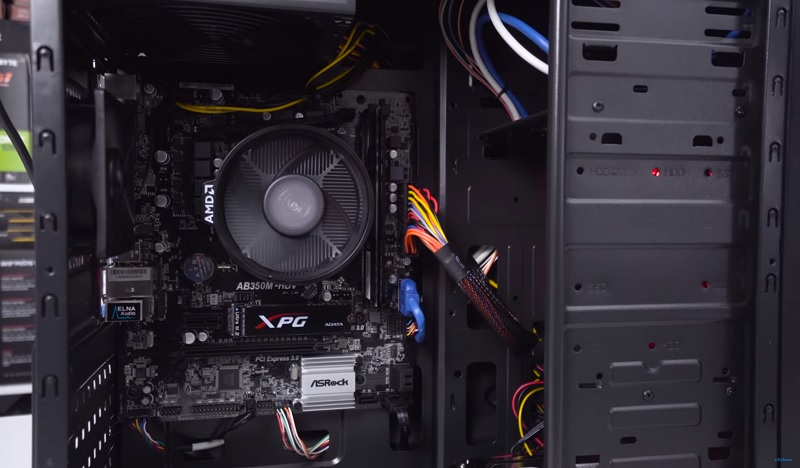 When the Ryzen 3 2200G was released, it got many of us at eTeknix talking about its potential. It has, after all, been many years since a processor combined with the graphics card (known as an APU) was genuinely capable of providing general usage and a viable gaming option. Combining the power of Ryzen with AMD impressive Vega architecture though, the options are open again for entry-level gamers.
There are of course some caveats to this. Firstly for less than £400, you should not expect a big performer. As such, we've modelled this system based on 720p gaming. We understand that such a screen performance isn't amazing, but that being said, anyone used to console gaming in a regular TV will find little to no difference here.
How was this system possible?
We must admit, with the Ryzen 3 2200G solving both the CPU and GPU matter, it allowed us for a better budget than expected to put some nice components in this. Checking out the price system below you can see that for less than £400 we have been able to also include an NVME SSD and in addition to that a 1TB HDD.
Additionally, and just to dispell some longheld opinions that may still remain, for a system like this no advanced CPU cooler is necessary. While it may have been true that older AMD processors ran hot, or at least hotter than their Intel counterparts, Ryzen has proven itself to be a thermal friendly option meaning that the 'stock' cooler does a perfect job.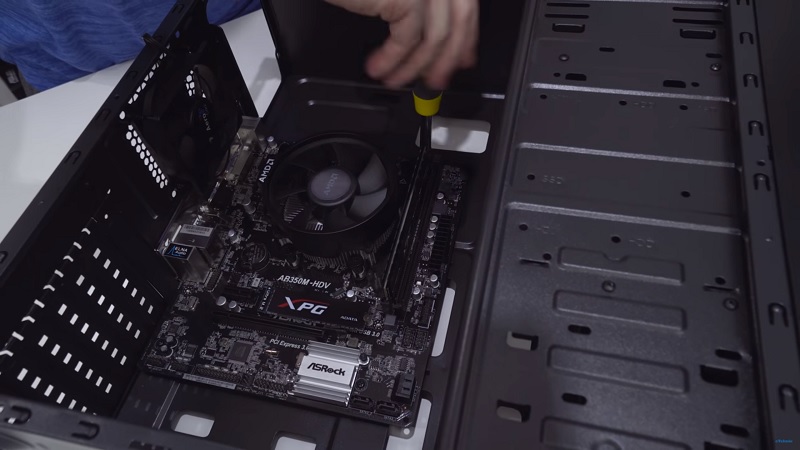 UK Pricing
Aerocool SI5101 Advance Midi Tower Case
Aerocool Integrator 400W Power Supply
AMD Ryzen 3 2200G APU
ASRock AB350M-HDV Motherboard
WD Blue 1TB Hard Drive
ADATA XPG SX6000 256GB NVME SSD
ADATA XPG Gammix D10 8GB DDR4 2400MHz
US Pricing
AMD Ryzen 3 2200G APU
ASRock AB350M-HDV Motherboard
WD Blue 1TB Hard Drive
ADATA XPG SX6000 256GB NVME SSD
ADATA XPG Gammix D10 8GB DDR4 2400MHz
What do we think?
We are planning on running a full and thorough benchmark testing on this system to see how it will perform. Initial tests, however, have proven to be very good. Without naming any specifics, we have seen some games capable of easily holding 60fps with a 720p resolution. What more could you ask for on a £400 budget?
If you are perhaps looking for a little more graphical performance, we have also built a gaming system for less than £500. So if you can push your budget a little further, 1080p gaming (HD) is very achievable.
You can check out our system build for that here.
What do you think? Impressed with this system? Planning on buying this system yourself? – Let us know in the comments!