Amazingly Detailed Japanese City Recreated In Minecraft
---
---
---
Mike Sanders / 4 years ago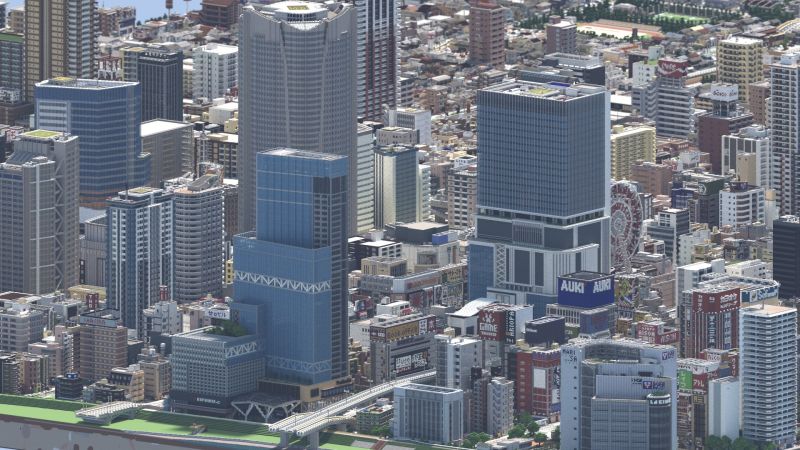 Amazingly Detailed Japanese City Recreated In Minecraft
When it comes to Minecraft, people are surprised by the fact that I'm pretty terrible at it. Honestly, I'm not very good. I am the King of Mud Huts who fights off Creepers with nothing but a force of will and a wooden sword. I fully acknowledge, however, that people not even a quarter of my age are designer Gods.
Having seen a lot of impressive buildings though, the one reported via Kotaku is certainly close to the top of my list, if not at the job. Known only as Sayama City, a Japanese team of Minecraft players have painstakingly recreated a Japanese City using nothing but the design blocks.
Sayama City
It should be noted that the city itself is entirely fictional. They have simply created what they feel is an accurate representation of one. In fairness, I think that they hit that remit out of the park! From a distance/casual glance that above image doesn't look like Minecraft, it looks like an actual living, breathing city.
川沿いの風景#Minecraft pic.twitter.com/Zt5JD5zSVT

— 佐山県(公式) (@Sayama_City) March 24, 2018
How Long Has This Been Going?
The Sakuya City project has been on-going since 2015 and the team provide regular Twitter updates. It is, however, only within the last few months that all of the parts have started to come together to produce what is a vast and massively detailed city. Oh, it makes you just want to run around with some TNT and lava!
#Minecraft pic.twitter.com/1MTw2G3VOQ

— 佐山県(公式) (@Sayama_City) February 26, 2018
Where Can I Check It Out?
If you want to check out the Twitter page for the project, you can do so in the link here! It's not obligatory, but an understanding of Japanese is probably advantageous.
Either way, I'm massively impressed. I do, however, think I'll just stick to my mud huts though.
What do you think? – Let us know in the comments!