AMD 6700 XT Tested Against 5700 XT in AotS Benchmark!
---
---
---
Mike Sanders / 3 years ago
The AMD Radeon RX 6700 XT is set to officially "release" next week (we use the term loosely because we're already hearing rumours of ridiculously short levels of supply). Overall though, I think many are perhaps looking at this as being their next potential upgrade option. I mean, we presume that this will indeed be ideal for 1440p resolution gaming (as AMD profoundly exudes) while perhaps being a little more affordable than the options on the Nvidia of the fence.
Well, in something that (I believe) represents our first independent look at the GPU in action, coming in a report via Videocardz, the Ashes of the Singularity benchmark website has been updated and, within it, we see direct comparisons drawn between the upcoming 6700 XT and its last-gen counterpart, the 5700 XT.
AMD 6700 XT VS 5700 XT
So, starting off with something that should come as no surprise, the 6700 XT easily has the performance advantage over the 5700 XT. However, what is surprising is that when you do the maths, the 6700 XT (at least based within this benchmark) offers a 30-35% average higher result while offering around 20-25% more FPS. In other words, the 'generational gap' between these two models does appear to be pretty substantial.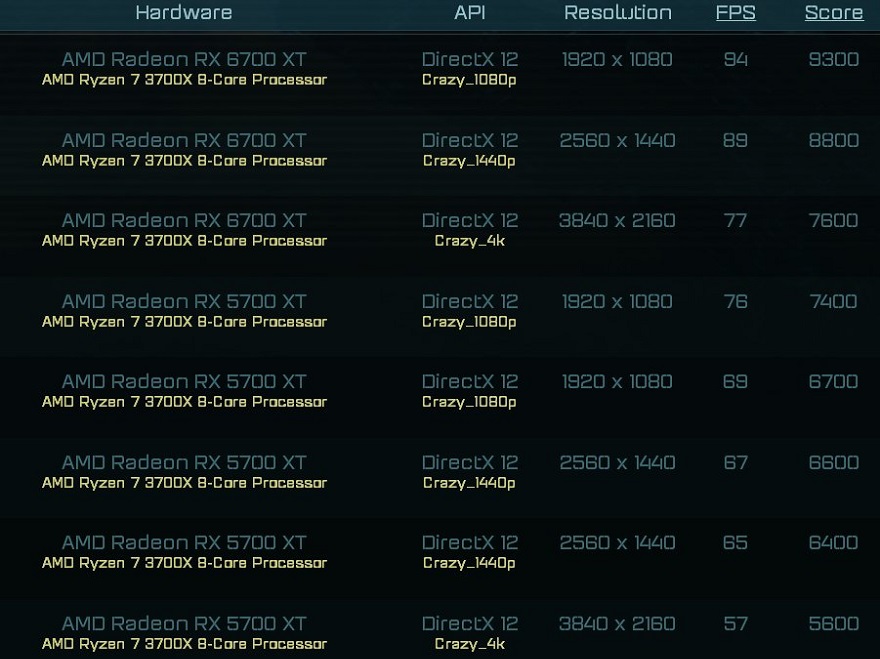 What Do We Think?
As we've often said in the past, you shouldn't read too much into benchmarking results taken from Ashes of the Singularity. Yes, we know some people still heavily utilize this benchmark tool, but by and large, most independent reviewers (ourselves included) view it as a little too unreliable to make any firm direct comparisons. With the AMD Radeon RX 6700 XT set to release on March 18th, however, this is, if nothing else, certainly some very encouraging reading for those planning on getting one. Let's just hope that the stock situation improved (and as above, what we've heard so far isn't good!).
What do you think? – Let us know in the comments!