AMD Announce Catalyst 13.8 Beta Driver, Fixes Frame Latency Issues
---
---
---
Ryan Martin / 8 years ago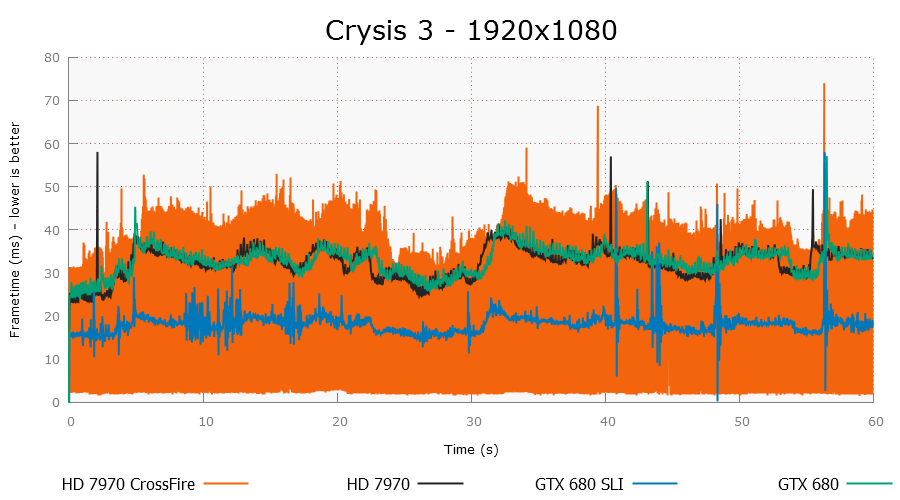 The AMD CrossFireX micro-stuttering/frame pacing issue has been in the "tech press" for quite sometime since being revealed by websites like PC Perspective and Tech Report. AMD promised a driver fix for it a few months back and have stuck to their promises and their time frame. Just yesterday AMD announced the 13.8 catalyst beta driver which for the first time fixes issues with frame latency. The 13.8 beta driver adds something called "frame pacing" for all HD 7000 series graphics cards. This allows frames to be delivered in a more constant way to prevent micro stutter.
Below you can see an example of  the improvements that have come from the new driver while above shows the original problem. Note that both the above and below graphs are from PC Perspective and we strongly encourage you to check out this article by them which explores the frame latency issue in more depth and how well the new driver works.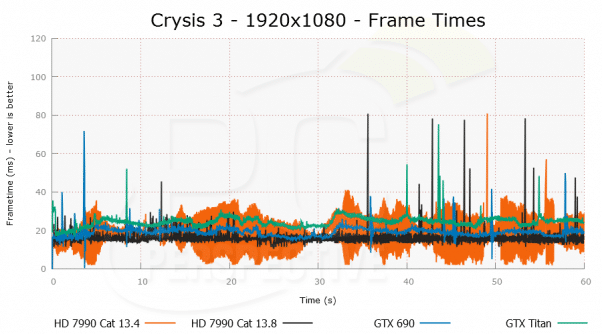 The new fix isn't going to make everyone happy though as there is still much work to be done. Firstly this new frame pacing setting, which is enabled now by default for all CrossFire X set-ups, only works with the Direct X 10 and Direct X 11 APIs – so now Direct X 9 support aka Skyrim. Next is that it only works on resolutions up to 2560 by 1600 and as far as we know there is now frame pacing support for Eyefinity just yet.
Other improvements of the Catalyst 13.8 beta include full OpenGL 4.3 API support, updated CAP profiles, improved performance in Metro Last Light by about 7% and a new gadget that shows statistics for AMD Enduro such as which apps are running on the integrated graphics and which on the dedicated graphics.
Images courtesy of PC Perspective