AMD Confirms that AM5 is Going to be Another "Long-Lived Platform"
---
---
---
Mike Sanders / 4 months ago
Following the official upcoming launch of their Ryzen 7000 processors made at CES 2022 (scheduled for release later this year), AMD confirmed that for the first time ever under the lifespan of their exceptionally popular Ryzen series, their upcoming CPUs would be transitioning to a brand new AM5 (LGA1718) socket design. – What did this mean? Well, in a nutshell, that existing motherboards would no longer be compatible with their new processor designs, and on a more technical level, that the pins (thankfully) would no longer be located on the CPU chipset itself.
So, AM5 is officially on the way! – Just how long is AMD planning to stick with this though? Well, following a report via TechPowerUp, it would appear that they currently intend for the LGA1718 socket to have a lifespan that, at the very least, will be comparable to what we have seen from AM4.
AMD – AM5 Socket to be a "Long-Lived Platform"
Following a question posed to AMD CEO Dr. Lisa Su, it was asked whether AMD was intending to stick with the AM5 platform for the foreseeable future. This was indirectly in terms of whether they intended to retain it for a similar 5-year lifespan seen on AM4. In response to this, Dr. Su said:
"Well, we've been extremely pleased with how AM4 has evolved….we said we would keep that socket for a long time and we have. We continue to believe that it has been good for the community and frankly, it's been good for us as well. As we bring things along, it was time to do a socket transition for the new I/O in the new technology, but I think strategy-wise, it should be similar. I don't have an exact number of years but I would say that you should expect that AM5 will be a long-lived platform as AM4 has been. I think we're expecting AM4 to stay in the marketplace for quite some years and it will be sort of an overlapping type of thing."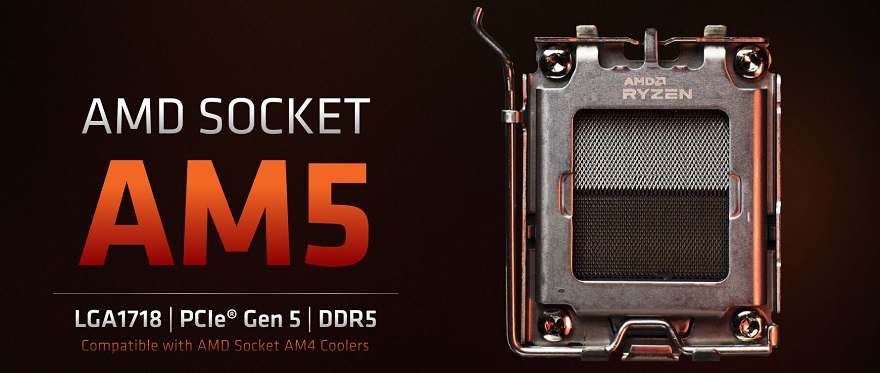 What Do We Think?
AMD has consistently proven over the years that they are far more willing to extend the lifespan of its sockets when compared to Intel who, in many instances, tend to change theirs every 2-3 generations. The key benefit this has provided AMD/AM4 owners to date is that, by and large, backward motherboard compatibility has been excellent even despite significantly newer CPUs being released. – Put simply, AMD Ryzen 3XXX users can still utilise the original B350/X370 motherboard models, whereas, by and large, Ryzen 5000 owners are still able to access models all the way down to B450 and X470. – It's a system that has made upgrading your CPU exceptionally straightforward without the need or expense of having to get a new motherboard (and on a personal note, the motherboard I'm currently using has had 3 different generations of Ryzen running perfectly happy on it as I've upgraded over the years).
While moving to a new AM5 socket will, therefore, require the expense of a new motherboard this time around, the good news is that AMD clearly seems to intend to stick with it for a significant period of time. And, let's be honest, it's a well-needed upgrade given the overly familiar horror of bent pins on current Ryzen CPUs when you remove the cooler and accidentally rag the chipset out with it! – And yes, this has happened to me!
What do you think? – Let us know in the comments!