AMD Flip-Flops on Prior Comments that 4GB Wasn't Enough VRAM For Gaming!
---
---
---
Mike Sanders / 1 year ago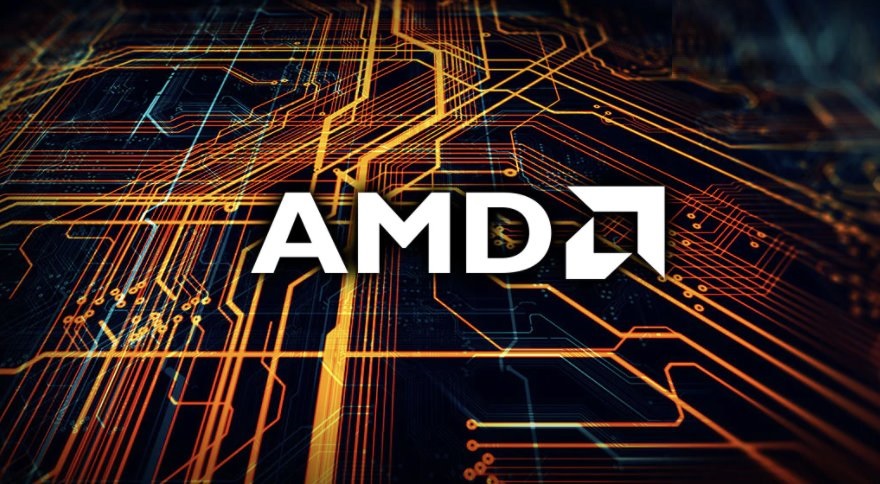 One of the biggest question marks leading up to the release of the AMD Radeon RX 6500 XT was specifically as to whether the 4GB of video memory (VRAM) it was coming with was really enough for modern AAA gaming. I mean, let's be honest, I think most of the PC community would agree that 6GB feels more like the entry-level starting point these days, and hence why most graphics cards come with that as a minimum specification.
But no, the 6500 XT hit the market, with 4GB of VRAM, and with AMD assuring us rather fervently that this was more enough than to satisfy the entry-level 1080p gamer's needs. Why are we bringing this up though? Well, following a report via Videocardz, a blog post that AMD made back in June 2020 has come back to haunt them by, somewhat contradictorily but categorically stating that 4GB is NOT enough!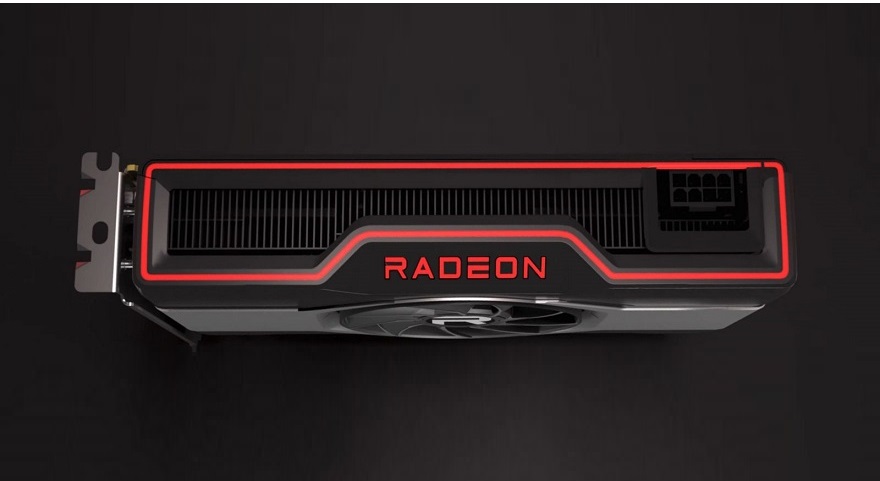 AMD Removes Blog Post That Contradicts the Radeon RX 6500 XT
So yeah, apparently in 2020 4GB of VRAM wasn't enough for gamers, but now, 2 years later with the 6500 XT, it apparently is! – We can, therefore, only conclude that with the release of the Radeon RX 6500 XT AMD had either forgotten that they'd made such comments in the past, or perhaps more likely, they hoped that we might have forgotten about it. And unfortunately for them, they clearly didn't consider the fact that the internet never forgets. – Serious though, you couldn't make this stuff up!
Now, yes, admittedly, the post was made during a time when AMD was promoting its Radeon 5000 and RX 570/580/590 graphics cards which, as you may recall, pretty much all came with 8GB of video memory. They, therefore, almost certainly suggested that 4GB of VRAM wasn't enough to take aim at the entry-level focused graphics cards Nvidia was pushing at the time.
Let's be honest though, despite the fact that the landscape has undoubtedly changed quite significantly since then, it's still more than a little amusing when a marketing ploy aimed at a competitor comes back to moderately bite themselves in the backside!
"AMD is leading the industry at providing gamers with high VRAM graphics solutions across the entire product offering. Competitive products at a similar entry level price-point are offering up to a maximum of 4GB of VRAM, which is evidently not enough for todays games. Go Beyond 4GB of Video Memory to Crank Up your settings. Play on RadeonTM RX Series GPUs with 6GB or 8GB of VRAM and enjoy gaming at Max settings."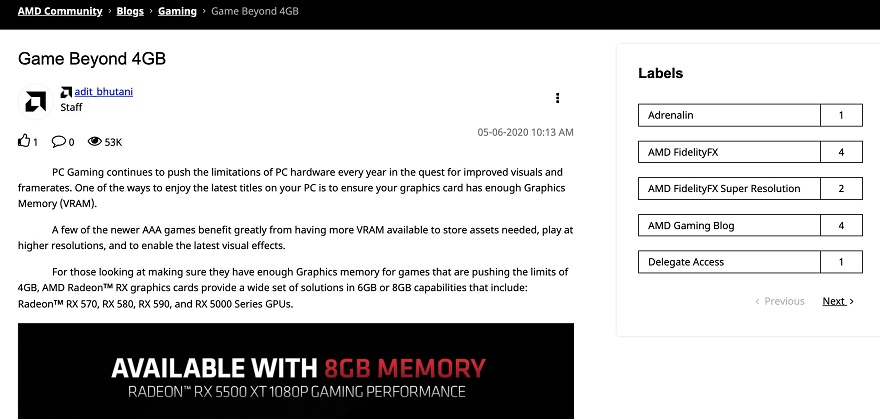 Now You See It! – Now You Don't – Now You Do Again!
In truth, this blog post would've undoubtedly have gone under the radar (at least a bit more) had AMD not decided to attempt to somewhat quietly remove it immediately prior to the release of the 6500 XT. Following people noticing that it had vanished, however, this clear attempt of AMD's to expunge some clearly awkward prior comments only managed to draw more attention to it. – As such, and at least at the time of writing, AMD has now felt somewhat compelled to reinstate the original post. Albeit, I daresay that if you were hoping for them to release some kind of statement as to how 2 years has now somehow allowed 4GB of VRAM to get viable again, I wouldn't suggest that you hold your breath.
Getting back to the key point though, and allowing AMD to remove its metaphorical foot from its mouth, is 4GB of VRAM enough for gaming? Well, if you want to see our full and comprehensive review of the Radeon RX 6500 XT, click on the link here to find out!
What do you think? – Let us know in the comments!