AMD Gains 2.2% CPU Market Share from Intel in Q1 2017
---
---
---
Ron Perillo / 7 years ago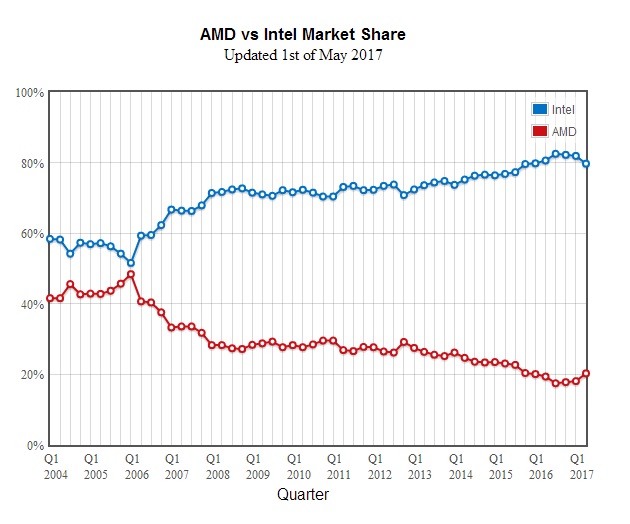 AMD had a good start of the year, gaining 2.2% of the processor market share against Intel which is actually the first time this has happened in over five years. AMD's market share against Intel has been in an almost steady decline starting in 2006 but had few notable gains above 1% until now. The last time AMD gained 3% from Intel was in Q4 2012 when they released AMD FX Piledriver as well as AMD APUs.
The market share gain is obviously attributed to AMD's Ryzen launch, which although it had its own share of hiccups, was otherwise a success for the company under the leadership of CEO Dr. Lisa Su. Sales would have undoubtedly be even  better if AMD had lined up the launch schedule with partners properly, but they were too pre-occupied with keeping the launch date secret that motherboard manufacturers were not prepared with enough stock for launch. Motherboard stocks eventually normalized a month after the initial Ryzen R7 processors launched.
The CPU sales figures come from PassMark quarterly report which measures the CPU market share via individual system benchmarks performed using their program and is not pulled from store sales figures. This has the advantage of showing CPUs that are actually used rather than just stock on hand or pre-orders.