AMD Polaris Graphics Cards (RX 400/500) Are Unable to Run Forspoken!
---
---
---
Mike Sanders / 2 months ago
The AMD Polaris architecture utilised on the Radeon RX 400 and 500 series graphics cards is quite old now. In fact, if we're being brutally honest, it was already pretty old when utilised in this GPU series. The Radeon RX 400 and 500 series, however, was hugely popular predominantly due to two reasons. Firstly, they were inexpensive. And secondly, for entry-level gaming, they still, just about (well, admittedly barely), continue to manage to hold their own.
Following a report via Videocardz, however, it seems that for complicated reasons due to the Polaris architecture and specific applications within DirectX 12, pretty much all Radeon RX 400 and 500 series graphics cards are completely incapable of running Forspoken. And I don't just mean the framerate is bad, I mean the game will not run period!
Forspoken Does Not Work on AMD Radeon RX 400/500 GPUs
Now, admittedly, because I need to get this elephant out of the room quickly, getting a playable gaming experience in Forspoken with something like an AMD RX 480 or RX 580 did admittedly seem like a somewhat optimistic task. – It's no secret that Forspoken has some incredibly terse system requirements, and more so, the PC version is horrifically unoptimised.
With that being said, however, it's incredibly rare when a graphics card, even if it falls below the 'minimum' requirements, still can't at least get you into the game. Apparently though, despite the fact that Polaris does support DirectX 12, the graphics API required to run the game operates at a level that these GPUs simply don't have!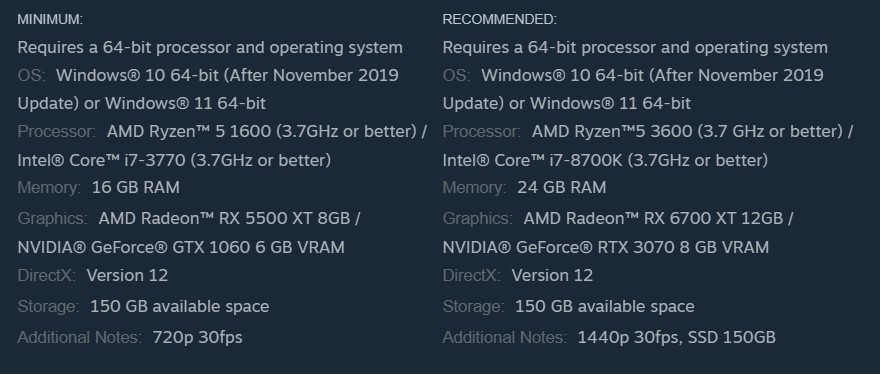 Overall, despite lacking any official notification in the system requirement, it appears that Forspoken does require a minimum of a Turing, RDNA2 or Xe-HPG graphics architecture to run. – The problem though, as mentioned above, is that it doesn't say this.
Many people are still using AMD Polaris graphics cards. They were and remain incredibly popular cost-effective choices. As such, it's hardly surprising that, despite not really meeting the requirements, people were still going to try and play this even if they had to dump both graphics and resolutions down to minimal levels.
Put simply though, if you own something like an RX 480, RX 580, or even an RX 590 (which is only 5 years old), don't even bother trying Forspoken right now. It's bad enough on actual hardware that works with it anyway!
What do you think though? – Let us know in the comments!