AMD Invests $5 Million In Gaming Evolved Rewards Program
---
---
---
Gabriel Roşu / 7 years ago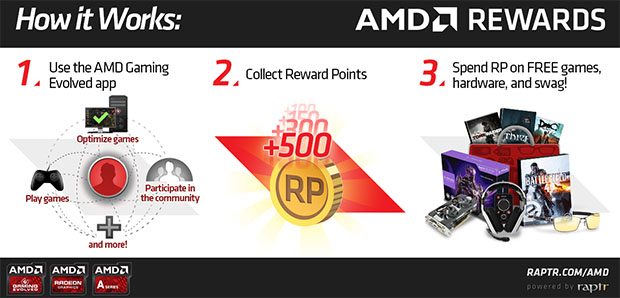 Having put $5 million in a new rewards program that gives games, hardware and discounts to players using AMD's Gaming Evolved program. That's a lot of $$$ spent, but if it gets players to use the software, it would be a good investment. But that's a big 'IF'.
For those who do not know what Gaming Evolved is, the software provided by AMD is powered by the Raptr gaming social media software, providing optimized configuration settings for games, automatic driver downloads, streaming capabilities, as well as social networking features. It is similar to NVIDIA's counterpart, the GeForce Experience application, both having a crucial difference between gaming optimizations based on hardware.
GeForce Experience relies on testing conducted in Nvidia's labs, while Raptr draws on crowdsourced data obtained from its users. Expanding the size of that user base should improve the quality of Raptr's recommendations, which helps to explain why AMD has pledged a substantial sum as part of this new incentive program.
In terms of AMD's Rewards system, the software is said to generate points for gamers using the application for "posting quality content to the community, connecting with other games, and discovering new community features." The points can be used to redeem hardware such as Sapphire Radeon R7 260X, R9 270, and R9 270X graphics cards in addition to a bunch of older games from AMD's Never Settle bundles.
More details about the offer can be viewed on AMD's blog post and the software can be downloaded from AMD's official website.
Thank you Tech Report for providing us with this information
Image courtesy of Tech Report