Rumour: AMD Kaveri APUs Bring FM2+ Socket And Late 2013 Launch
---
---
---
Ryan Martin / 10 years ago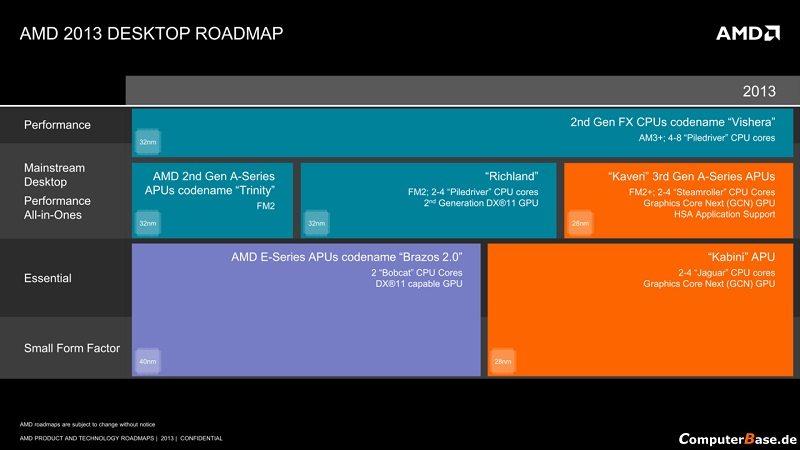 According to an AMD roadmap leaked by ComputerBase.de the new AMD APU platform "Kaveri" is going to be arriving by the end of 2013. This new Kaveri APU will bring a new FM2+ platform to the market.
The raw mechanics of the Kaveri APU see it bring a new CPU architecture to market, the long awaited Steamroller, which wasn't expected to be available until Q2 of 2014 at the earliest. It will pack 2 to 4 of those Steamroller CPU coolers and will adopt a GCN architecture for the first time. Despite the HD 7000 series being GCN based and Richland APUs being recently released, Richland APUs still use the VLIW architecture of the HD 6000 series so when AMD make the shift towards GCN we can really expect to see APUs pack a much more serious punch.
Why is this important? Well for those who didn't see, Intel's recently launched Iris Pro 5200 enlarged GPU for Haswell comfortably beats AMD's Trinity A10 5800K in most games and GPU applications. Of course the Richland A10 6800K will shrink this deficit somewhat but only by around 10% if most sources on Richland performance are to be believed. This means AMD really needs to bump up its GPU game on its APUs as it risks being left behind by Intel who have a drastically superior CPU component. This is where Kaveri will come in and it will used a refined GCN architecture design that could hopefully bring performance levels in the HD 7750/HD 7790 region which would give it a huge advantage of Intel's Iris Pro 5200.
Details about what FM2+ will have that is different to FM2 is not known. However, we know FM2+ will bring HSA application support, that is great integration of CPU/GPU workloads for improved performance. If you add that improved integration performance to the improved generational CPU/GPU performance increases then Kaveri could be a very potent APU indeed.
Image courtesy of ComputerBase.de