AMD Officially Announce Details of High Bandwidth Memory
---
---
---
Rikki Wright / 6 years ago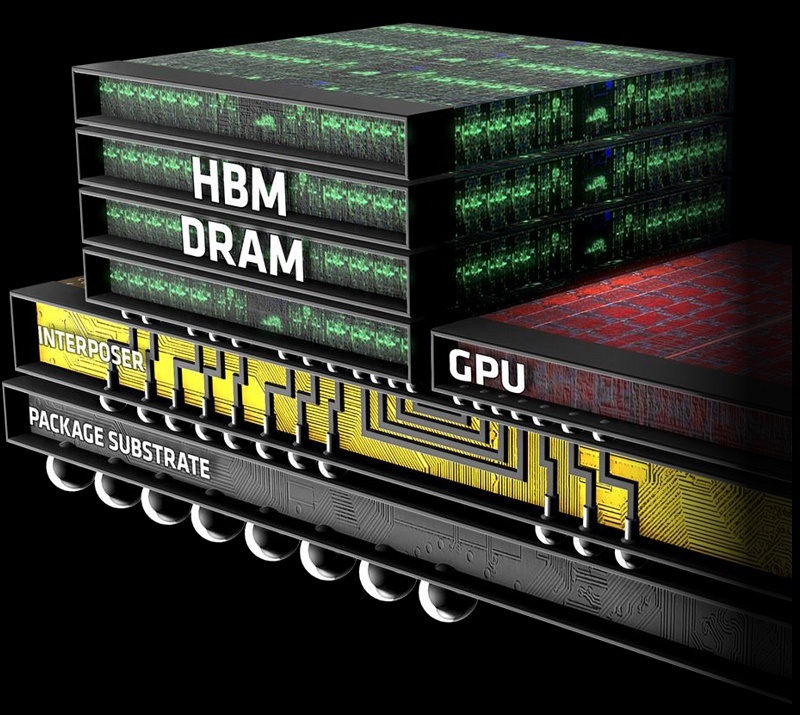 We've been waiting for details on the new memory architecture from AMD for a while now. Since we heard the possible specifications and performance of the new R9 390x all thanks to the new High Bandwidth Memory (HBM) that will be utilised on this graphics card.
Last week, we had a chat with Joe Macri, Corporate Vice President at AMD. He is really behind HBM and has been behind it since product proposal. Here is a little bit of background information, HBM has been in development for around 7 years and was the idea of a new AMD engineer at the time. They knew, even 7 years ago, that GDDR5 was not going to be an ever-lasting architecture and something else needed to be devised.
The basis behind HBM is to use stacked memory modules to save footprint and to also integrate them into the CPU/ GPU itself. This way, the communication distance between a stack of modules is vastly reduced and the distance between the stack and the CPU/ GPU core is again reduced. With the reduced distances, the bandwidth is increased and required power dropped.
When you look at graphics cards such as the R9 290x with 8GB RAM, the GPU core and surrounding memory modules can take up around a typical SSD size footprint and then you also need all of the other components such as voltage regulators; this requires a huge card length to accommodate all of the components and also the communication distances are large.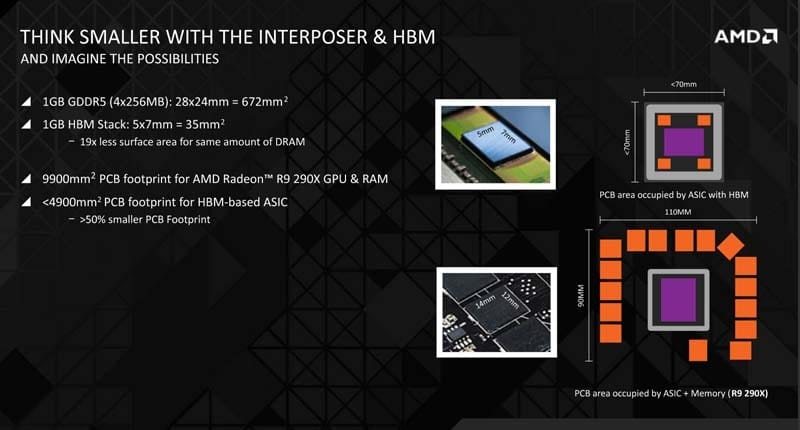 The design process behind this, in theory, is very simple. Decrease the size of the RAM footprint and get it as close to the CPU/ GPU as possible. Let's take a single stack of HBM, each stack is currently only 1GB in capacity and only four 'DRAM dies' high. What makes this better than conventional DRAM layout is the distance between them and the CPU/ GPU die.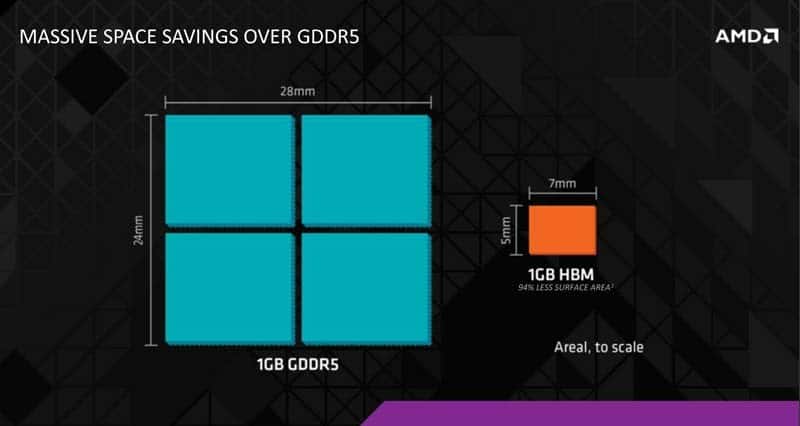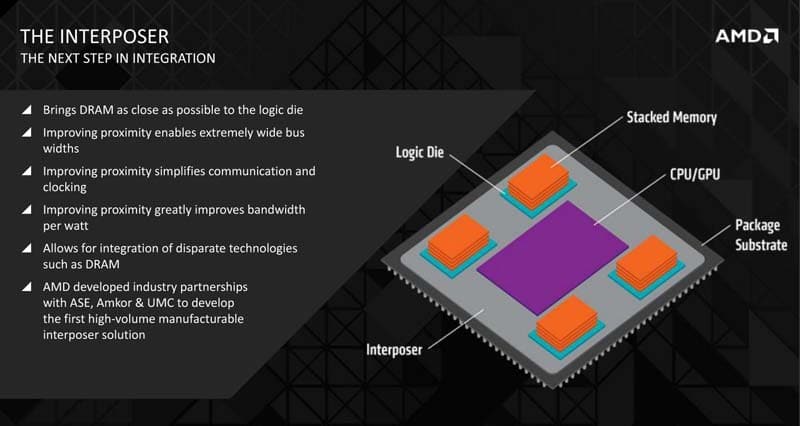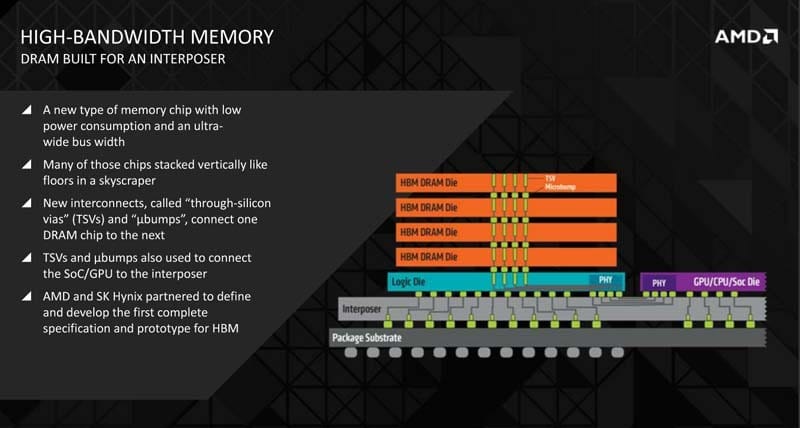 With the reduced distance, the bandwidth is greatly increased and also power is reduced as there is less distance to send information and fewer circuits to keep powered.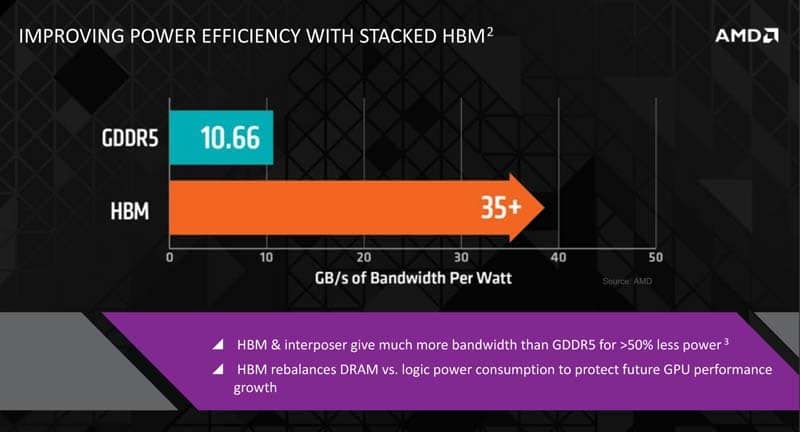 So what about performance figures? The actual clock speed isn't amazing, just 1GBps when compared to GDDR5, but that shows just how powerful and refined they are in comparison. Over three times the bandwidth and lower voltage; it's ticking all the right boxes.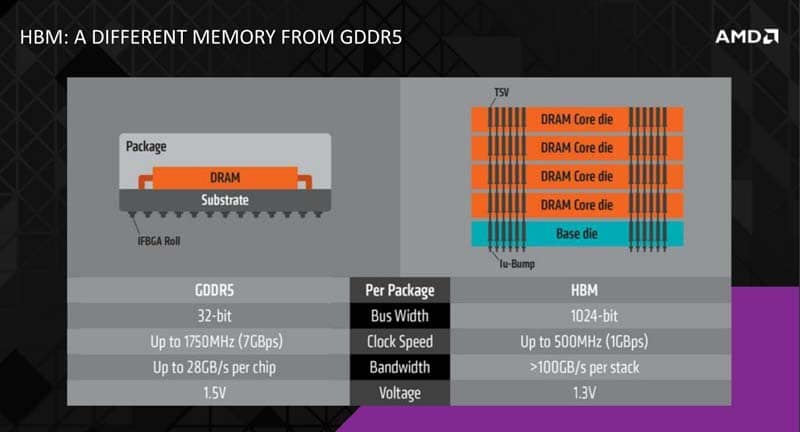 There was an opportunity to ask a few questions towards the end, sadly only regarding HBM memory, so no confirmed GPU specifications.
Will HBM only be limited to 4GB due to only 4 stacks (1GB per stack)?
HBM v1 will be limited to just 4GB, but more stacks can be added.
Will HBM be added into APU's and CPU's?
There are thoughts on integrating HBM into AMD APU's and CPU's, but current focus is on graphics cards.
With the current limitation only being 4GB, will we see negative performance in high demanding games such as GTA V at 4K that require more than 4GB?
Current GDDR5 memory is wasteful, so despite lower capacity, it will perform like higher capacity DRAM
Could we see a mix of HBM and GDDR5, sort of like how a SSD and HDD would work?
Mixed memory subsystems are to become a reality, but nothing yet, main goal is graphics cards.
I'm liking the sound of this memory type; if it really delivers the performance stated, we could see some extremely high power GPU's enter the market very soon. What are your thoughts on HBM memory? Do you think that this will be the new format of memory or will GDDR5 reign supreme? Let us know in the comments.