AMD Polaris 20 GPU Confirmed For RX 500 Graphics Cards
---
---
---
Samuel Wan / 6 years ago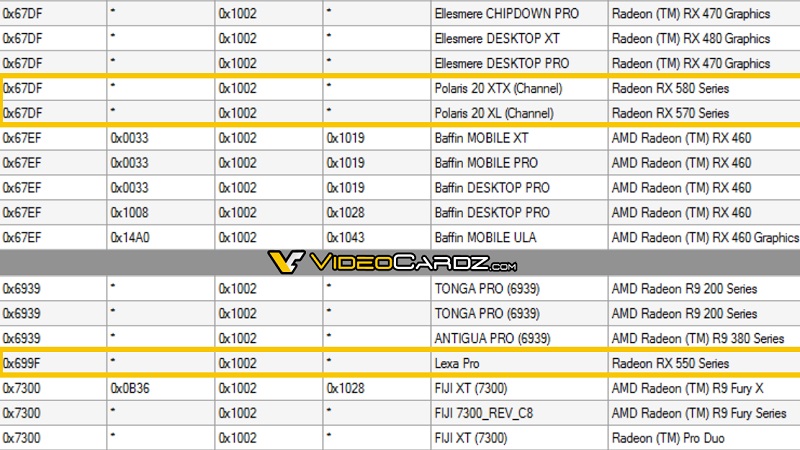 Within a few short days, AMD is set to launch their new RX 500 series of graphics cards. From previous reports and leaks, the new lineup is expected to be a refresh of the RX 400 series of Polaris based GPUs. In previous reports, there was an assumption as a rebrand that the exact same GPUs used in the RX 400 series would be reused for the RX 500. According to some new information courtesy of AMD drivers, that does not appear to be the case.
Hidden in the launch driver for the RX 500 series, we have listings for the RX 580, RX 570 and RX 550; the RX 560 seems to be missing in action. Interestingly, the RX 580 and RX 570 are now powered by the GPU we though they would be using. As a rebrand of the RX 480 and RX 470 which both use Polaris 10, the driver has the RX 580 and RX 570 use Polaris 20 XTX and XTL respectively instead. This is an entirely new GPU, just like the Lexa Pro (Polaris 12) powering the RX 550.
In the past, rebrands have often used the same GPU. After all, that is the whole purpose of the rebrand, to reuse the GPU but give it a spanky new name to sound fresh. At this point, it is too early to say if Polaris 20 is also a "rebrand" or if it has any new features compared to Polaris 10. Based off of leaked specifications like the core count, FLOPs and clock speed, it doesn't appear that Polaris 20 is fundamentally any different. My suspicion is that Polaris 20 may feature new hardware acceleration modules for video encode and decode or hardware VR support for Asynchronous Space Warp. I suppose we will have to wait till launch to find out.