AMD Radeon 6450 512MB Graphics Card Review
---
---
---
Andy Ruffell / 10 years ago

Recently, AMD have been pushing out their latest high-powered GPU's to very impressive results. However, at the same time they have been quietly sneaking out some smaller low-priced graphics cards. In fact this is one of the cheapest DirectX 11 graphics cards money can buy which on the face of it should be able to cope with multiple screen gaming all be it not the most intensive of media and gaming scenarios.

This card, the AMD Radeon HD 6450 is aimed at those who are looking to get a 'performance gaming system' that can cope with the very latest of games. It is however aimed at those of us who can't afford to buy its bigger brothers and want a relatively cheap and low cost option to improve our graphics solutions. It is effectively an entry-level card, but one that will still allow you to experience the latest games while only being the first step up from the onboard graphics that some of you may still have the misfortune of experiencing.

Graphics cards are a big market and AMD are one of the largest. Recently they have been pouring out their new range of 6 series graphics cards – ranging from the 6450 to the beast of the 6990. So far, we have hardly heard a bad word against them. Here at eTeknix we will thoroughly test this graphics card and will do our best to compare it to others on the market – that being said there are hardly any graphics cards that are as low-priced as this so unfortunately we will have to go back to an older generation for our comparisons.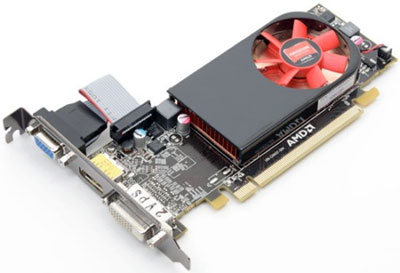 Specifications
625-750 MHz engine clock
512MB-1GB DDR3/GDDR5 memory
533-800 MHz DDR3 (1.066-1.6 Gbps) or 800-900 MHz GDDR5 (3.2-3.6 Gbps) memory clock
8.5-12.8 GB/s (DDR3) or 25.6-28.8 GB/s (GDDR5) memory bandwidth
200-240 GFLOPS Single Precision compute power
TeraScale 2 Unified Processing Architecture
[LIST]
160 Stream Processing Units
8 Texture Units
16 Z/Stencil ROP Units
4 Color ROP Units
[*]GDDR5/DDR3 memory interface
[*]PCI Express 2.1 x16 bus interface
[*]DirectX® 11 support
Shader Model 5.0
DirectCompute 11
Programmable hardware tessellation unit
Accelerated multi-threading
HDR texture compression
Order-independent transparency
[*]OpenGL 4.1 support
[*]Image quality enhancement technology
Up to 12x multi-sample and super-sample anti-aliasing modes
Adaptive anti-aliasing
Morphological anti-aliasing (MLAA)
16x angle independent anisotropic texture filtering
128-bit floating point HDR rendering
[*]AMD Eyefinity multi-display technology1
Native support for up to 3 simultaneous displays
[LIST]
Up to 4 displays supported with DisplayPort 1.2 Multi-Stream Transport
[*]Independent resolutions, refresh rates, color controls, and video overlays
[*]Display grouping
Combine multiple displays to behave like a single large display
[/list][*]AMD App Acceleration2
OpenCL 1.1
DirectCompute 11
Accelerated video encoding, transcoding, and upscaling2,5
[*]UVD 3 dedicated video playback accelerator
MPEG-4 AVC/H.264
VC-1
MPEG-2 (SD & HD)
Multi-View Codec (MVC)
MPEG-4 part 2 (DivX, xVid)
Adobe Flash
[*]Enhanced video quality features
Advanced post-processing and scaling
Dynamic contrast enhancement and color correction
Brighter whites processing (blue stretch)
Independent video gamma control
Dynamic video range control
[*]Dual-stream 1080p playback support
[*]DXVA 1.0 & 2.0 support
[*]AMD HD3D technology4
Stereoscopic 3D display/glasses support
Blu-ray 3D support
Stereoscopic 3D gaming
3rd party Stereoscopic 3D middleware software support
[*]Cutting-edge integrated display support
DisplayPort 1.2
[LIST]
Max resolution: 2560×1600 per display
Multi-Stream Transport
21.6 Gbps bandwidth
High bit-rate audio
[*]HDMI 1.4a with Stereoscopic 3D Frame Packing Format, Deep Color, xvYCC wide gamut support, and high bit-rate audio
Max resolution: 1920×1200
[*]Dual-link DVI with HDCP
Max resolution: 2560×1600
[*]VGA
Max resolution: 2048×1536
[/list][*]Integrated HD audio controller
Output protected high bit rate 7.1 channel surround sound over HDMI or DisplayPort with no additional cables required
Supports AC-3, AAC, Dolby TrueHD and DTS Master Audio formats
[*]AMD PowerPlay™ power management technology3
Dynamic power management with low power idle state
[*]AMD Catalyst™ software and HD video configuration software
Unified graphics display drivers
[LIST]
Certified for Windows 7, Windows Vista, and Windows XP
[*]AMD Catalyst™ Control Center
Software application and user interface for setup, configuration, and accessing special features of AMD Radeon products
[/list][/LIST]