AMD Radeon RX 6700 XT Comes in Two TGP Variants?
---
---
---
Mike Sanders / 3 years ago
Following recent rumours that the AMD Radeon 6700 XT was (probably) set for release on March 18th, many consumers are already looking at this graphics card with more than a little interest. I mean, with it seemingly coming with some very solid specifications as well as, hopefully, the fact that it may be actually available to purchase would, by themselves, warrant more than a little consumer curiosity based on the current situation with pretty much all graphics cards.
Following a report via Videocardz, however, it would appear that something moderately interesting has been noted with the AMD 6700 XT. Namely, it would appear that it's been made available to AIB partners in two different TGP specifications.

AMD Radeon 6700 XT
So, TGP, what is this? Well, in a nutshell, TGP refers to the default level of power that is supplied to the graphics card. The more there is, the more that can be used. It's about as simple as that. With this in mind, though, why would AMD offer two different versions of the 6700 XT with separate TGP levels? – Well, the theory is that the ASIC A design (which has the higher TGP at 230W) is the model specifically catering towards manufacturers' overclocked designs (the additional power can allow partners such as MSI and Palit, etc. to look to push the boat out). The alternative ASIC B (189W) design will apparently be used for (or at least primarily targeted towards) the 'reference' clock speeds provided on the chipset.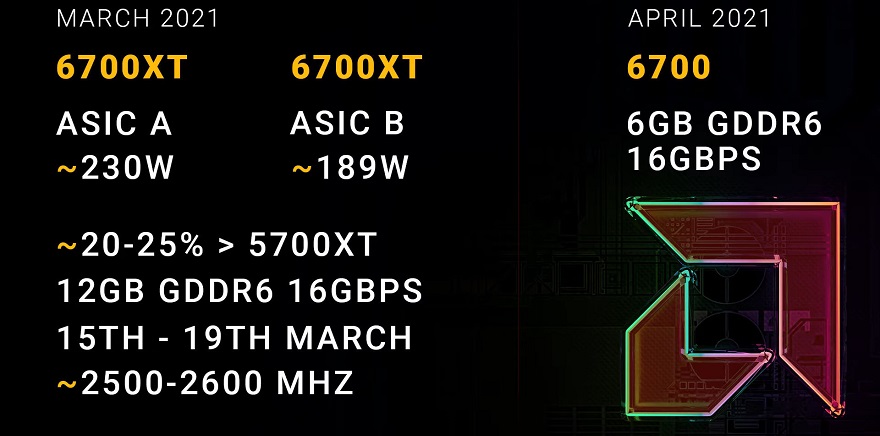 What Does This Mean for Me?
With one apparently being 'better' than the other, does this pose a problem for consumers? Well, for the vast majority of people, the answer is no. If you buy a graphics card to achieve the specifications listed on the box, then regardless of ASIC A or ASIC B, you'll undoubtedly get what you paid for. However, for overclockers, and particularly those who like to push things as far as they can possibly go, the ASIC A does seem to be the more preferable choice. Albeit, identifying that might be more than a little tricky. We don't, after all, expect to see this specifically listed on the packaging. Who knows though, maybe it will!
What do you think? – Let us know in the comments!