AMD Radeon RX 6700 XT Graphics Card Review
---
---
---
Ben Enos / 3 years ago

AMD has released its newest range of Graphics Cards with their 6700 XT line-up. Aimed at 1440P gamer's, the 6700 XT is said to take on the likes of the GTX 3070 from NVIDIA. AMD has been kind enough to send us one of their reference model cards for testing. The reference model will be a good starting point as not only will it allow us to test the performance of the 6700 XT VS that of the 3070, it will also let us compare other 6700 XT's from AIB partners and see just how well it all does as a whole. The 6700 XT follows a similar design to those previous cards we have seen in the RX range, except the reference model only features two fans instead of the three fan models we have seen on the 6800 and 6900 series cards. Will the 6700 XT live up to the hype and be the new go-to 1440p card? Only one way to find out, let's get this review started.
Title
Based on AMD's 7nm technology, the RX 6700 XT brings 12GB of GDDR6 to the masses with their latest offering. Should you be able to find one, the suggested MSRP is $479 which for those of us in the U.K., will likely be around £479 at the time of launch. Some of the AIB partner cards are likely to cost a bit more and will probably range from $550-$600 or so give or take a few pennies depending on the exact model. The 6700 XT has 20 less compute units coming in at only 40 vs that of the 6800 XT but it has a higher game frequency of 2424MHz VS the 1815MHz of the 6800 XT so will be interesting to see how well it stacks up to its big brother.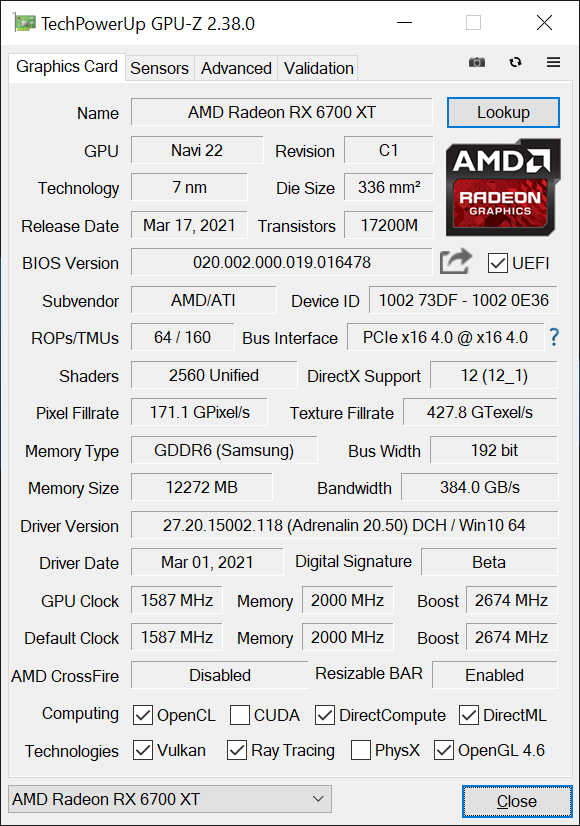 For in-depth features and specifications, please visit the official AMD RADEON RX 6700 XT product page here.