AMD Reveals Polaris 10 and 11 Market Positioning
---
---
---
Samuel Wan / 7 years ago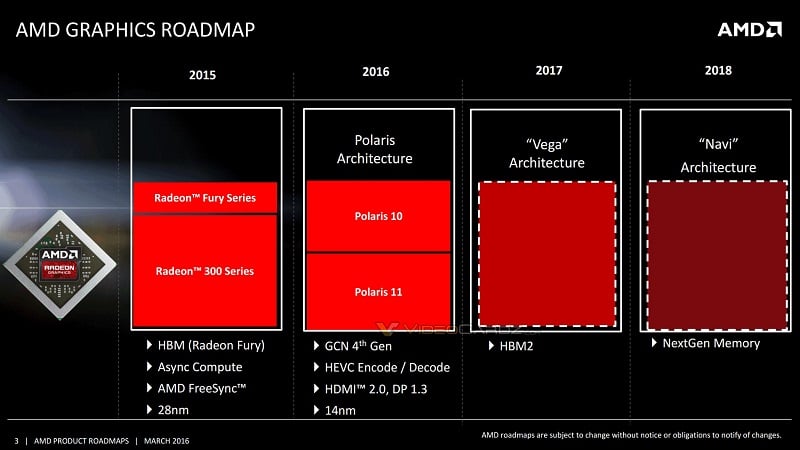 While we've pretty much confirmed that GP104 will replace the current Maxwell chips with the new GTX 1080 and 1070, things are less clear from AMD. We got some clarification yesterday from the release of a new roadmap that appeared to show Polaris 10 replacing current Fiji cards. With a new statement as part of their Q1 earnings release, AMD is shedding a bit more light on where they see Polaris 11 fitting in.
"AMD demonstrated its "Polaris" 10 and 11 next-generation GPUs, with Polaris 11 targeting the notebook market and "Polaris" 10 aimed at the mainstream desktop and high-end gaming notebook segment. "Polaris" architecture-based GPUs are expected to deliver a 2x performance per watt improvement over current generation products and are designed for intensive workloads including 4K video playback and virtual reality (VR)."
From the statement, we can see that Polaris 11 is meant for mainstream desktop and high-end gaming notebook segment. To me, this suggests that Polaris 10 will be branded 480 and 480X which has been the mainstream segment. With at 2304 stream processors, this would make for a good 390X replacement and once you consider the significant improvements GCN 4.0 brings, it would be competitive with Fury. Polaris 11 seems to be targeting the low power segment with notebooks and like x70/x70X which have historically been the top end notebook cards.
If our speculation is correct, this means AMD is transitioning to a release schedule similar to Nvidia. The mainstream chip with Polaris 10 would come in first with a slight improvement over the current Fiji flagships. A few months later, in early 2017, we will see Vega with HBM2 come in as a true upgrade over Fury X. Starting off, it looks like GP104 and Polaris 10 will battle it out quite equally so it will be interesting to see how it all plays out.