AMD Ryzen 5800X3D Appears on Geekbench With Less Than Enthusiastic Results!
---
---
---
Mike Sanders / 11 months ago
With the Ryzen 5800X3D set for release on the 20th of April, it has been widely claimed (pretty much entirely by AMD) that this will represent the fastest gaming processor available on the market. Well, until Intel releases the i9-12900KS at least. – Following a report via Videocardz, however, the first confirmed benchmarks from the processor have appeared online (on Geekbench), and based on the results, let's just say that at this precise moment, the AMD 5800X3D doesn't even appear to have the beating of the standard 5800X.

AMD Ryzen 5800X3D
Following the publication and confirmation of the scores, this has allowed for a direct comparison to be made between the upcoming 5800X3D and the well-established 5800X. So, with this in mind, how did the newcomer do? Well, the short answer is not overly well. – In terms of multi-core performance, the 5800X3D has a fairly nice (and comfortable) performance margin of around an additional 9%. In the single-core, however, and even allowing for a fair margin of error, it would appear that they are about on par with each other.
Not overly encouraging given that single-core is, of course, the most important factor when it comes to gaming.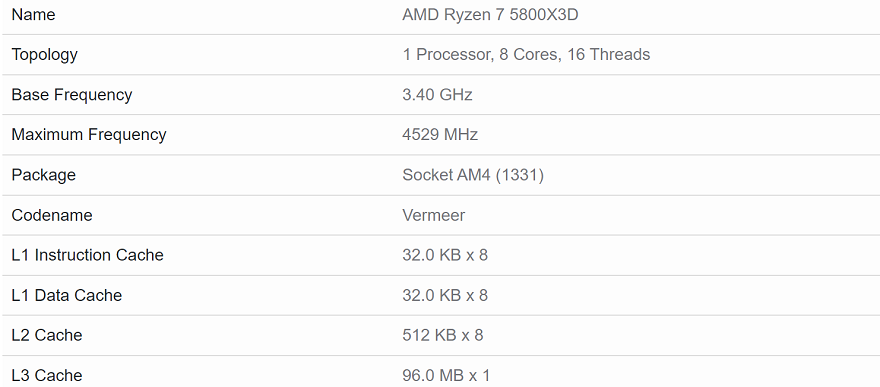 What Do We Think?
Now, before people start thinking that the AMD Ryzen 5800X3D might be a bit of a dud, there are a number of hugely important factors that should be taken into consideration. Firstly, the processor utilised here was more than likely an engineering sample which is never entirely indicative of the true level of performance the final retail product will have. More so, it's questionable as to whether this was operated on the most up-to-date BIOS version and drivers. – Finally though, although Geekbench isn't an overly bad benchmarking tool, in terms of offering direct comparisons, it's not entirely great either. Largely because many other factors within a system's hardware can have a notable impact on the scores provided. – Put simply, it's more than likely that the comparative 5800X was not running in the exact same configuration with the CPU being the only difference.
So, in a nutshell, although not entirely impressive right now, we're more than certain that when the 5800X3D does officially arrive, these figures will undoubtedly be a lot more impressive. Well, we hope so at least.
You can, incidentally, check out the full Geekbench results via the link here!
What do you think? – Let us know in the comments!