AMD Ryzen PreOrders Reportedly Shipping Feb 28th
---
---
---
Samuel Wan / 5 years ago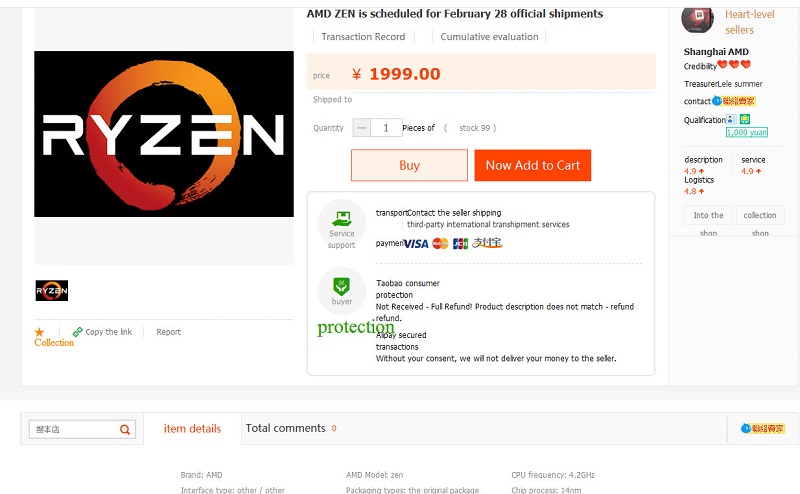 These Ryzen rumors just keep coming and now it seems we may be seeing a different launch date than expected. From previous reports, AMD was reportedly set to launch their new Zen based CPU lineup on March 2nd. This lined up with our information that March 3rd would be the latest possible launch date. Now it seems that February 28th might be when AMD is ready to reveal their new processors.
According to AMD Shanghai's Taobao channel, Ryzen is set to ship on February 28th which suggests that the launch would happen on that day. While details are scant, the 14nm 4.2 GHz Zen chip would cost ¥1999 or roughly $295. The 28th is a day after GDC kicks off so it is conceivable that it could be the launch date. The listing has since been taken down so there might be some truth to this. There is no information on how many cores this chip has but the pricing would suggest a quad-core or hexa-core model.
So far, no leaked Ryzen engineering sample has hit 4.2 GHz, the highest being 4 GHz. Other reports have pegged the base clock speeds at 3.6 GHz which would mean a boost of 600 MHz. While that seems quite large, it is quite common for AMD which currently has processors boosting a full 1 GHz for some models. With improved binning and refining, it's quite possible AMD has managed to squeeze out even higher speeds relative tot heir leaked engineering samples.