AMD Vega mGPU Support Enabled in Radeon Software 17.9.2
---
---
---
Ron Perillo / 5 years ago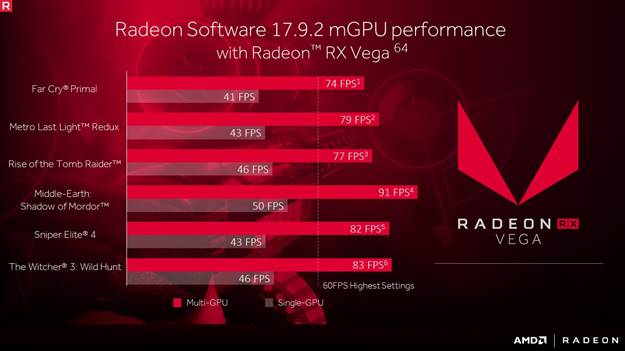 Starting with Radeon Software 17.9.2, AMD is enabling multi-GPU (mGPU) configurations using their latest Radeon RX Vega graphics cards. This includes both the Radeon RX Vega 56 and RX Vega 64 GPUs, in sets of two. AMD claims up to an impressive 80 percent faster performance boost. Their internal testing shows improvements on Far Cry Primal, Metro Last Light Redux, Rise of the Tomb Raider, Shadow of Mordor, Sniper Elite 4 and Witcher 3.
A single AMD Radeon RX Vega 64 for example runs at 46 fps in The Witcher 3: Wild Hunt. The multi-GPU scaling pushes the performance with a pair of RX Vega 64 to 83 fps. A lot of these sample titles are Radeon sponsored games, so it would also be interesting to see how much other games fare. Also, it would be interesting to see how the RX Vega 56 does in terms of scaling as it could offer an excellent value over the NVIDIA alternative.
What about existing AMD Radeon Software bugs?
AMD only talked about the new multi-GPU feature so far. The actual driver package is not available yet at the time of this writing. There is no mention of whether the update also fixes the existing hardware acceleration and Overwatch problems. Blizzard themselves suggests Radeon users to roll back to driver version 17.7.1 to avoid the game crashes.
This article will be updated with the driver download link once it goes live.
UPDATE: Release Notes and Download
The release notes and the driver itself are now available. You can download the driver by following this link.
Support For
Radeon RX Vega Series – Up to 2x Multi GPU support
Project Cars 2 – Multi GPU profile support added
Fixed Issues
Hearts of Iron IV may experience a system hang when the campaign scenario is launched.
Radeon Software may display an erroneous "1603 Error" after installing Radeon Software. This error will not affect your Radeon Software installation.
Known Issues
The drop-down option to enable Enhanced Sync may be missing in Radeon Settings on Radeon RX Vega Series Graphics Products. A clean install of Radeon Software can prevent this issue.
Unstable Radeon WattMan profiles may not be restored to default after a system hang. A workaround is to launch Radeon WattMan after reboot and restore settings to default.
Radeon Settings may not populate game profiles after Radeon Software's initial install.
Overwatch may experience a random or intermittent hang on some system configurations.
GPU Scaling may fail to work on some DirectX11 applications.
Secondary displays may show corruption or green screen when the display/system enters sleep or hibernate with content playing.
Bezel compensation in mixed mode Eyefinity cannot be applied.
When recording with Radeon ReLive on Radeon RX Vega Series graphics products GPU usage and clocks may remain in high states.