Angelbird SSD2go Pocket USB 3.0 External Solid State Drive Review
---
---
---
Bohs Hansen / 8 years ago
Introduction
---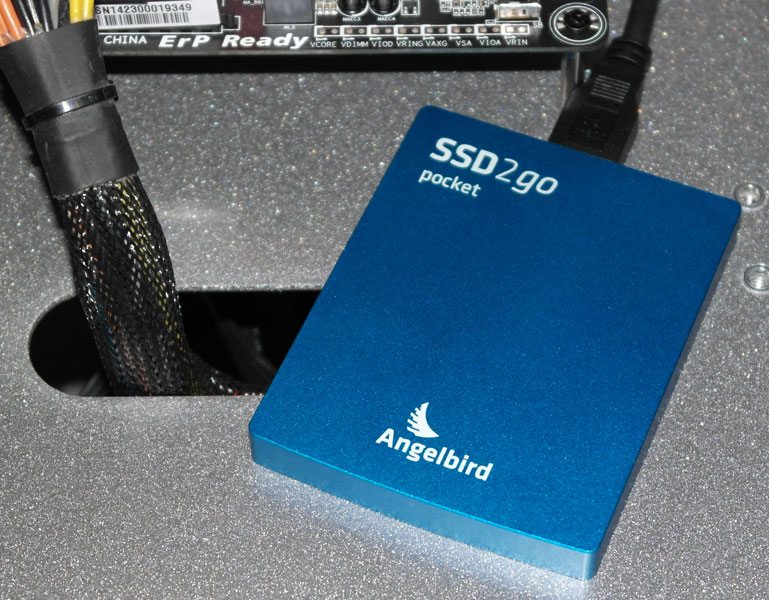 I recently had the pleasure to review the Angelbirds SSD wrk internal drive that did very well, so I was pretty excited when I got told about the new SSD2go Pocket. An external, On-The-Go Solid State Drive with the same power as an internal one while maintaining a tiny form factor and of course portability. With the native UASP support and connecting through the USB3 interface, it allows this drive to take full advantage of the 5GB/s bandwidth and should see it take off like a rocket in comparison to other external flash-based drives. The SSD2go pocket is available in three sizes; 128 GB, 256 GB and 512 GB, and comes bundled with software and music that further increases the overall value.
The SSD2go pocket is the first and only external USB drive to support both TRIM and SMART for Mac right out of the box. This is an important factor considering how popular the Angelbird drives are among musicians and other artists who have their preferred work area on Macs.
This drive doesn't just promise us great performance and features, it is a little piece of art at the same time. The slightly curved design in combination with the magnificent finish on the coating turns this external drive into a stylish accessory rather than just a tech-gizmo. The rounded corners and shape in combination with the tiny pocket size of just 89×69.9×10.4mm allow this drive to slide right into your pocket, even when you're wearing tight jeans.
It's really hard to describe the feeling you'll have when you unpack the SSD2go pocket and hold it in your hands for the first time. It has an almost magical attraction, you can't stop looking at it, inspecting every millimetre to see if you can find the tiniest error in the finish. But you won't, it is like it was made with magic. Those who have had the luck to hold one the SSD2go models in their own hands will know what I'm talking about.
The external finish isn't just beautiful to feel and look at, the SSD2go Pocket is also an incredible durable drive. It is enclosed in a CNC machined aluminium housing that has been glass pearl blasted and hard anodized. Angelbird also used the far more robust type A USB connector on the drive instead of the more common used Type B-micro connector and retracted it further into the drive to protect it. The overall result is an almost indestructible drive.
While words may be just that to you, it's worth checking out the video below. An uncut extreme-test of the SSD2go Pocket performed outside the Angelbird headquarters by Roman Rabitsch, the CEO of Angelbird. I would still like to challenge Angelbird to the tank test we've seen on performed on the G710+ keyboard.
https://www.youtube.com/watch?v=UVjvGhhyA88
When we couple all of the above with the great quality control Angelbird is running, we know we don't have much to worry about. Each component is carefully inspected and pre-tested before assembly to ensure the production fulfils the highest standards. They're also ISO certified to fulfil the fine production standards of medical technology. The drives pass through further quality controls such as automated optical inspection, in-circuit tests, bin-in inside a climate chamber, and of course a function test. The function tests will be repeated before the products are sent out to the customer to make sure that each and every device works.
Performance wise this 512 GB model promises us some impressive write speeds up to 390 MB/s and read speeds up to 450 MB/s. The IOPS are rated to 38.800 which is really good for an external drive and it has an access time of 0.9 ms. The power draw is only 0.8 watts in idle and 3.41 maximum, so this drive won't suck your laptops battery dry nor need any external power supply. Backed by a 5-year limited warranty, the SSD2go Pocket has a mean time before failure (MTBF) rating of over 2 million hours and the total bytes written (TBF) are rated to 1048TB of data.
A further bonus is added to this drive by the pre-loaded content. You'll get a full version of Parallels 10 (Mac) and Bitwig Studio 1.0 (Win, Mac, Linux) as well as the System Reflection Backup tool. It also includes PureMix Audio Production video tutorials as well as music provided by the artist themselves free for remixing. Artists featured at the time of release are Marshall Jefferson, CeCe Rogers and Trash, but the library will be expanded with new artists and content.
If you'd like to have a truly personal drive, you can add a personal touch to your Angelbird SSD2go pocket with a customized engraving. Of course, you will need to order the drive at Angelbirds' own webshop for this as the retailers can't predict your future engraving wishes.