Antec Formula 6 Nano Diamond Thermal Compound Review
---
---
---
Andy Ruffell / 11 years ago

Good and well applied thermal paste is certainly a must for every avid overclocker. It is also a necessity if you like to have a quiet PC. Simply put, without thermal paste your CPU Cooler won't do much and as such will be working as hard as it can and your CPU temperature will stick rocket. Here at eTeknix we are trying to make your lives easier by letting you know which products are better and thermal compounds are today's item on the agenda. If you've recently seen the price of thermal compounds you might well be quite surprised as it is certainly not cheap with most manufacturers claiming you're paying for quality and who are you to argue when you probably have nothing to compare it with.

Our aim of today is to test a new thermal compound and see how it fares against a more favoured adversary. Then we will be able to give you an informed decision on which is better and if it is worth your money to buy a more expensive brand or not.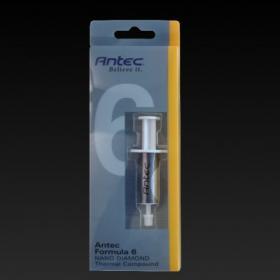 If you are not too familiar with thermal compounds here is a short summary of their job – be warned there is some science!
Thermal Compound Objective: To aid the thermal heat transfer between the CPU heat spreader and the CPU coolers' heatsink by drawing the two items into very close contact and making the gap as conductive as possible.
You might however say, why not just have the CPU in direct contact with the heatsink and this might sound like a good idea, but the transfer of heat is a very interesting topic. Heat can be transferred within a metal very easily due to the close contact of the atoms – we are talking 0.23nm between atoms. Then when there is what we consider a small gap between two touching surfaces there is a gap which is in the order of 100,000 times larger than that of the atom spacing. This is a lot and as such heat does not transfer over such a large gap. Instead we fill that gap with as much thermal compound as possible with the highest thermal conductivity as possible. Simples!
In the words of Antec themselves:
Antec's Formula 6 thermal compound protects your CPU even when your rig is running on all cylinders. Since little of the CPU's surface actually touches the heat sink, you need a solution that isolates and facilitates the transfer of heat. Formula 6's nano diamond particles minimize the distance between heat-conductive compounds and gladly take on the highest demanding CPU, optimally performing between -30°C and 250°C. To keep your system cool and your CPU functioning comfortably, pick up Antec's Formula 6 for a diamond-caliber solution.
We will be taking a look at the Antec Formula 6 Nano Diamond Thermal Compound.
Specifications
[HR][/HR]
Diamond particles measuring 0.0000015 cm rated at 5.3 w/mK
Extended -30°C to 250°C stable temperature range ideal for performance cooling
Lighter, easier to spread stable composition won't crack or dry out
Quantity: 4 g
Specific gravity: 2.2 g/cm3