Antec Twelve Hundred V3 Chassis Review
---
---
---
Henry Butt / 12 years ago

Antec have been producing cases for many years now and they have numerous models in their range. They are favoured by many users because they have a reputation for being well featured and competitively priced.

Today we are going to look at one of their top of the range cases, the 1200 (or twelve-hundred) Ultimate V3 which boasts a plethora of features to whet the appetites of enthusiasts. These include no fewer than six fans pulling and pushing air into and out of the case.

It occupies a full-tower form factor, incorporating twelve external drive bays in total. It also provides USB3.0 support, water cooling support. Unlike most full tower cases, the Antec 1200 doesn't actually support eATX motherboards which is a little strange considering all the space inside the case. But this isn't a deal breaker as there are plenty of very cabable standard ATX boards on the market.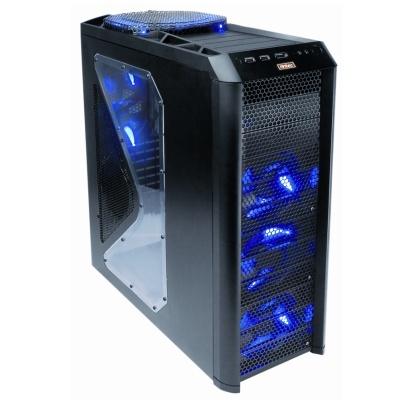 Features
13 drive bays
External 3 x 5.25″; Internal 9 x 3.5″ for HDD, or
External 6 x 5.25″; Internal 6 x 3.5″ for HDD, or
External 9 x 5.25″; Internal 3 x 3.5″ for HDD or
External 12 x 5.25 for HDD
Internal 1 x 2.5″ SSD bottom mount also included
Maximum video card size: 17.5″/444mm (Note: some video cards may require removal of the adjacent hard drive cage)
Compatible Motherboards: Mini-ITX, microATX, Standard ATX
Unique power supply option: Mounts either a standard size power supply or Antec's exclusive CP Series power supply
Perforated front bezel for enhanced air intake
Washable air filters reduce dust build-up in your system
Advanced cooling system:
1 top 200mm Big Boy 200™ blue LED fan
2 rear 120mm TriCool™ blue LED fan
3 front 120mm blue LED fan
1 (optional) side 120mm fan to cool graphics cards
1 (optional) middle 120mm fan to cool CPU or graphics cards
Water cooling platform for reservoir or pump
Compatible w/ Antec's 200mm Radiator (designed exclusively for the Twelve Hundred)
CPU cut-out allows for easy installation of CPU coolers
7 expansion slots for greater customizability
Top mounted I/O ports for easy access
2 x USB 2.0
1 x eSATA
HD Audio In and Out
Top component tray stores your music player, camera and more
Dimensions:
22.9″ (H) x 8.4″ (W) x 20.2″ (D)
582mm (H) x 213mm (W) x 513mm (D)