Antlion Audio ModMic 5 Review
---
---
---
Peter Donnell / 5 years ago
Introduction
---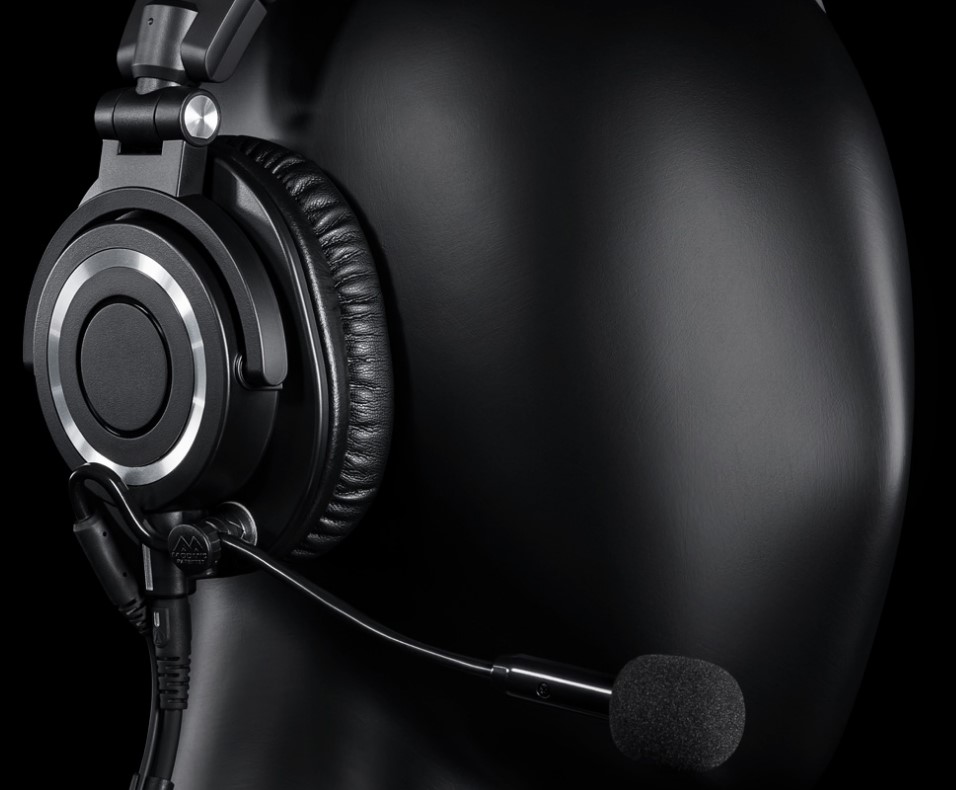 Do you take your gaming audio seriously? Then you'll be eager to see what I'm testing out today, the new and improved Antion Audio ModMic 5. Following in the footsteps of the, you guessed it, ModMic 4, this new model adds more features, better performance, and most importantly for users of the 4, it promises a greatly improved mounting system!
Are you tired of the boring standard microphones you find on most gaming headsets and need an improvement? Or perhaps you already have a set of kickass headphones that you love to use for your gaming audio, but since they lack a microphone, you want to give them the upgrade they deserve to make them gaming friendly? Then the ModMic 5 may be what you're looking for.
"The ModMic 5 delivers flexibility and performance all in one. Select between noise canceling and studio recording modes with the flick of a switch. Cable management has never been better, thanks to a modular system and included cable wrap and clips."
Innovative dual mic capsule for recording flexibility
Modular cable system: pick the right length for you
Cable wrap to protect your wires
Includes the Antlion mute module
This boom microphone comes with an innovative add-on design, adding onmi and uni-directional microphones to your headset or headphones. As you can see from the specifications below, the microphones are of a good quality too, so even if your headset has a microphone already, this is more than likely a welcome upgrade for you.
SPECIFICATIONS
Dual electret capsules: omni- and uni-directional
Selector switch on microphone housing
Jack: 3.5mm plated TRS for use with PCs
Head unit:

Microphone boom + 20mm of cable to male TRS 3.5mm tip
Single-conductor coaxially shielded

Cable:

2.5mm diameter rubberized TPE jacket, kevlar reinforced, coaxially shielded
One 1m dual-conductor coaxially shielded
One 2m dual-conductor coaxially shielded

Mute switch:

3.5mm male/female ends
Low ESR tantalum capacitor in mute circuit
Length: ~8mm

Extension cables:

3.5mm male/female ends
One 1m dual-conductor coaxially shielded

Clasps: Plated Neodymium N45 strength magnets
MICROPHONE CAPSULE SPECIFICATIONS
Pattern: Uni-directional
Sensitivity: -38 ± 3 dB
Response: 100 Hz–10 kHz
SNR: >50+ dB
Impedance: 2.2 KΩ
Operating Voltage: 1 to 10V
Max current at 2.0V: 500 µA
Max input SPL: 110 dB
Pattern: Omni-directional
Sensitivity: -26 ± 3 dB
Response: 30 Hz–17.5 kHz
SNR: 58+ dB
Impedance: 2.2 KΩ
Operating Voltage: 1 to 10V
Max current at 2.0V: 500 µA
Max input SPL: 110 dB
Packaging and Accessories
The ModMic 5 comes in a fairly simple box, it's only a small product, so this is more than sufficient anyway.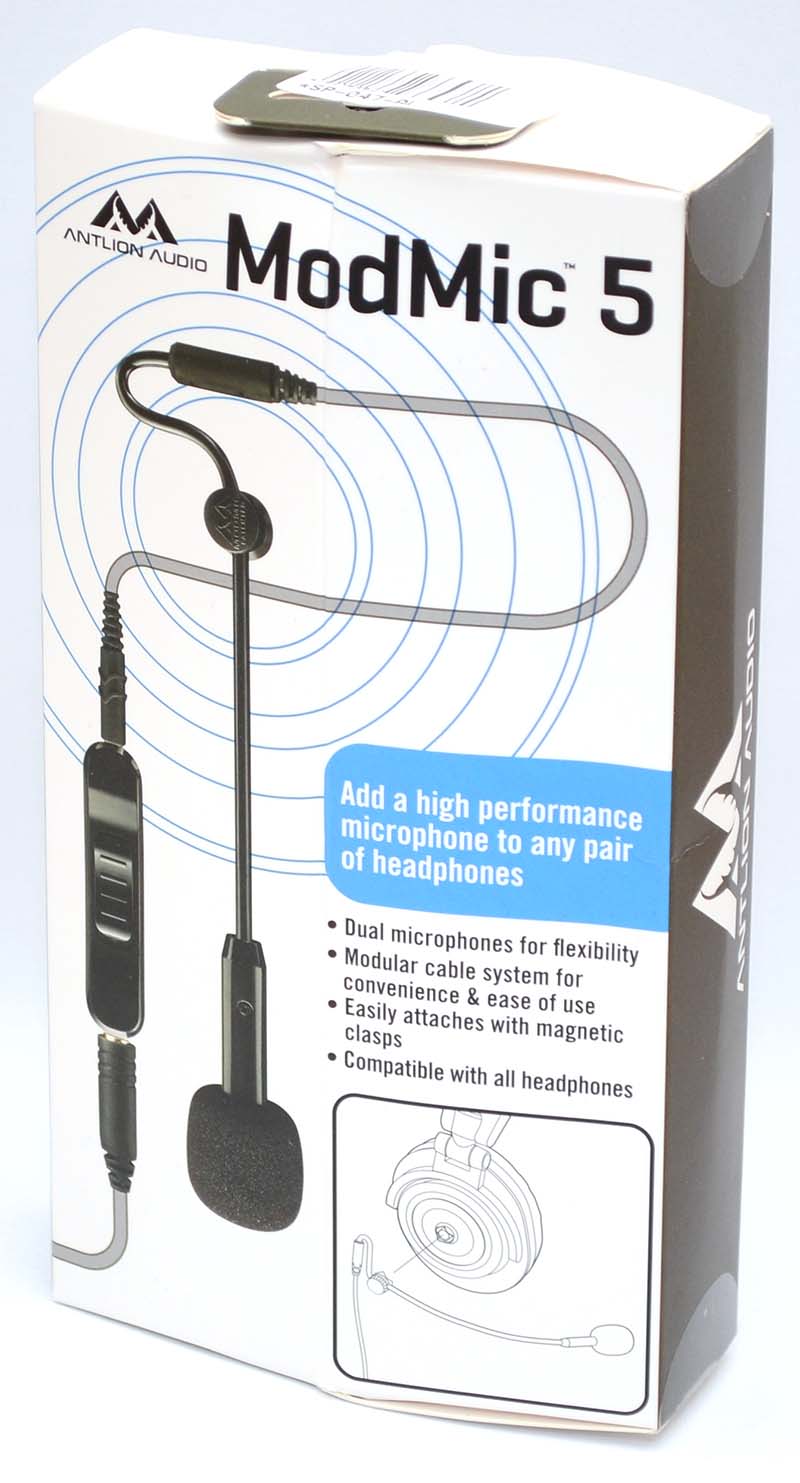 All the main details and contents are detailed on the box too, which is handy if you're looking at one of these in a retail store.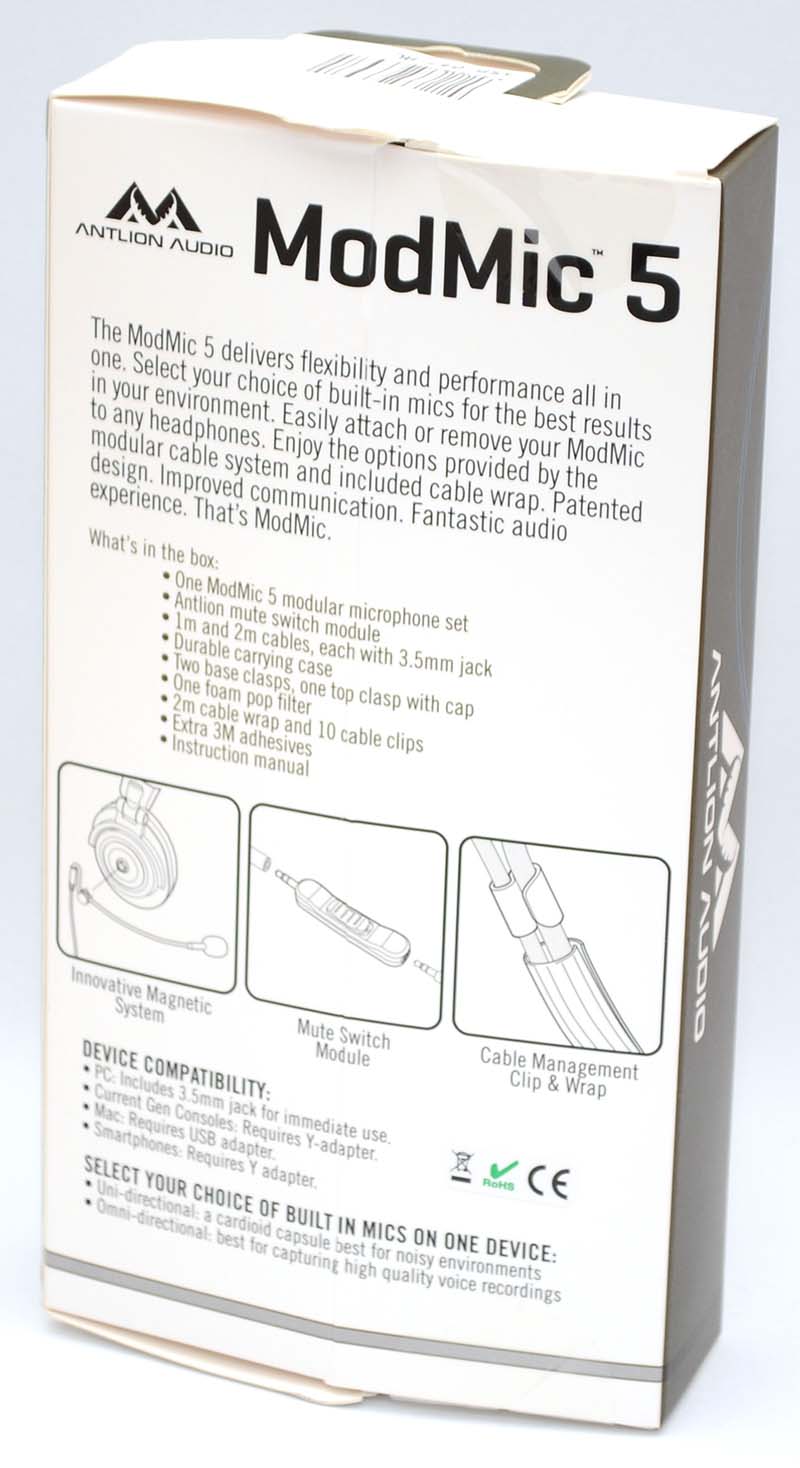 In the box, you'll find a cable sleeve cover, as well as the Antlion Mic protective case.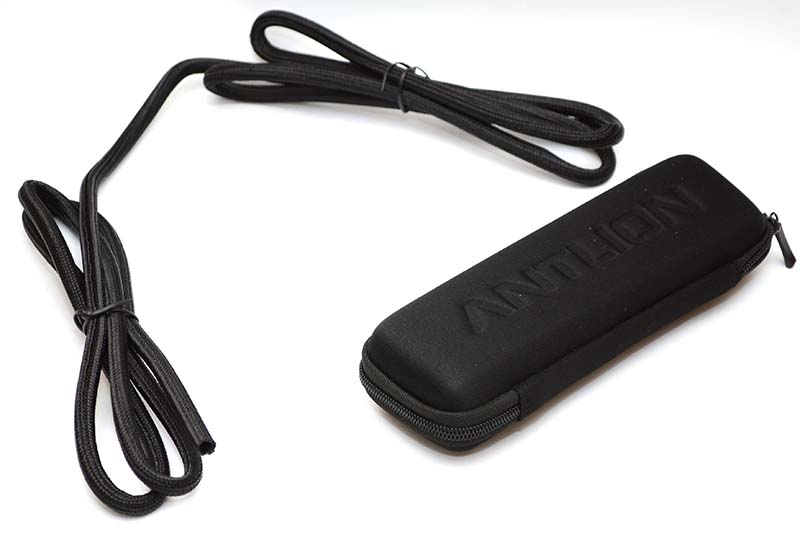 The cable sleeve is a nice touch, as you'll be running both your headphones and the mic cable to your system, you can bundle them together in this sleeving to keep things neat and tidy. It's completely optional of course.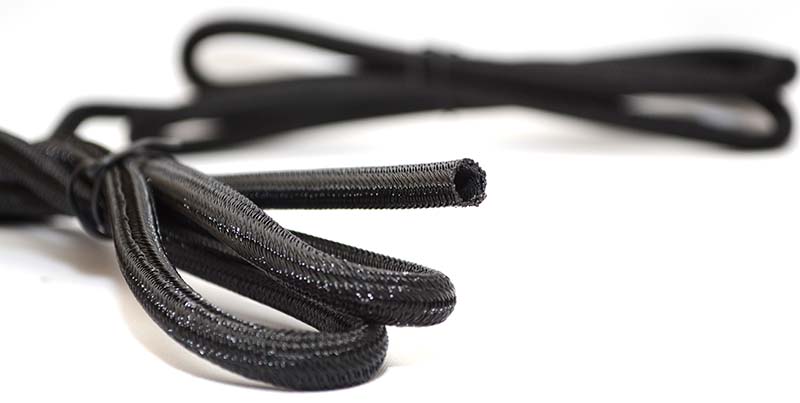 If you're not using the mic all the time, or you tend to travel with your gaming great a lot, you'll be happy to see this hard case which keeps everything you need stored neatly together.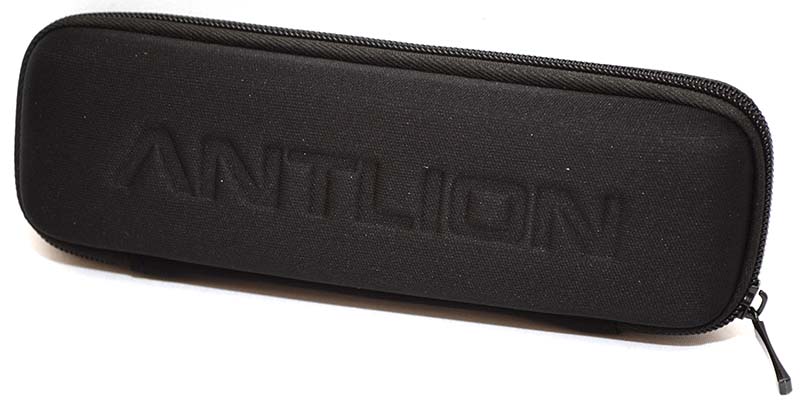 Inside the protective case, a few little compartments to store all the included cables, clips, the microphone, etc.