AOC CQ32G1 QHD Curved 144Hz Monitor Review
---
---
---
Peter Donnell / 2 years ago
Gaming monitors are plentiful these days, ranging from affordable 1080p models right up to flagship models that can cost over £2000. So, it's a fair assumption that there's a model for just about everyone. There are a few key points that (most) gamers target though, such as 1440p resolution, as it's a good mixture of high resolution, while not being as demanding on your GPU requirements as 4K. Then you also have higher refresh rates, such as 144Hz for silky smooth gameplay. Finally, panel size, as gaming on a 31.5″ is going to be more immersive than a 19″ panel. As you might have guessed, the AOC CQ32G1 we have in the office today is 31.5″, 144Hz and 1440p. However, it doesn't stop there. This surprisingly affordable monitor also features a curved panel, FreeSync, and a 1ms response rate.
CQ32G1
The latest AOC monitor is clearly ticking all the right boxes for the majority of modern PC gamers. However, it manages to keep the cost very low. To do this, AOC fitted the CQ32G1 with a VA panel, a fairly basic stand, just two display inputs, no speakers, and honestly, that's about it. It's not exactly bare-bones, but it's not exactly dripping in extra blind either. I'm perfectly fine with that though. All of the monitor's modest price tag goes into giving you a decent size screen with things gamers really need; refresh rate, FreeSync, resolution, etc.
Features
30-144Hz Refresh Rate
HDMI / DP Input
QHD (2560 x 1440) Resolution
Tilt stand
VESA compatible
FreeSync
1800R Curved Panel
31.5″
Specifications
For in-depth specifications, please check the official product page here.
What AOC Had to Say
"The new CQ32G1 is equipped with a huge, frameless 31.5" VA panel with 1800R curvature and QHD resolution. 144 Hz, 1 ms MPRT, FreeSync & numerous other gaming features allow the best gaming experience. Whatever your setup, achieve the highest framerate and smoothest display possible via AMD Free-Sync Technology. Whether you're dashing through explosions or screeching around rain slicked bends, wave goodbye to screen tearing and lag – and leave your opponents in your smoothly rendered dust." – AOC
———————–
A Closer Look
The monitor may be affordable for its size and specifications, but it certainly still looks the part of a high-end monitor. It has a very small bezel, which is fantastic for immersion. Of course, it's also great for those rocking more than one display; triple display surround anyone? There's a little bit of red trim on the bottom I could do without, but it's hardly a deal-breaker.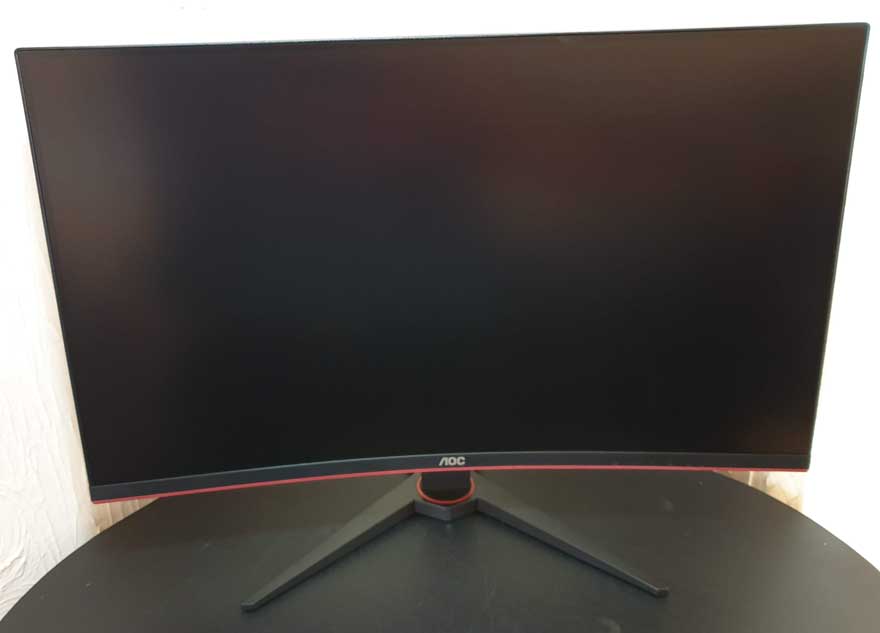 Around the back, things are pretty neat and tidy. You can see it's a pretty cheap plastic shell, but it's all it really needs. It's also unlikely you'll be looking at this side of the screen very often. There's some red plastic highlights to liven it up a bit, but again, I don't even think they're needed. There's a tiny air vent in the upper section to keep it cool, but that's about it really.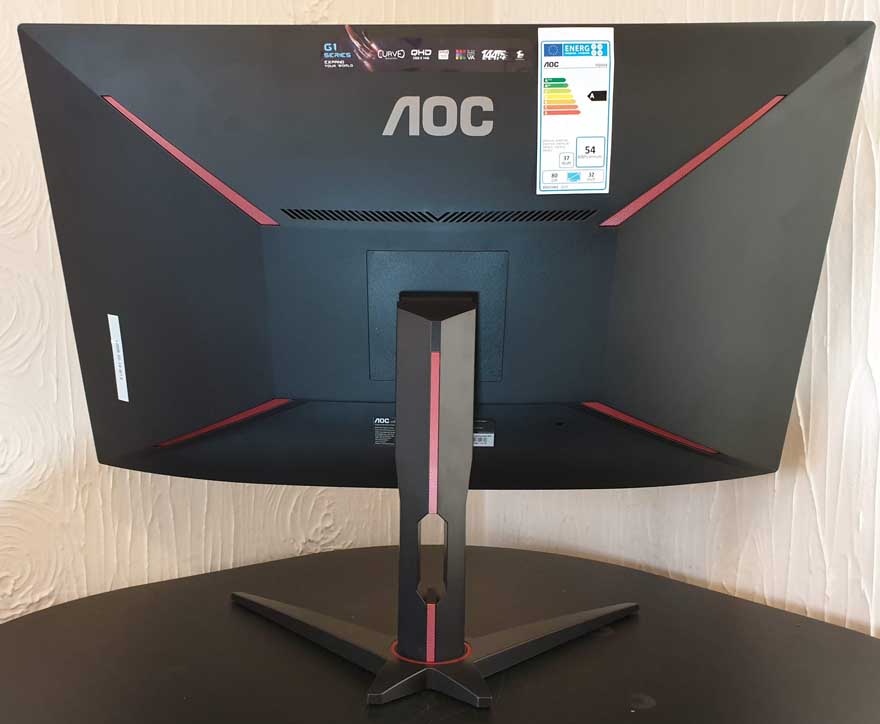 The stand is pretty straight forward, with a metal interior, but a plastic outer shall that matches up with the monitor. You'll find more of those red highlights too, matching up with the theme of the panel. It does look good, black and red are a very "gamer" look, but I think an all-black design would look just as good, if not better.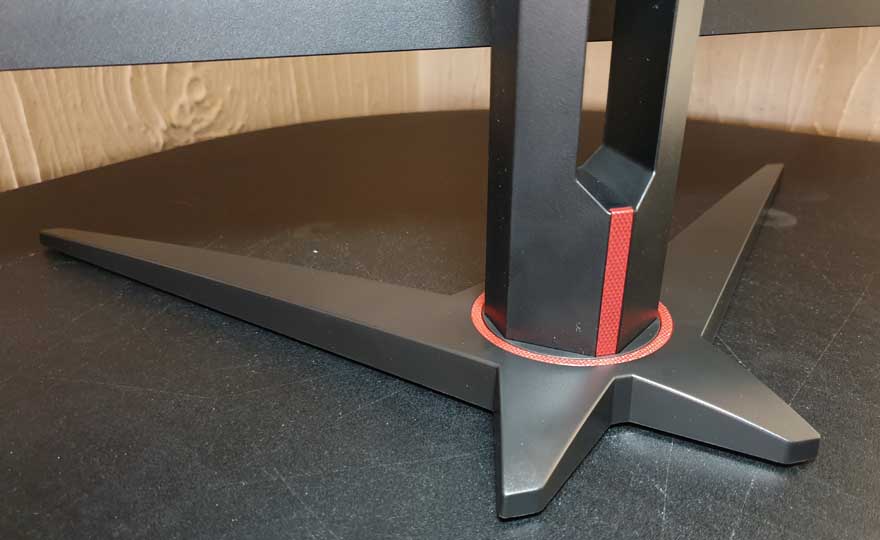 It offers a basic tilt, but otherwise, there's no other adjustment. The height is fixed, but with it being a bigger panel, it's honestly set to a perfect height already. As I said, they've cut a few QOL features to keep the cost tight on such a large monitor; which I'm absolutely fine with, as there are other models out there for those that want those premium features (and the price to match).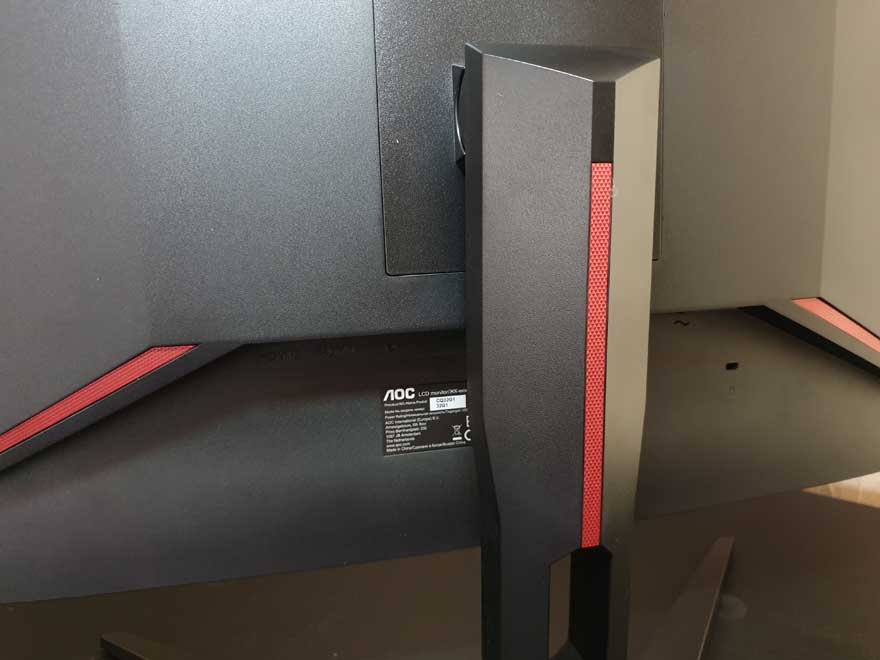 Power comes from a standard connector, so no need to deal with a big power pack or custom adaptor should you misplace the cable.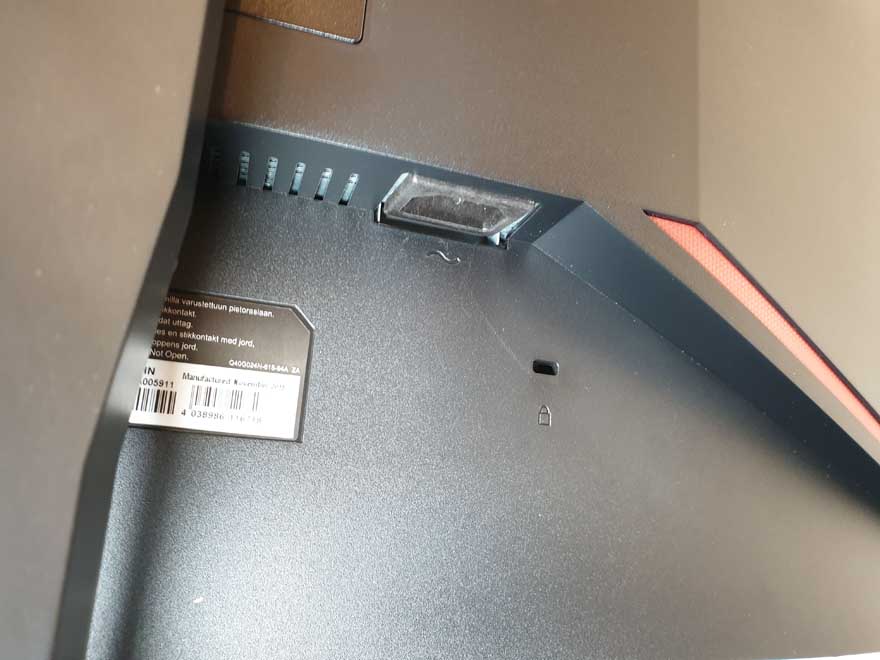 As for the display inputs, you'll find a pair of HDMI ports and a DisplayPort. There's a headphone jack for audio passthrough from the HDMI. However, the monitor has no speakers of its own.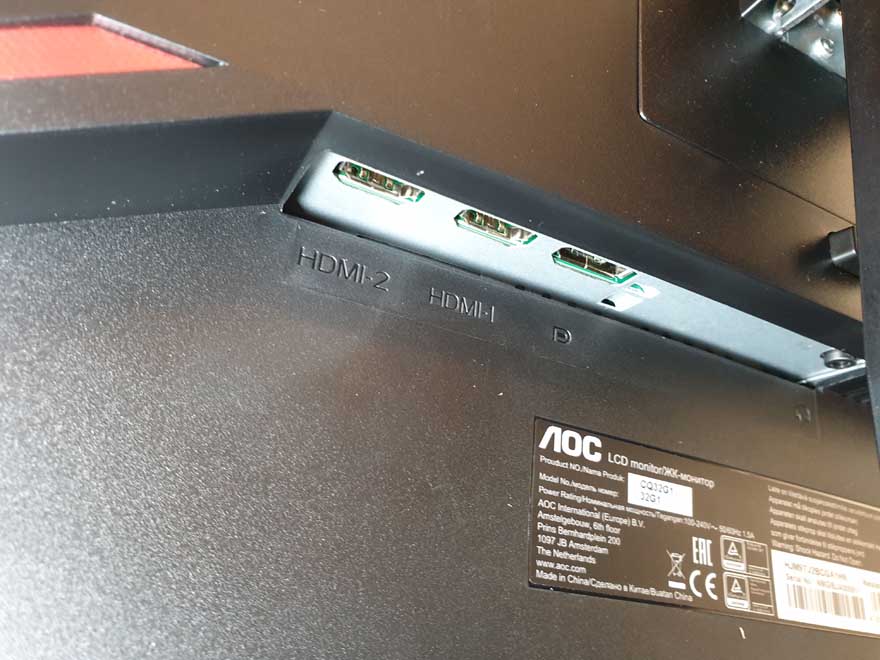 ———————–
Performance
So the panel is massive, no doubt about that. For most, being close to 32″ is going to fill your desk space very nicely. That makes the screen sit a little wider than the space a full-size keyboard and a mouse take up on your desk. Plus, with that subtle curve, it helps feels more natural as it fills your peripheral vision.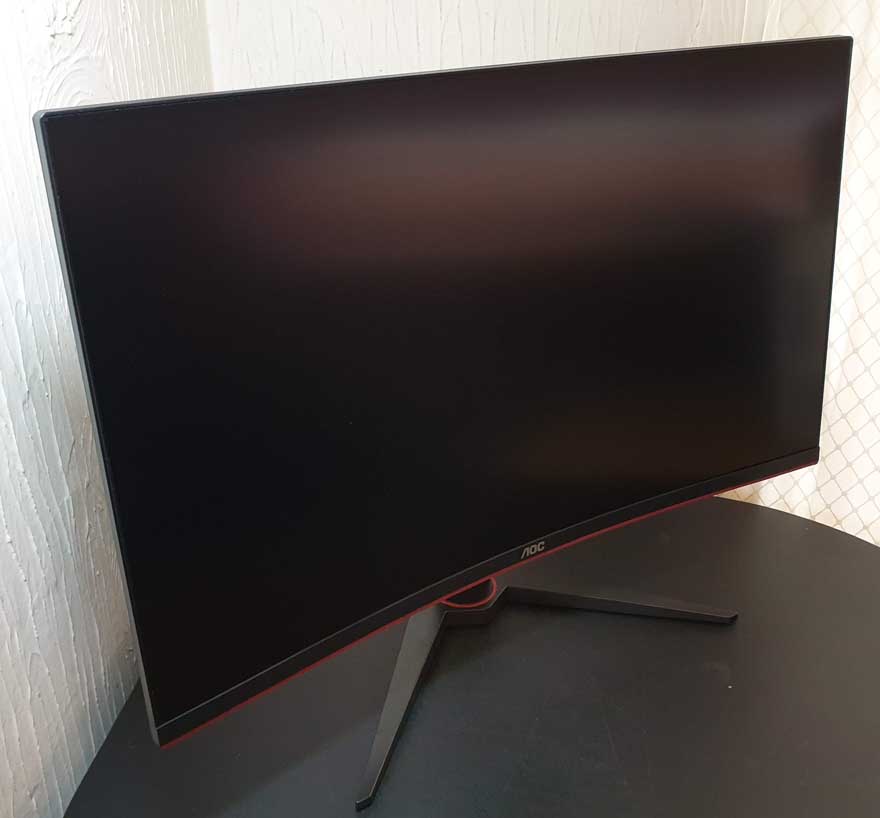 The panel has a good handle on reflections too. This will help with contrast ratios in brighter rooms.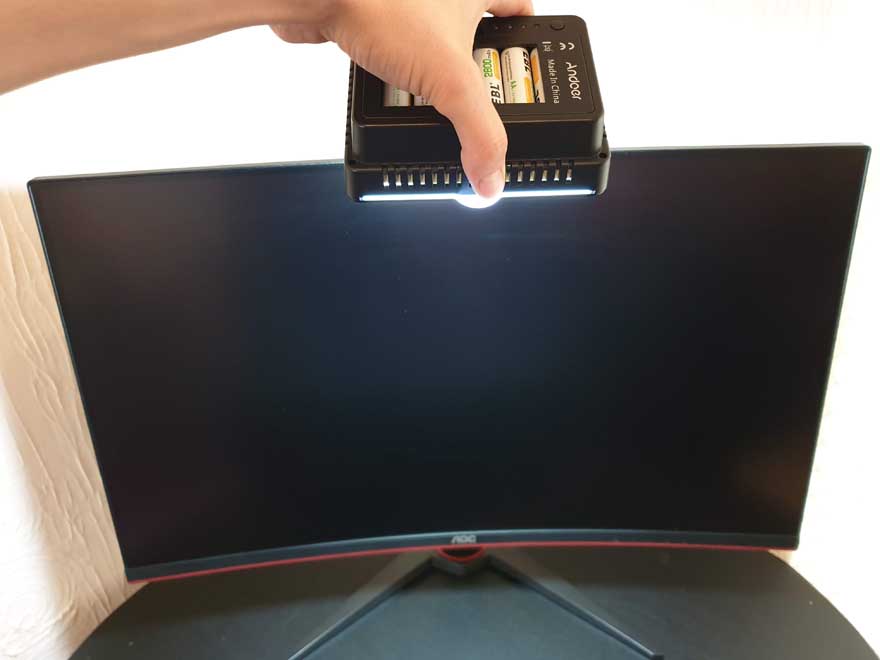 You need a pretty bright direct light source to get a significant reflection, but even then, it's pretty muted.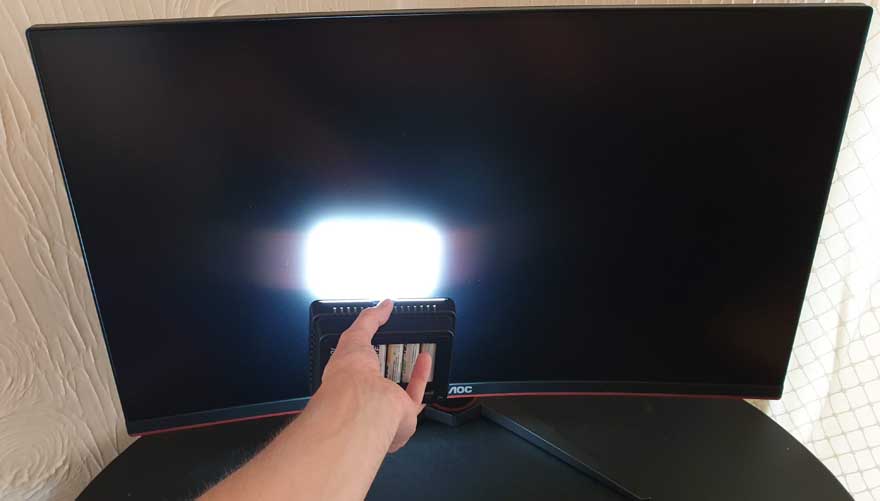 Gaming
At 144Hz, the panel is no slouch for gamers. It deals with image processing really well at higher refresh rates but feels just as adept sitting at 60Hz if you need to lock down on V-Sync for games with HFR support. The FreeSync feature is certainly welcome too, and the monitor can drop as low as 30Hz to match the GPU output. You will need an AMD card, although you may get some Nvidia support, it isn't on the compatible monitor list at this time.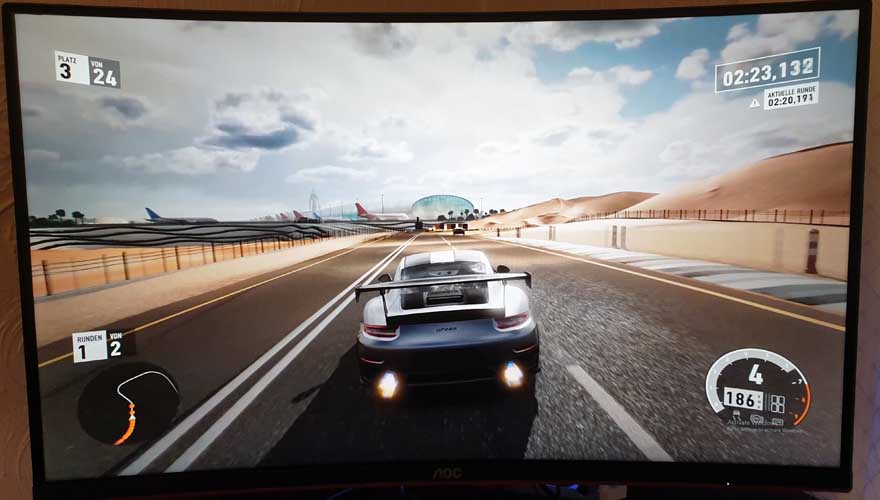 Make no mistake, 144Hz really is a game-changer for those who've never had such a thing. Be warned though, once you get used to silky smooth frame-rates, you'll never be able to go back. Even 60 Hz will feel like a slideshow. What I do love though, is that the colours, the contrast, and viewing angles are all very good. It's not the most advanced panel type in the world, but for the cost of the monitor, it's pretty damn good.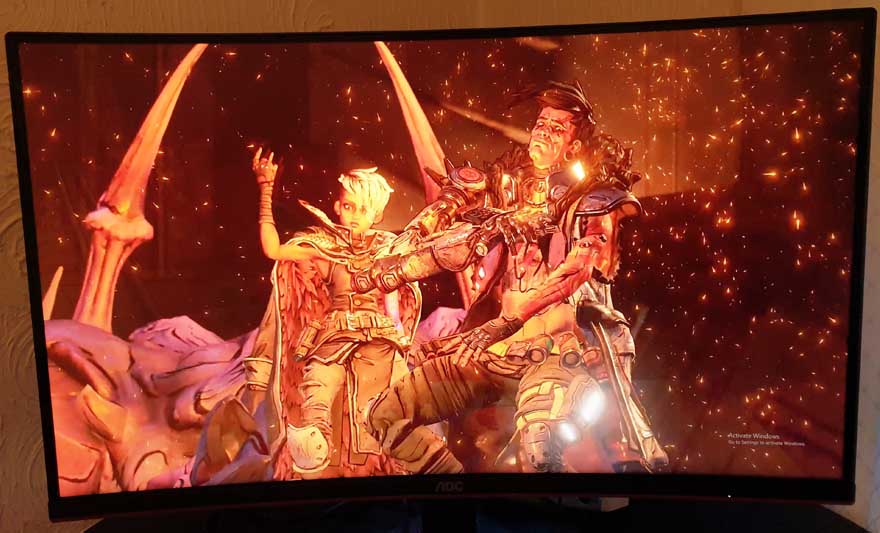 Day to Day Usage
32 inches is plenty of real estate, well 31.5 inches, not that you can tell at a glance. For watching movies, or even just kicking back and watching a bit of YouTube. You could comfortably watch a movie on it, I mean, 32-ish-inches isn't that uncommon a size for a TV anyway.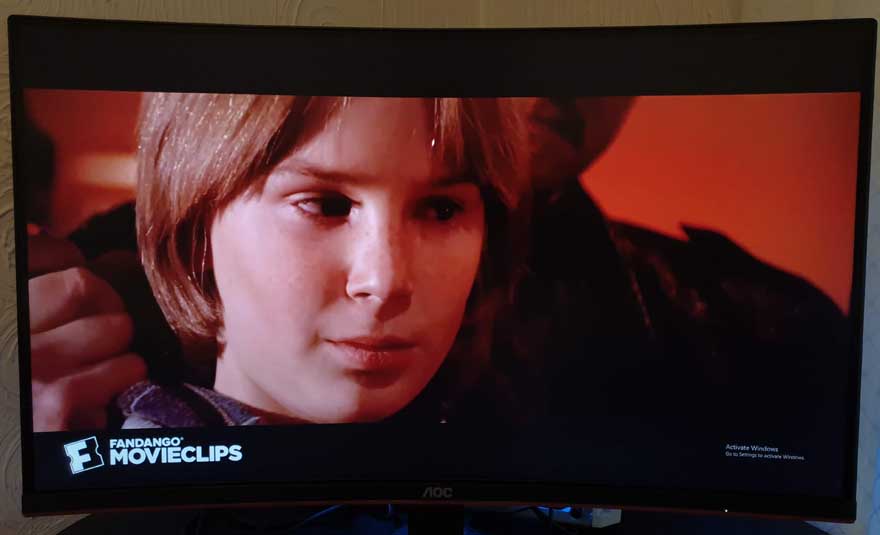 At 1440p and the standard 16:9 form factor, you've got a fair few pixels too. You can side by side two pages comfortably, and still maintain a good scaling thanks to the panel size and resolution.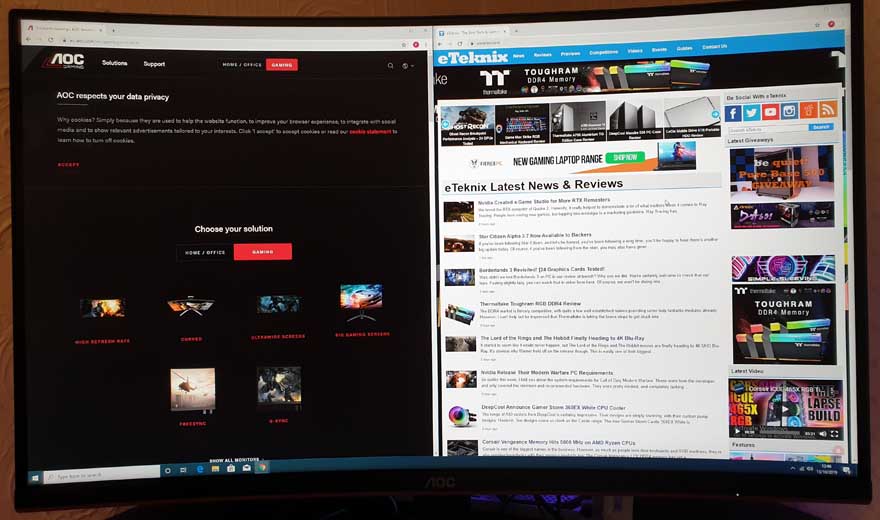 ———————–
Gamma and Colour Temp
Calibration Results
Stock
Calibrated
Stock
Calibrated
Stock
Calibrated
———————–
How Much Does It Cost?
The AOC CQ32G1 21.5″ Widescreen VA LED Curved QHD Gaming Monitor is available now from most major retailers. It's a pretty fair price too, at just £337.00 here in the UK. In the US it's just $319.99. In fairness, that's not exactly bargain value, but keep in mind this still has a lot of panel feature for your money. Not forgetting of course that it's also a pretty massive panel. However, price to size and features, it's a hell of a deal.
Overview
AOC is one of the best monitor brands in the world. Make no mistake, they've got something for everyone and every budget too. From small gaming monitor to ultra-wide behemoths. The CQ32G1 fits somewhere in the middle though. It's a well-ballanced mixture of a big panel, with high refresh rates, FreeSync, a 1ms response, and a good resolution. You'd have to be a pretty hardware monitor enthusiast to turn your nose up at any of that!
Panel
The VA panel isn't groundbreaking, and it's not like AOC are the only people putting out a monitor of this specification either. However, they've hit the market perfectly to be very competitive. The contrast levels are really good, and there are no noticeable issues with light bleeding or torching in the corners; at least that I could see. In a dark room, the colours really pop, and it's plenty bright even in a well-lit room to play games and watch movies comfortably.
Calibration
Out of the box, the calibration was actually pretty damn good. You get 100% of the sRGB and 85% of Adobe colour charts. That's not as good as an IPS panel or a pro editing monitor, but it doesn't need to be. Objectively, the colours look good and have plenty of vibrancy when it's needed. We calibrated it and couldn't improve the range. However, we did improve the accuracy, reigning in some of the stronger blues that are common on backlit panels.
Honestly, just using the Windows display calibrator will be more than enough for most, and even the stock blacklight level and gamma were close enough to an ideal level. For most, plug it in and play, you'll be more than happy with it.
Extra Features
It's got a great panel, that's for sure. However, it's what it doesn't have that stands out the most. There's very little in the way of luxury here. The plastics are pretty standard, although please don't confuse that with "bad" as they're fine, they just don't look super-premium or anything. Some red plastic trim is about all the thrill you'll get. The UI controls are basic, there's a couple of inputs, but there are no speakers. The stand also has no height adjustment options. You can get those on a higher-end model, but simply if you want more features, expect to buy a more expensive monitor.
Should I Buy One?
Honestly, I can't think of another panel that's better for the same money. You could likely find a lot of similar ones though. However, AOC has a great reputation behind them. A tiny bezel, a big panel, and fantastic gaming performance. At a little over £300, the CQ32G1 is going to be a tough one to beat.