AOC Q2770PQU 27″ PLS Monitor Review
---
---
---
Chris Hadley / 9 years ago
Introduction
---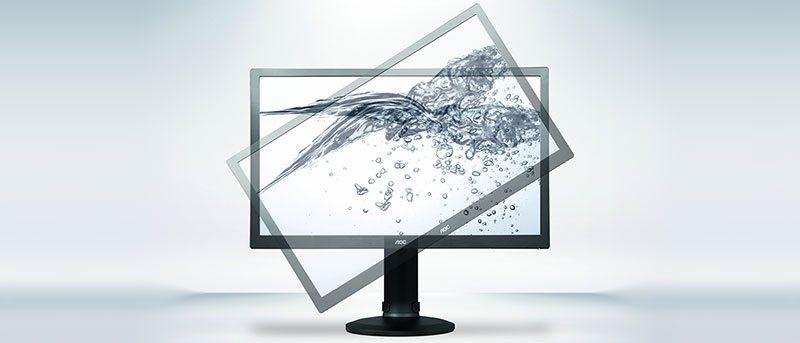 For content writers and image editors such as myself, having a large display with a high-resolution to work on and maximise our workspace is virtually a must have and whilst a 1920 x 1080 workspace is usable, it's not ideal – especially when you're referencing from a data sheet or a reviewers guide. There is of course the option to have two displays side by side and this is great as it does give you the capacity to view two separate items at once with loads of space to work in, but having even more space to work within is highly sought after – in short a 1920 x 1080 resolution doesn't quite cut it for me these days.
Going up from a standard HD resolution does mean that we generally have to go up in a physical dimension as well and above 24″ the next step is 27″. At this point we move to the 2560 x 1440 and 2560 x 1600 set of resolutions and whilst there is only a small difference in the height of each resolution, surprisingly there is a bigger gap in the price. This is part of the reason why many users stick to the standard HD workspace. Fortunately for the professional user group the number of monitors coming to market sporting the slightly lower 1440 pixel height is quickly growing and with 4K panels appearing in growing numbers, the price associated with moving up from 1920 x 1080 is dropping at a steady pace.
The Q2770PQU is one of AOC's latest creations and like a number of their other products it's not short of any features. On top of the 2560 x 1440 resolution, the display boasts a 80,000,000 : 1 dynamic contrast ratio, 5ms GTG (Grey to Grey) response time, 300cd/m² brightness, a pixel pitch of 0.233 x 0.233 mm and a super wide viewing angle of 178° (horizontal & vertical) – all from a LED backlit PLS panel. Top this off with a set of built-in 2W speakers, DVI-D, VGA, HDMI and DisplayPort inputs, a height adjustable and rotatable stand and finally a pair of USB2.0 & USB3.0 ports and what you've got is one mouth-watering package.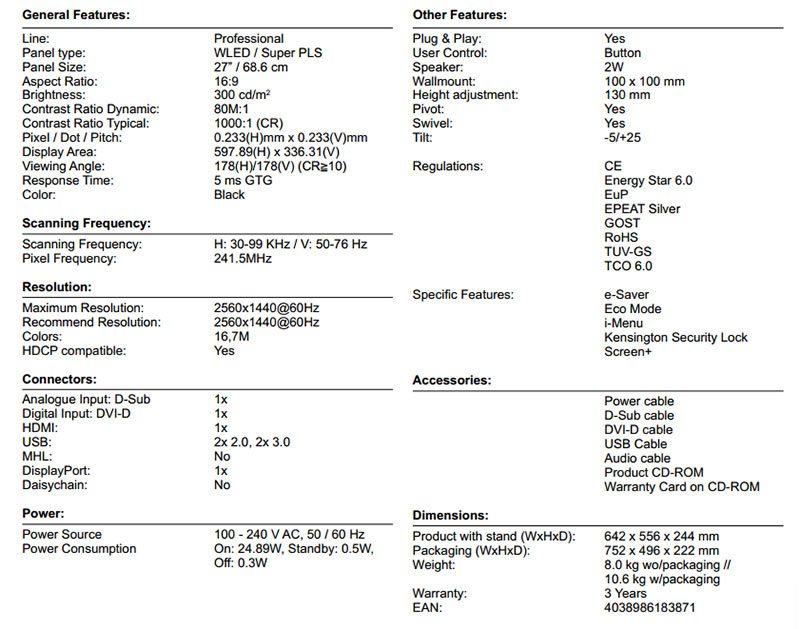 Like the spec list, the accessory set is by no means short-staffed. A cable for DVI, VGA and DisplayPort connectivity is available along with a 3.5mm to 3.5mm audio cable and a USB3.0 host cable. A regional kettle lead is also bundled in with a CD and user manual to get you up and running.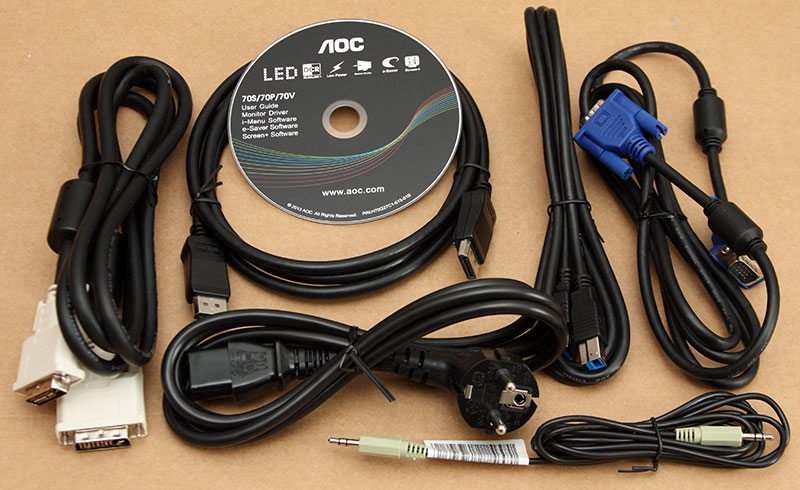 Aside from the accessories, I will make a note that the box suggests that this is an IPS panel and not a PLS as listed. I can confirm that this is a PLS panel and any sources that list IPS are incorrect – all other listed specifications for this panel are correct – an error was made during the beta stages for this product that resulting in review samples having IPS printed boxes – all final production boxes and sources have been corrected.