AOC Q2963PM 29″ UWHD MyMulti-Play AH-IPS Review
---
---
---
Chris Hadley / 10 years ago
Introduction
---

Over the last few years, we have been [in general] demanding higher and higher resolutions from our monitors, and before we even think about using a multi-screen setup – the most common resolution of choice has to be 1920×1080. Over the last year or so, we have been seeing a slow transition over to the 2560×1600 bandwagon as some users opt for bigger 27″+ panels. The problem with these through is that the cost is far greater than a 1920×1080 panel so having a pair of 22″ or 24″ panels is not uncommon – it gives a balance between the desktop space and cost that many people look for.
In a bid to give users the best option of desktop space and display aspect ratio, the 2560×1080 resolution has slowly been cropping up within the market place and in effect it is an ideal alternative for anyone that is looking at a dual 1920×1080 screen setup. The super-wide aspect of this 29″ monitor gives a single desktop space to work within, however when we move over to the gaming side of things, the extra pixels allow for a wider peripheral vision without the distraction of a bezel right in the middle of your view.
AOC's super-wide monitor is just one of the few to now offer the new resolution, but it doesn't just give more pixels; it also has one of the best panels on the market to show the image as well. The AH-IPS (Advanced High-Performance In Plane Switching) panel that AOC have chosen produces a mixture of supreme colour accuracy, high pixel density and a high level of brightness, oh and let's not forget that it has a superb viewing angle as well. All the ingredients are there for certain, but does having a 21:9 aspect monitor really make that much of a difference?
Before we even get a chance to delve inside the box, AOC are keen to show off the screens super-wide aspect ratio and its ability to house multiple windows with ease. The blue box also has a row of the panels highlighted features laid out along the lower edge with a front and back view of the monitor found to the right.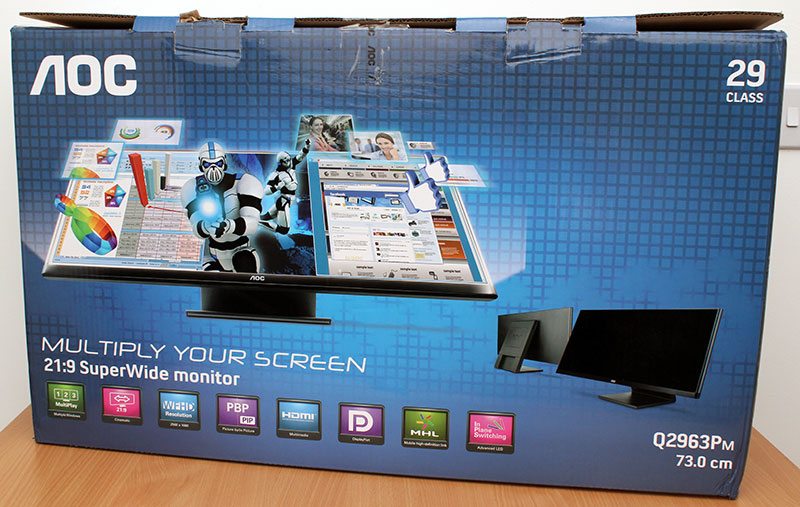 Taking everything out of the box, we find the monitor in two parts and alongside a two-part DC power adaptor we also have a VGA display cable, HDMI cable, 3.5mm to 3.5mm audio cable, a cable tie, rubber feet and a CD containing a set of display drivers and AOC's accompanying software for this panel.