Apacer AS682 ARMOR+ 250GB Solid State Drive Review
---
---
---
Bohs Hansen / 6 years ago
Introduction
---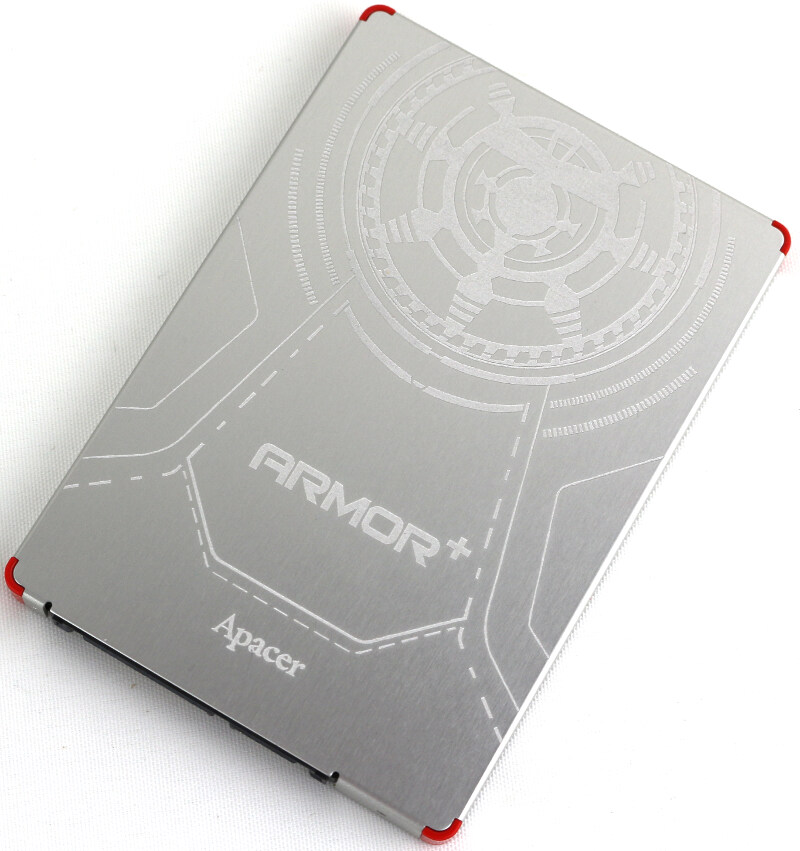 Apacer isn't one of the first companies that you would think of when it comes to storage drives, but they actually have quite a nice line-up of available drives in various form factors and protocols and with common capacity options. Today I'm taking a closer look at the Apacer AS682 Armor+ solid state drive with a capacity of 250GB.
The Apacer AS682 Armor+ solid state drive is a standard 2.5-inch drive with a 7mm height for maximum compatibility in both notebooks and stationary PCs. Apacer built this SSD with the general population and gamers in mind that want and need something faster than the average hard disk drive. Get faster boot times, faster load times, and lower access times can be this easy. The logo on the top of the drive gives it a great look at sets it apart from those drives that only come with a sticker. The gear-like emblem is a symbol of victory and it is inspired by comic book superheroes and as a symbolic sign of the drive's capabilities.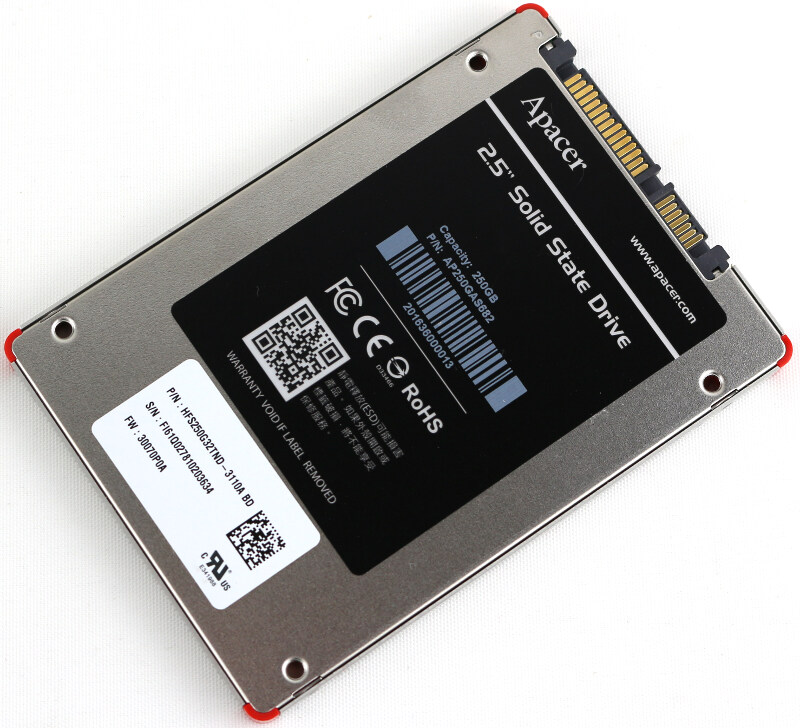 Apacer built the drive with TLC NAND and it comes with some good performance figures. It is officially rated for up to 540MB/s reading and 475M/s writing which is about five times that of a 2.5-inch hard disk drive. The random performance is right up there too with up to 95K IOPS at random writes. These figures are from the 500GB version of the drive, so it will be interesting to see how well the 250GB version sticks up to that on the following pages.
Feature wise, the AS682 Armor+ comes with the basics such as NCQ and TRIM commands as well as the S.M.A.R.T. command for health monitoring and status readouts. On top of that, it also comes with built-in global wear leveling for a continuous great performing product as well as an ECC engine that can correct up to 120bit/2KB. On top of that, it also features SATA power management for lower power consumption and longer battery times in your portable system. The larger version of the drive with 500GB only consumes 600mA when active and 50mA when idling.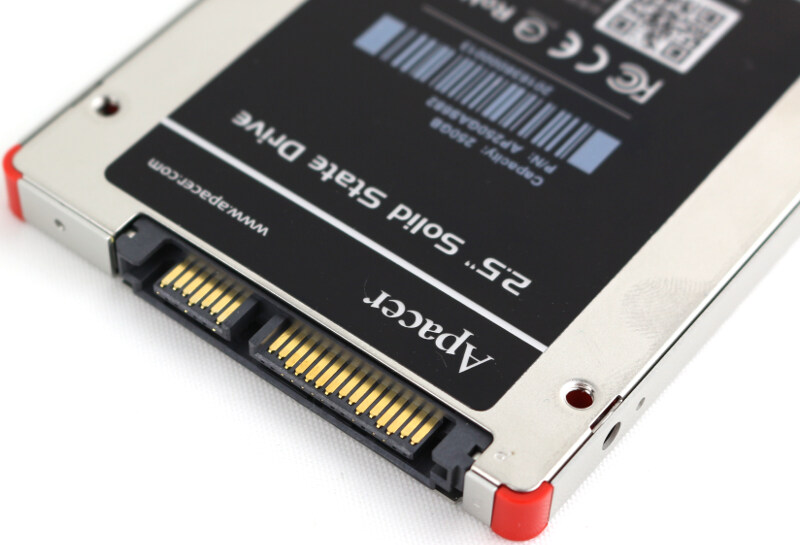 Apacer backs the drive with a 3-year warranty and it comes with a 1.2 million hours mean time before failure rating. On top of the drive itself, you also get access to Apacer's SSD Widget software – a bonus to any drive that's very welcome and one that will help you stay on top of your drive's health and status.
People with a keen eye might already have spotted the similarities between this drive and another one on the market and it does seem to be a rebranded OEM drive from SK Hynix. But that's not a bad thing at all, SK Hynix has quite a lot of experience in the field of memory – as you probably know – and it is a complete in-house solution from them.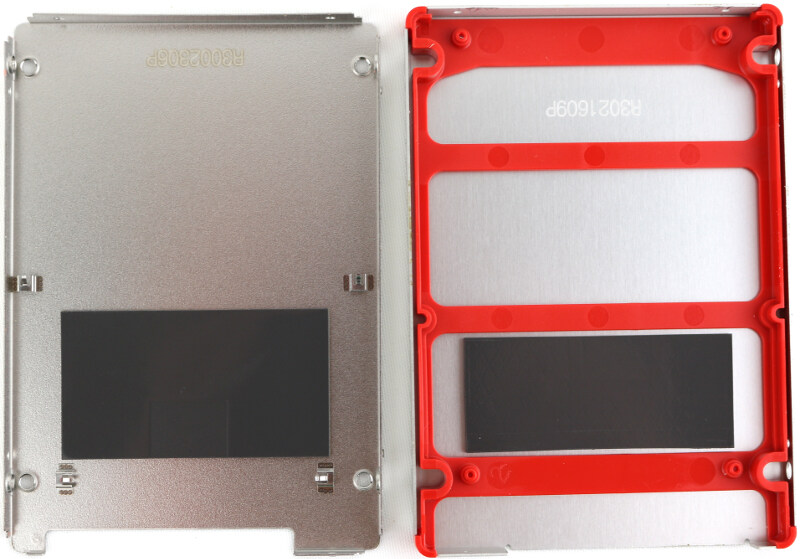 The casing is a little different than the 2-piece snap together ones we see from most drives these days. It has more contact points around the casing to hold the two together and it also has an internal plastic grommet that holds the PCB in place and offers some extra shock protection.
The controller used is an SK Hynix LM878100AA and the NAND is 16nm TLC Toggle which also is made by SK Hynix.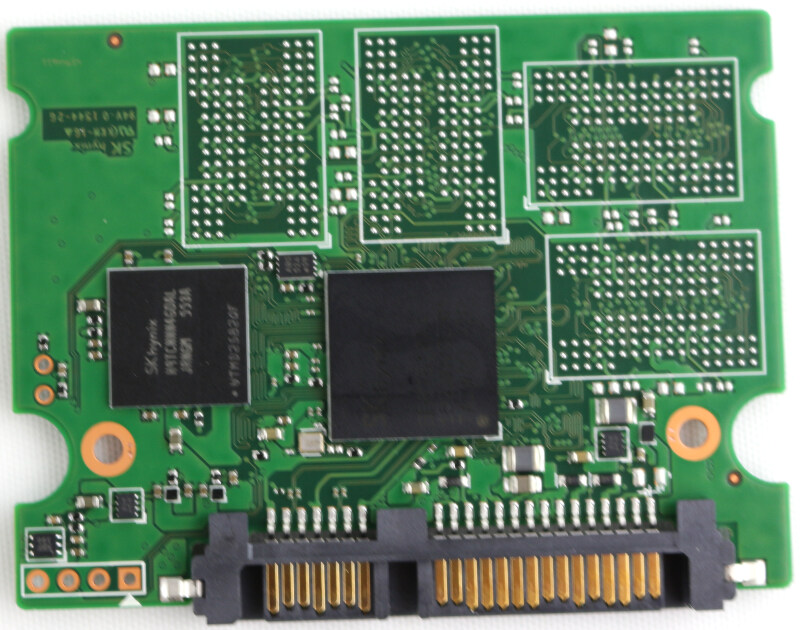 As we'll see on the coming pages, the drive identifies itself as an HFS250G32TND-3110A which is the Canvas SL301 in its bulk series of the Canvas SL301. Overall, the Apacer AS682 Armor+ comes on a solid and proven base that has been wrapped in a beautiful and clever casing.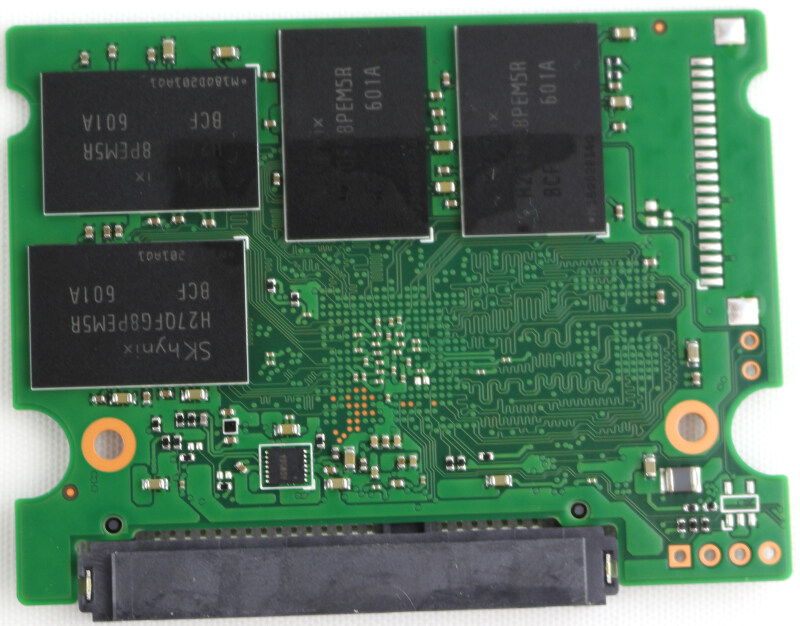 Feature Highlights
Compatible with SATA III 6.0 Gb/s Interface
Sequential Read Speed Up to 540MB/s
Sequential Write Speed Up to 475MB/s (500GB)
Supports SATA Power Management
Powerful ECC engine correcting up to 120bit/2KB
Built-in Global Wear Leveling
Supports TRIM & NCQ Commands
Supports S.M.A.R.T. Command
Packaging
As reviewers, we sometimes get just the drives to test and that is also the case this time, so I can't show you how the drive is packed for retail – then again, is that really important? Not for the review itself, here we are interested in the performance of the drive firstly.