Aqua Computer Announces kryoM.2 micro and kryoM.2 evo Cooling Solutions
---
---
---
Ron Perillo / 4 years ago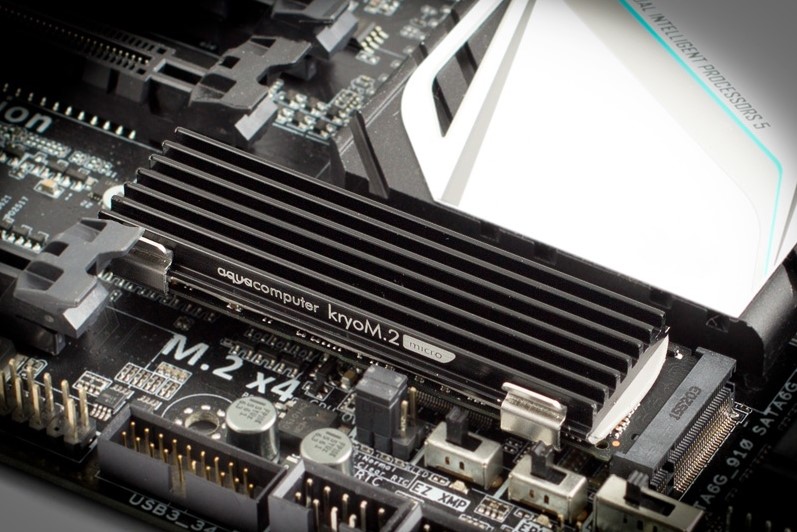 Aqua Computer has announced the availability of their latest kryoM.2 micro and kryoM.2 evo cooling solutions specifically designed for keeping M.2 SSD drives thermally in check. Unlike the usual Aqua Computer product which are water-cooled, these kryoM.2 units are passive air-cooled solutions.
The kryoM.2 micro is a simple heatsink kit for single-sided M.2 SSD cooling compatible with devices that use the 2280 form factor (22mm wide, 80mm long). It uses stainless clips to attach the black anodized aluminum heatsink block which also comes with a full-coverage thermal pad and a matching protective foil for the back of the M.2 SSD drive.
The kryoM.2 micro measures 70 x 24 x 9 mm and supports M.2 2280 SSDs with a maximum thickness of 2.3mm including the PCB. It retails for 9.90 EUR including 19% VAT via aquacomputer's webshop.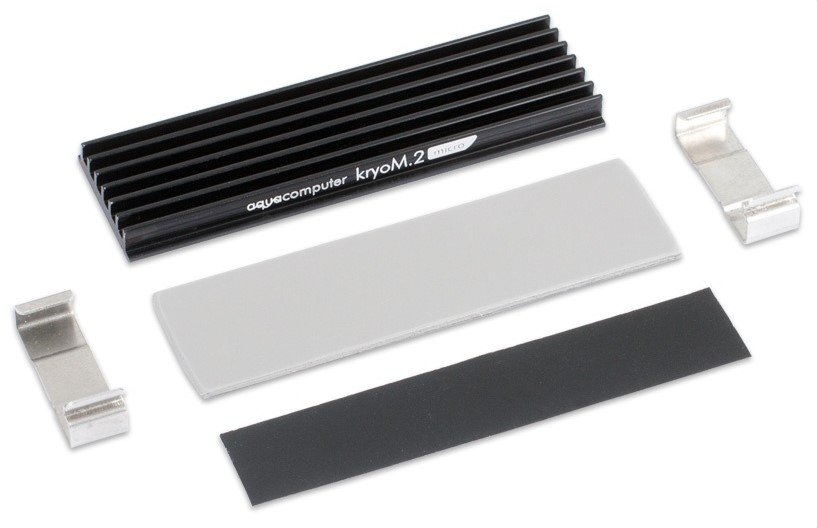 The Aqua Computer kryoM.2 evo on the other hand, is quite a bit more fancy and is an M.2 to PCIe 3.0 x4 adapter. It comes in a complete kit including an adapter board, a full-PCB cover block for the top side, a full-cover M.2 PCB block for the rear-side and mounting materials plus thermal pads. It comes with a bracket pre-installed so it can be mounted on a PC chassis.
Like the Aqua Computer kryoM.2 micro, the heatsink is black anodized and has deep grooves across so that ambient air can flow through it and help dissipate some of the heat. It installs quite easily, able to slip in any 2280 form factor drive into the slot and the heatsinks are just screwed into place.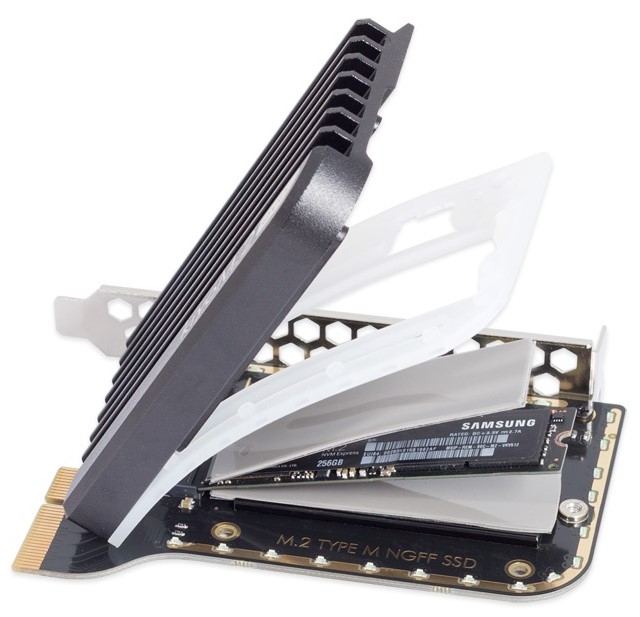 Also padding the large top block heatsink is a silicone seal insert that takes off some of the weight from the massive aluminum block and also acts as a diffusion material for the embedded PCB LEDs. These LEDs light up orange and they can be switched on or off, or set as an activity LED for the SSD. The backside of the PCB also has LED illumination in the form of an SSD icon. The kryoM.2 evo PCIe 3.0 x4 adapter heatsink kit is available for 34.90 EUR with 19% VAT included via the Aqua Computer web shop.