Aqua Computer Announces The VISION Water Cooling Add-Ons
---
---
---
John Williamson / 6 years ago
Aqua Computers is a water cooling specialist which goes beyond conventional thinking to produce innovative products. Recently, the company considered the future direction of water blocks which formed the basis for a new range entitled VISION. This intriguing solution is essentially an OLED display integrated into water cooling hardware. In addition to the display functionality, Aqua Computers embedded options within the range using touch control, an infrared receiver and RGB-LED. Not only that, a menu-driver setup has been designed and the VISION series supports a wide range of inputs and outputs.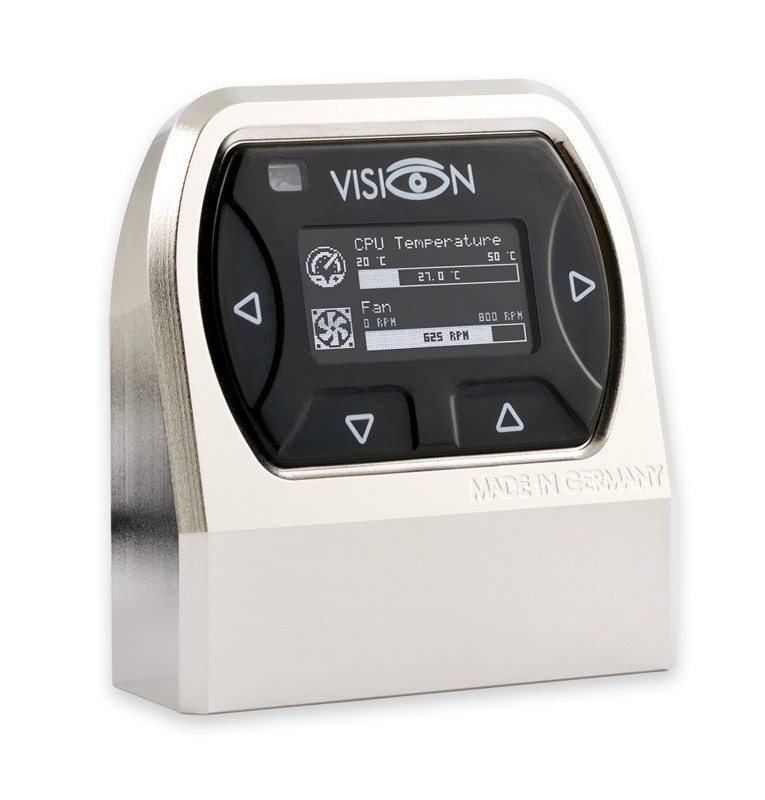 Interestingly, a flow sensor and temperature sensor can be directly connected to the VISION. Furthermore, the screen can display thermal loads, fan speed, CPU utilisation, memory usage and other import system data.
Main features:
OLED Display 128 x 64 pixel
Connection for flow- and temperature-sensor
USB interface
aquabus interface
Touch-control (depending on model)
IR interface
RGB-LED (depending on model)
Integrated clock with timer and alarm function
Shows Media info from Spotify and iTunes
Keys can be used for media control or keyboard shortcuts
Mouse and keyboard functionality with aquaremote
Notepad function
Connects to aquasuite web
aquasuite 2017 software support
Aqua Computer offers three different variants of VISION:
VISION Touch (internal / external)
As an entry-level version, there is a plastic housing which can be attached internally in the PC (with an enclosed cable tie, adhesive pads or screws) to components. This housing is also provided with a stand.
VISION Touch – Table (housing made of brass)
The table housing is made of solid brass and then nickel-plated. At the bottom of the housing is a cable relief and an M3 threads for fixed mounting – e. g. on the PC case.
VISION Glow
A dream in white – this is the VISION Glow. A solid white Delrin case and integrated RGB lighting make VISION Glow a stylish highlight on the desk or on the night table.
All variants are already on sale in Aqua Computers webshop and the delivery will start in a few days. The prices range from €27.90 to €56.90.