ASRock AMD X470 Motherboard Lineup Announced
---
---
---
Ron Perillo / 3 years ago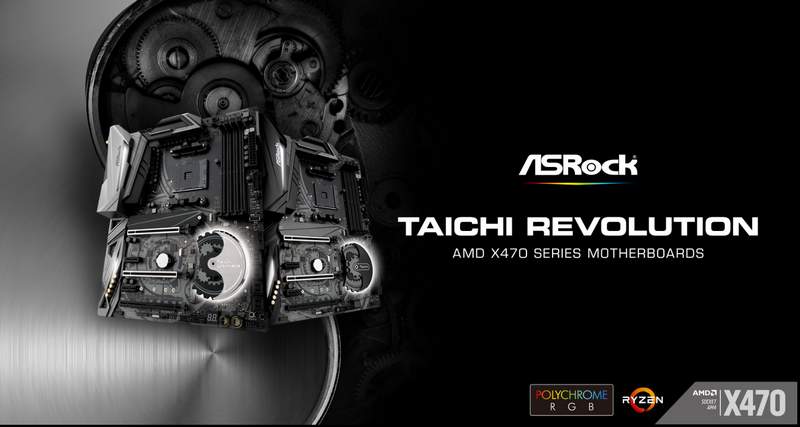 ASRock's Second Generation Ryzen Motherboards
ASRock is introducing their latest line of AMD X470 chipset motherboards. This chipset is backwards compatible with first Generation Ryzen CPUs, although using a second gen Ryzen CPU enables new features. This includes XFR2, Precision Boost 2, and Store MI acceleration. For ASRock's part, they are adding some impressively powerful features like Aquantia 10Gb/s Base-T Ethernet and comprehensive Polychrome RGB LED lighting.
What are the Motherboards ASRock is Announcing for the X470 Platform?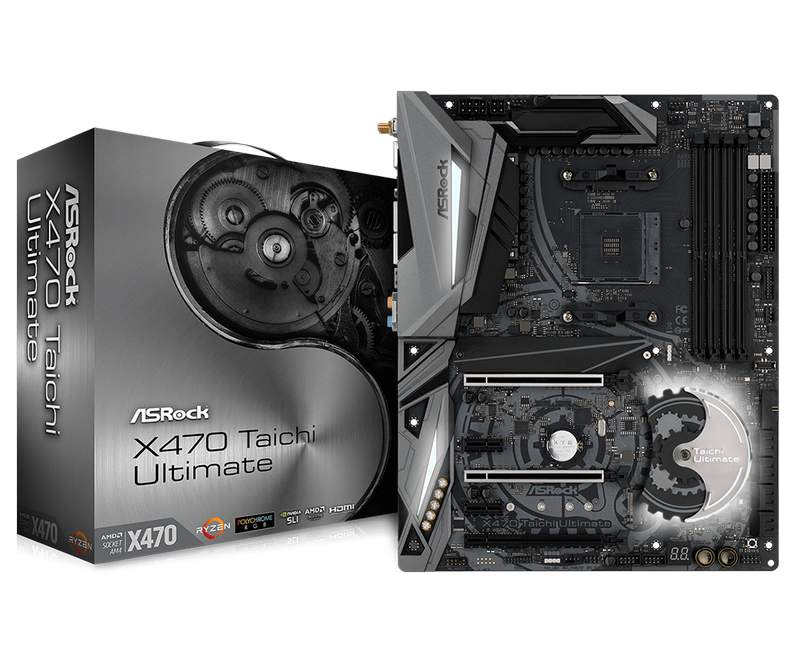 There are six new models in total: X470 Taichi Ultimate, X470 Taichi, X470 Master SLI/ac, X470 Master SLI, Fatal1ty X470 Gaming K4 and Fatal1ty X470 Gaming ITX/ac.
The Fatal1ty Gaming ITX/AC is the only mini-ITX board on the lineup. The product page for this one is not up yet, but VideoCardz.com has leaked photos of these a few weeks ago. As the name suggests, the AC is for the built-in Wireless 802.11ac feature. Unlike other Fatal1ty boards however, this one does not come with a black and red color scheme. Only the box carries that tradition. Instead, it uses neutral gray coloured heatsinks on a black PCB. That is most likely so that the RGB LED does not clash with the board's color scheme.
It has all the features one would expect from an X470 Mini-ITX board including an M.2 slot at the back. This is for PCIe NVMe M.2 SSDs up to 2280 form factors. There are also four SATA ports on-board for additional storage. The RGB LED header is at the top, supporting 4-pin analog as well as 3-pin addressable digital RGB. It also has a DisplayPort and HDMI out for use with a Raven Ridge APU.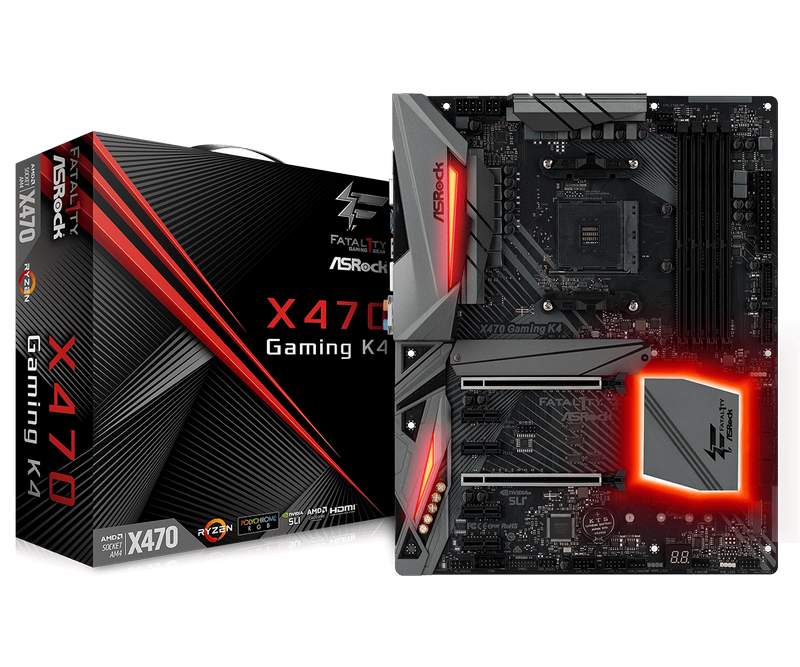 The Fatal1ty X470 Gaming K4 is the full-size ATX version and obviously it has more expansion slots. Specifically , it has two PCIe 3.0 x16 slots for SLI/CFX, and four PCIe 2.0 x1 slots. It also has Polychrome RGB built into the VRM, audio subsystem and chipset heatsinks. It also supports addressable digital RGB LEDs as well as standard 5050 analog RGB LED strips via headers.
As for the Taichi line, ASRock is preparing two variants of this board. One of which is called the Taichi Ultimate, while the other is just called X470 Taichi. What is the difference? The Ultimate version comes with AQUANTIA 10Gb ports and has on-board buttons. The color-scheme also appears to be darker on the non-ultimate board, just so users can visually set them apart. Otherwise, they seem to have identical layouts, with three PCIe x16 slots, and two PCIe x1 slots. They also have two M.2 slots available, with the top-most slot having a heatsink available. Both also have 802.11ac Wi-Fi and RGB LED headers.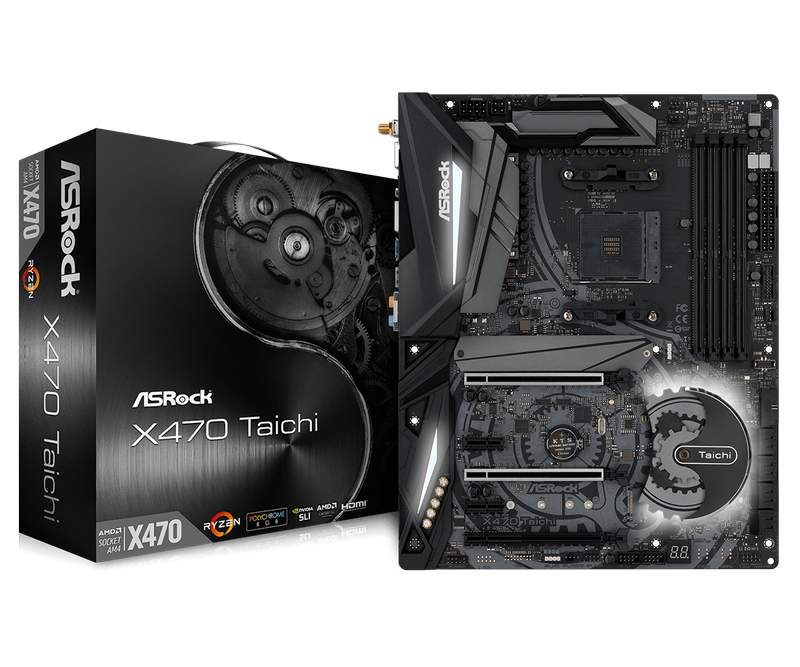 The X470 Master SLI and X470 master SLI/ac on the other hand are the most affordable motherboards in the X470 lineup. They do not have as many built-in RGB LEDs, but they still have the Polychrome digital and analog RGB LED header support. As the name suggests, these also have SLI support via two PCIe x16 3.0 slots and the ac version has an 802.11ac WiFi built-in.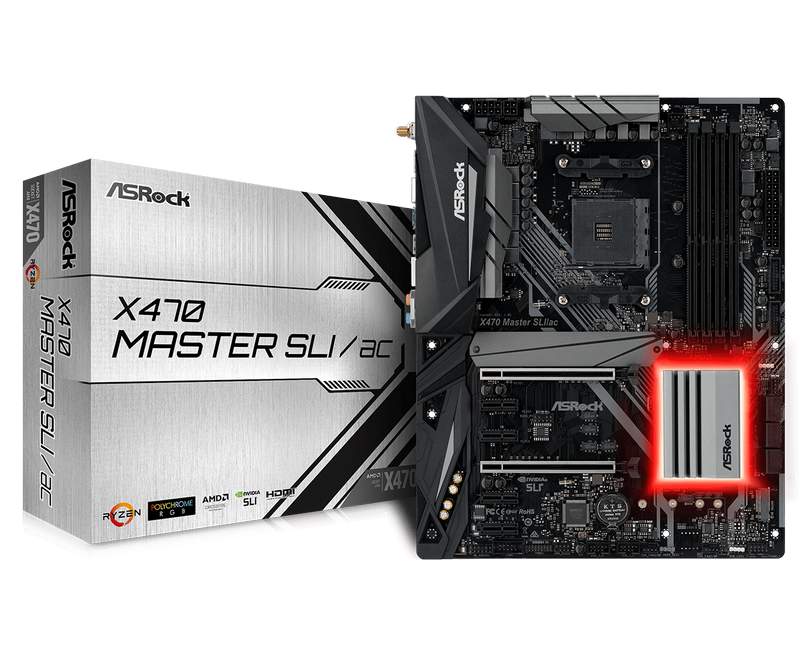 For more information, visit the X470 series product page at: https://www.asrock.com/microsite/AMD400/