ASRock E3V5 WS (Intel C232) Motherboard Review
---
---
---
Bohs Hansen / 8 years ago
Introduction, Specifications, and Packaging
---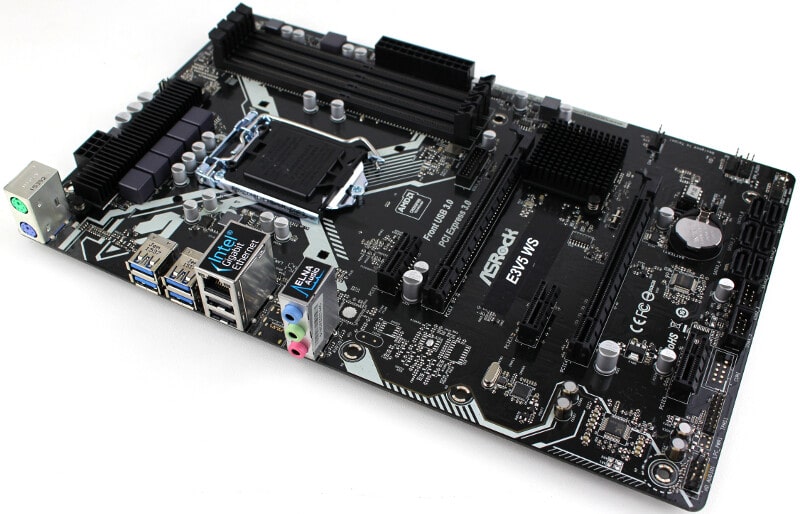 Today's motherboard review lands right in the middle of everything. Not because it's all over the place, but because it has a lot of usage scenarios and support for pretty much any setup. You could use ASRock's E5V5 WS motherboard in a gaming system as well as in a server setup as both of those setups are fully supported, but its real area of operation is to act as the base for a powerful workstation.
The ASRock E5V5 WS uses an LGA 1151 socket and the board is compatible with both E3-1200 v5 processors such as the one I'll be using later on in this review, but it also supports normal 6th Generation Intel Core processors – so basically the entire Skylake and Skylake-S line-up. As backbone behind the CPU that you end up using is the Intel C232 chipset that is perfectly tuned for workstation environments and a motherboard like this. Memory wise you can use normal DDR4 DIMMs as well as ECC UDIMM memory modules with a speed of up to 2133 MHz in the four DIMM slots with 15μ gold contacts for a total of up to 64GB RAM.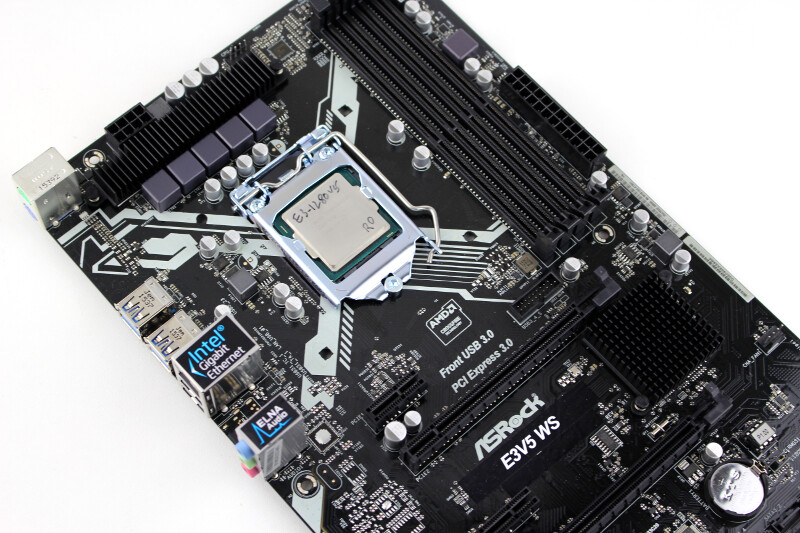 The gold contacts in the memory slots aren't the only quality feature in this motherboard. The E3V5 WS motherboard is part of ASRock's Super Alloy series and comes with premium 50A power chokes and is made of a high-density glass fabric PCB. It also features ASRock's full spike protection that protects from sudden surges, lightning, and electrostatic discharges (ESD).
The network connection isn't controlled by the average low-performance controller either and we find an Intel PHY i219LM controller on this motherboard. The Gigabit Ethernet controller supports Wake-On-LAN, supports 802.3az energy efficient ethernet and PXE. The Ethernet controller is one of the parts that is protected by the Full Spike Protection. The second part with protection is the USB. The ASRock E35 WS features two USB 2.0 ports and four USB 3.0 ports on the rear panel and you can connect another four USB 2.0 and two USB 3.0 ports via headers. All of these are protected by the ASRock Full Spike Protection. The audio is also protected by this and we find a 7.1 channel HD Audio controller, the Realtek ALC892. It features Blu-ray audio support and uses ELNA solid audio capacitors. Last but not least, you also find legacy PS2 connectors for both your mouse and keyboard.

Internally we find good expansion options too. Since we are dealing with an Intel-based motherboard, we also get IRST for RAID setups across the six SATA3 6 Gb/s connectors. Supported modes include the normal RAID 0, 1, 5, and 10 modes.
There are two PCIe Gen3 x16 slots that support both Nvidia Quadro and AMD FirePro workstation graphics cards as well as consumer graphics cards. There is also full support for the use of AMD's CrossfireX technology for multiple graphics card usage. As I mentioned earlier, you can make a great workstation with this motherboard. There are three more PCIe Gen3 x1 slots available for further expansion and neither of them will be blocked by the use of two-slot graphics cards. Even with a CrossfireX setup, you'll still have access to the three x1 slots.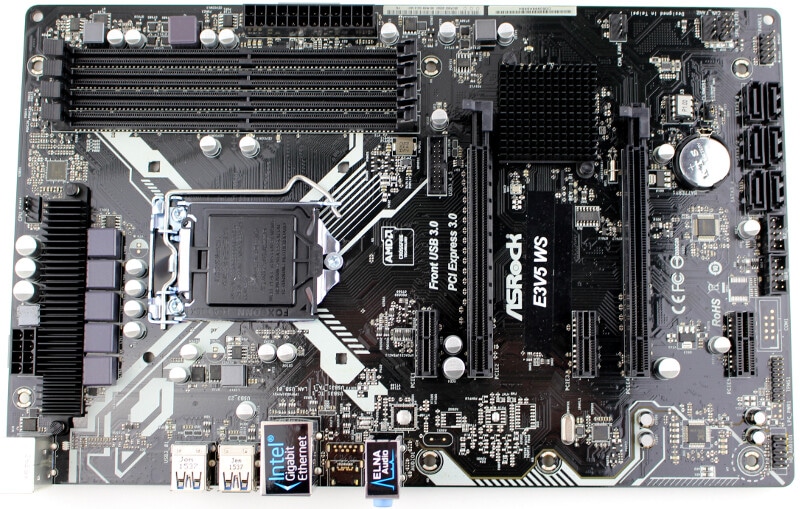 Quality hardware and components are just one side of the story, we also need a good BIOS and proper software to have the best experinece. The E3V5 WS comes with both of those features too. The UEFI BIOS has the easy EZ mode dashboard besides the advanced setup pages, which contains multiple readings of the system's current status. You can check the most crucial information of your system, such as CPU speed, DRAM frequency, SATA information, fan speed, etc.
Even better, you can reach the tech support purely from the systems BIOS, as long as the system has an internet connection. You can also install LAN drivers onto your windows installation directly from the BIOS.
The ASRock OMG (Online Management Guard) technology allows you to establish an internet curfew or restrict internet access at specified times for your kids. Stay in control of their surfing times without yelling. This probably isn't the most used function in a workstation system, but it could be used to shut down any connection attempts outside of office hours. Another useful feature is the USB Key function that can replace the password question when you log into windows. Do it by plugging a USB drive in instead.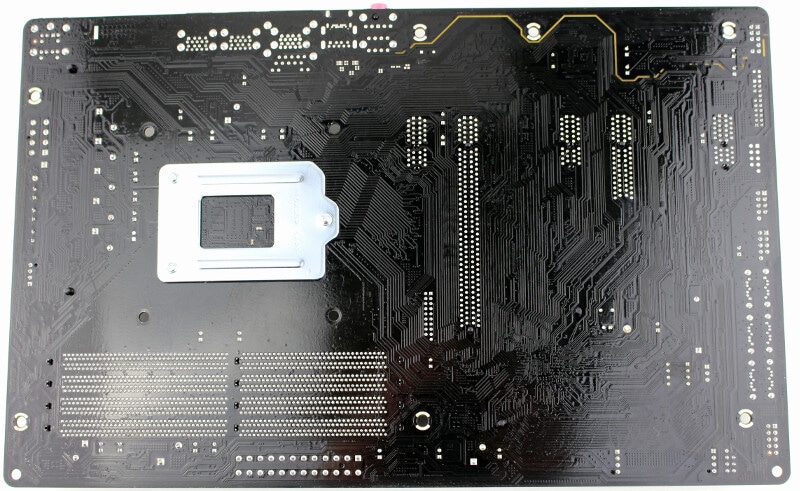 The well-known ASRock XFast RAM and XFast LAN are also built into this motherboard. The XFast RAM feature allows you to fully utilize the memory space that otherwise can't be accessed in 32-bit systems, among others. XFast LAN is a quality of service protocol that prioritizes the important traffic so you don't have to wait for loading times. ASRock Live Update and APP Shop also help to make the maintenance easier.
Specifications
The specifications are taken directly from the manufacturers product page and can as such be subject to changes in future revisions of the product.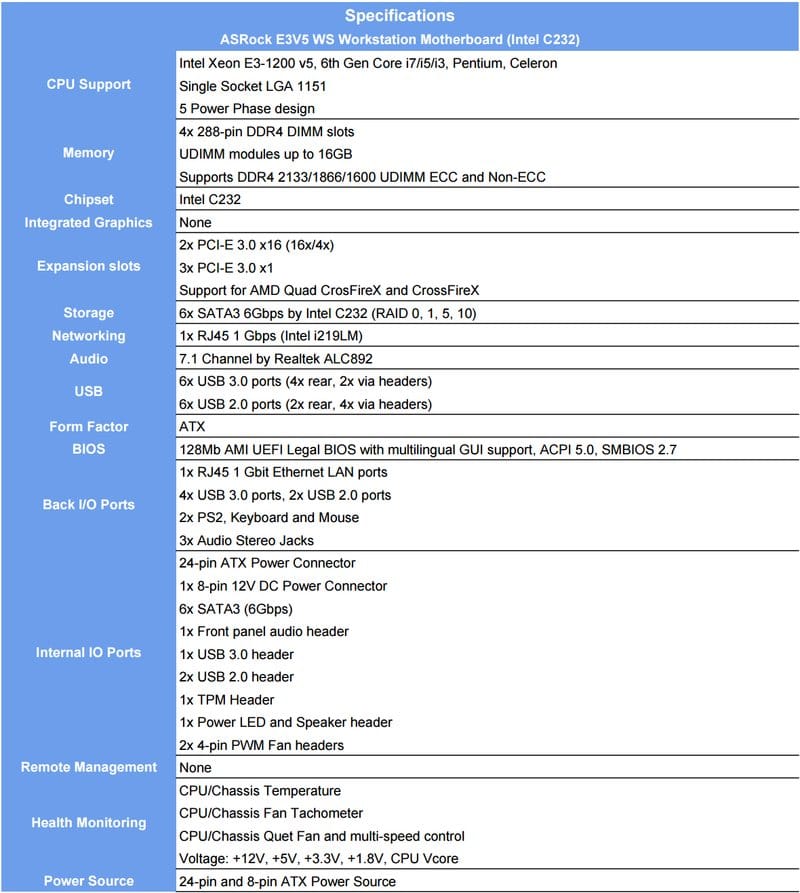 Key Features:
ASRock Super Alloy
Server-Grade LAN chip support
Supports the Intel Xeon E3-1200 v5 Processor & 6th Generation Intel Core Processors (Socket 1151)
Supports DDR4 2133 & ECC UDIMM memory modules
2 PCIe 3.0 x16 and 3 PCIe 3.0 x1
Supports AMD Quad CrossFireX
7.1 CH HD Audio (Realtek ALC892 Audio Codec), ELNA Audio Caps
6 SATA3 and 6 USB 3.0 (2 Front, 4 Rear)
Supports Full Spike Protection, ASRock Live Update & APP Shop
Microsoft Windows 10 64-bit, 8.1 64-bit, 7 32-bit, 7 64-bit, Server 2012 R2 64-bit, Server 2012 64-bit, and Server 2008 R2 64-bit support
Packaging and Accessories
A quality motherboard also deserves a great look package, and the E3V5 WS got that. The front makes no secret about the boards power.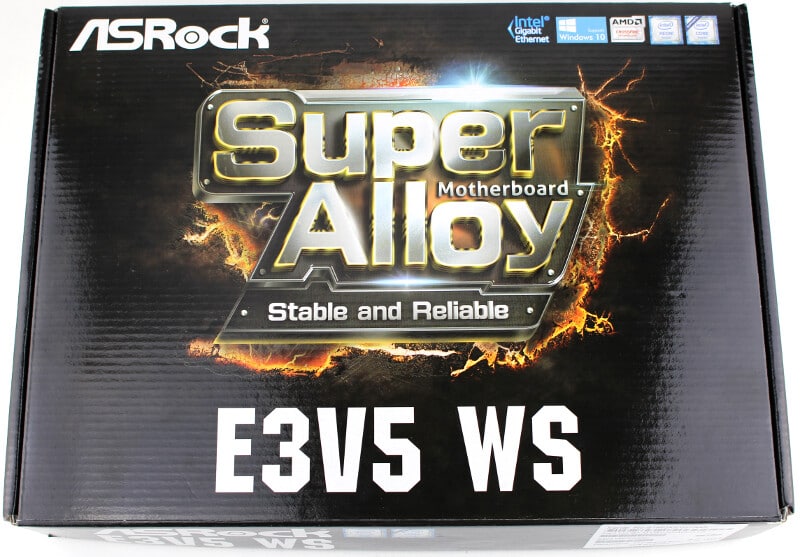 On the rear of the box, you will find a detailed photo of the motherboard itself as well as feature highlights and specifications.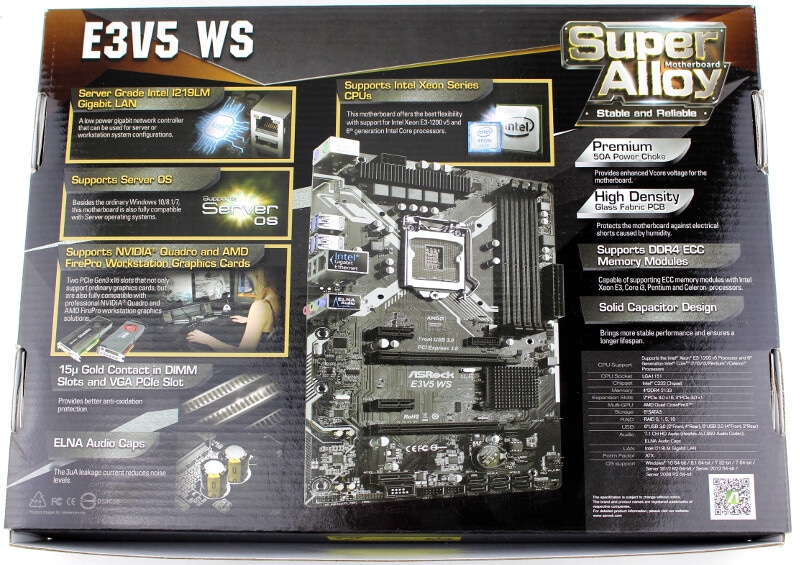 Inside the box is a user manual, a driver disk, two SATA cables, and an IO shield besides the motherboard itself.