ASRock Rack Launched Two New Xeon D Server Motherboards
---
---
---
Bohs Hansen / 7 years ago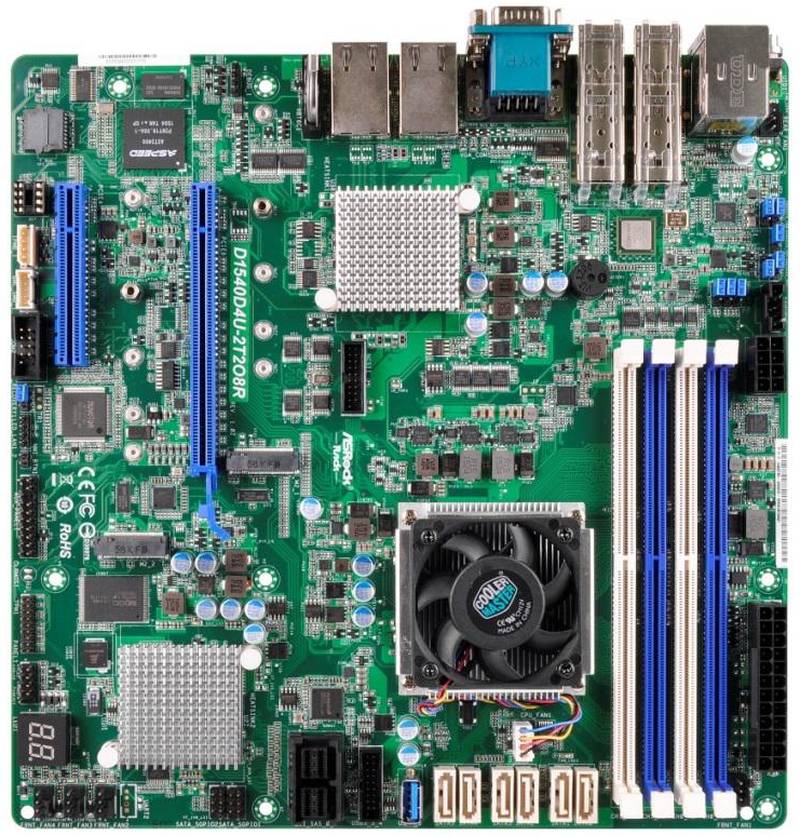 Intel's SoC based Xeon processors bring along amazing performance abilities and features for a SoC system as we've already had the pleasure to see in our motherboard review section. They come with full support for up to 128GB DDR4 ECC memory, impressive IOPS and support 10G Ethernet to bring an incredible value on a small footprint. ASRock Rack is now ready with two motherboards featuring the Intel D1500 series SoC processors, the new D1540D4U-2T2O8R and the D1520D4I, targeting the exponential growth for edge data.
The ASRock Rack D1540D4U-2T2O8R is a microATX motherboard slim enough to fit into 1U chassis and allow for 14 trays of 3.5-inch HDDs at the same time, allowing for an effective system with a low total cost of ownership. It features a D1540 processor and has four DDR4 DIMM slots for easy setups with 128GB ECC memory. You get six SATA3 ports from the SoC as well as eight SAS3 ports from an LSI3008 onboard controller. Besides these more legacy connectors, the board also features two M.2 slots that are perfect for both caching options and the operating system. It also supports up to 40G Ethernet controllers to connect all this raw performance and storage to the rest of the world.
D1540D4U-2T2O8R Highlights
uATX 9.6"x 9.6"
Intel Xeon D1500 Series Processors
Supports dual channel DDR4 2133/1866 ECC DIMM max. 64/64/128 GB
Support 6 SATA3 by D1500+ 8 x SAS3 by LSI3008
Supports 1x PCIe 3.0 x16
Integrated IPMI 2.0 with KVM and dedicated LAN (RTL8211E)
Supports Intel X540+ CS4227 by PCH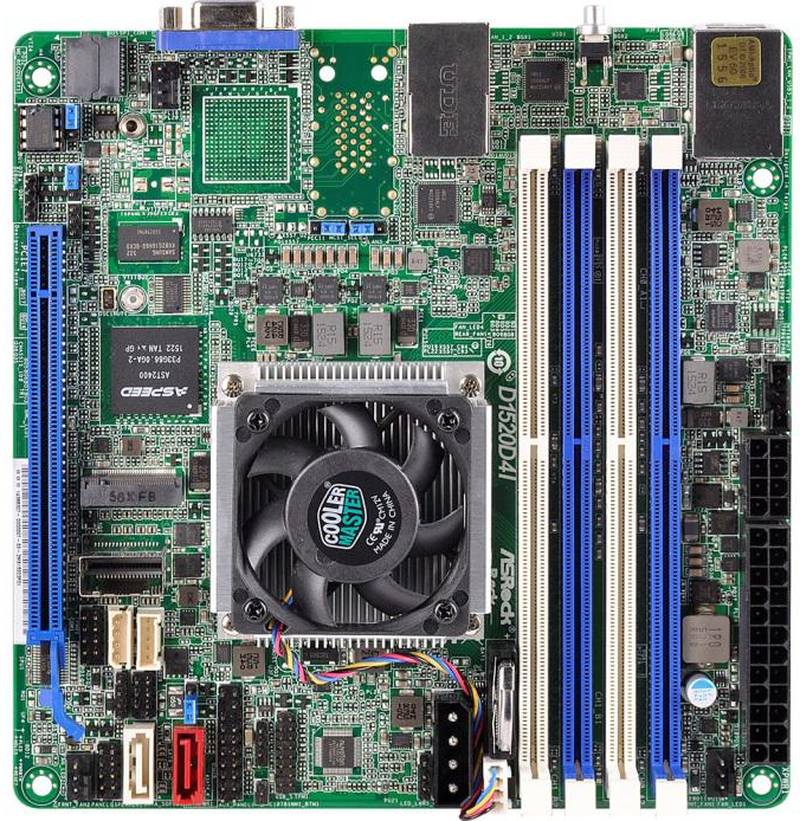 The second motherboard is the D1520D4I and it comes in an mITX form factor with a four-core D1520 processor. Despite the small size, it still features four DDR4 DIMM slots for up to 128GB DDR4 ECC memory. You also get six SATA3 slots, one PCIe 3.0 x16 slot, integrated IPMI 2.0 with dedicated LAN and dual Intel i210 Gigabit Ethernet.
D1520D4I Highlights
Mini-ITX 6.7"x6.7
Intel Xeon D1520 Processor
Supports Dual channel DDR4 2133/1866 R-DIMM max 64/128 GB
Supports 6*SATA3 by D1500
Supports 1* PCIex16
Integrated IPMI 2.0 with KVM and Dedicated LAN (RTL8211E)
Supports Intel i210*2