Astro A40 TR Pro Gaming Headset Review
---
---
---
Peter Donnell / 7 years ago
Introduction
---
We're big fans of Astro here at eTeknix, time and time again they've delivered absolutely jaw dropping products, and for me personally, the best of the best when it comes to gaming headsets. Their latest headset, the Astro A40 TR is their latest and greatest wired headset, while also coming paired with their premium grade MixAmp Pro TR, offering a huge amount of features and performance enhancements that will no doubt please the gaming masses, eSports teams, Twitch streamers and so many others.
"Immerse yourself in Call of Duty: Black Ops III on Xbox One with the new A40 TR + MixAmp Pro TR and the Call of Duty: Black Ops III Mod Kit. We've worked with both professional gamers and top audio designers to deliver pristine Dolby Headphone Surround Sound. Transform the A40 TR Headset from open-back to closed-back in moments with noise-cancelling ear cushions, a voice isolating microphone, and closed-back Speaker Tags. The MixAmp Pro TR takes absolute control, allowing you to adjust your Game:Voice balance, or use the stream output to capture your audio for livestreaming."
To get the full Astro experience, they've been kind enough to supply us with one of their fantastic mod kits too. This is a completely optional addition, but it's a prime example of how you can really make each Astro product your own. You can change backplates on the drivers, have your own made to match your team logos, or pick from the selection available on the Astro site. The Mod Kit goes one further, however, adding a new microphone, head support, ear pads and backplates, giving you a very different look for your headset of choice.
Equipped with the Mix Amp Pro, the Astro A40 TR comes with a vast amount of cool features. You can customise every input every output, the EQ, tweak streaming audio to suit your needs and your audience's needs, and best of all, you can link multiple Astro headsets for high-quality team chat, with zero lag!
"Free ASTRO Command Center software for PC and Mac users allows the customization of every input and output, as well as the creation of your own EQ settings." "Control what your stream audience hears, including chat and game audio levels. Broadcast in 2-channel Dolby Surround Sound." Reads the Astro website. "Faster than the speed of sound, this fully digital connection enables interference and lag-free local voice communications."
With high-quality components throughout, this is certainly a well spec'd headset, let's go take a closer look at what it has to offer.
First, here's Astro to take you through some of the innovative features of the A40 TR, Mix Amp Pro and their new Mod Kits.
The packaging is really nicely designed, with clear images of the headset and mix amp, giving off a nice premium product vibe already.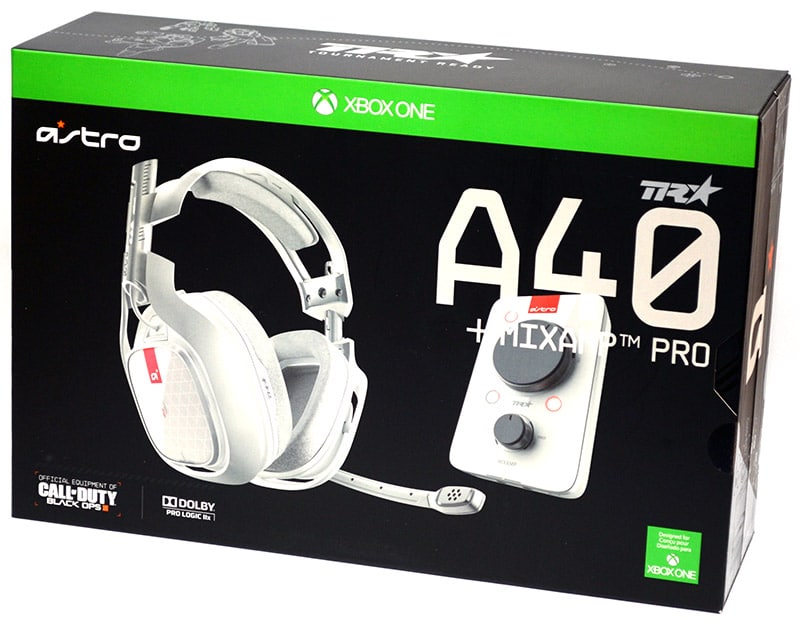 Around the back of the box, a quick breakdown of all the major features and component specifications, but we'll take a closer look at those ourselves in a moment.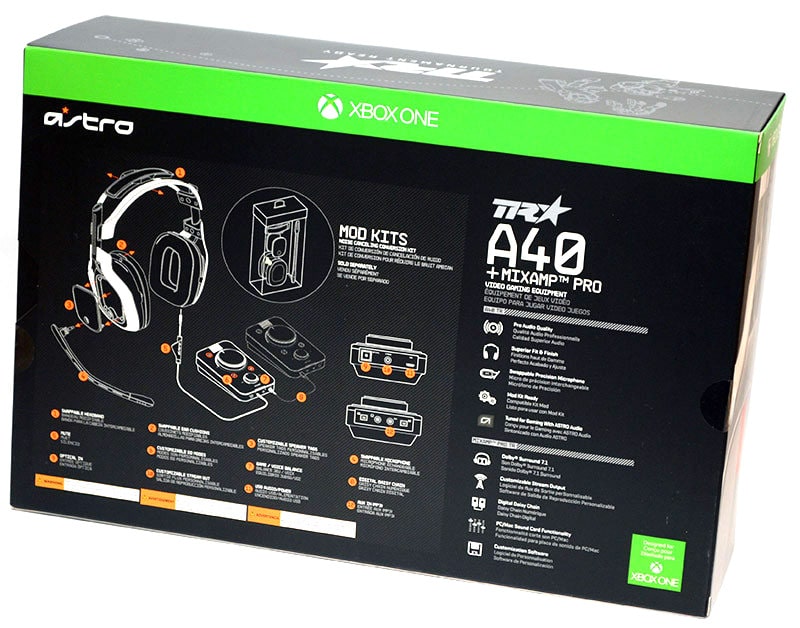 As I said before, Astro also included their completely optional, but seriously cool Mod Kit for the A40 TR. This includes a new headband padding, backplates, microphone and driver padding.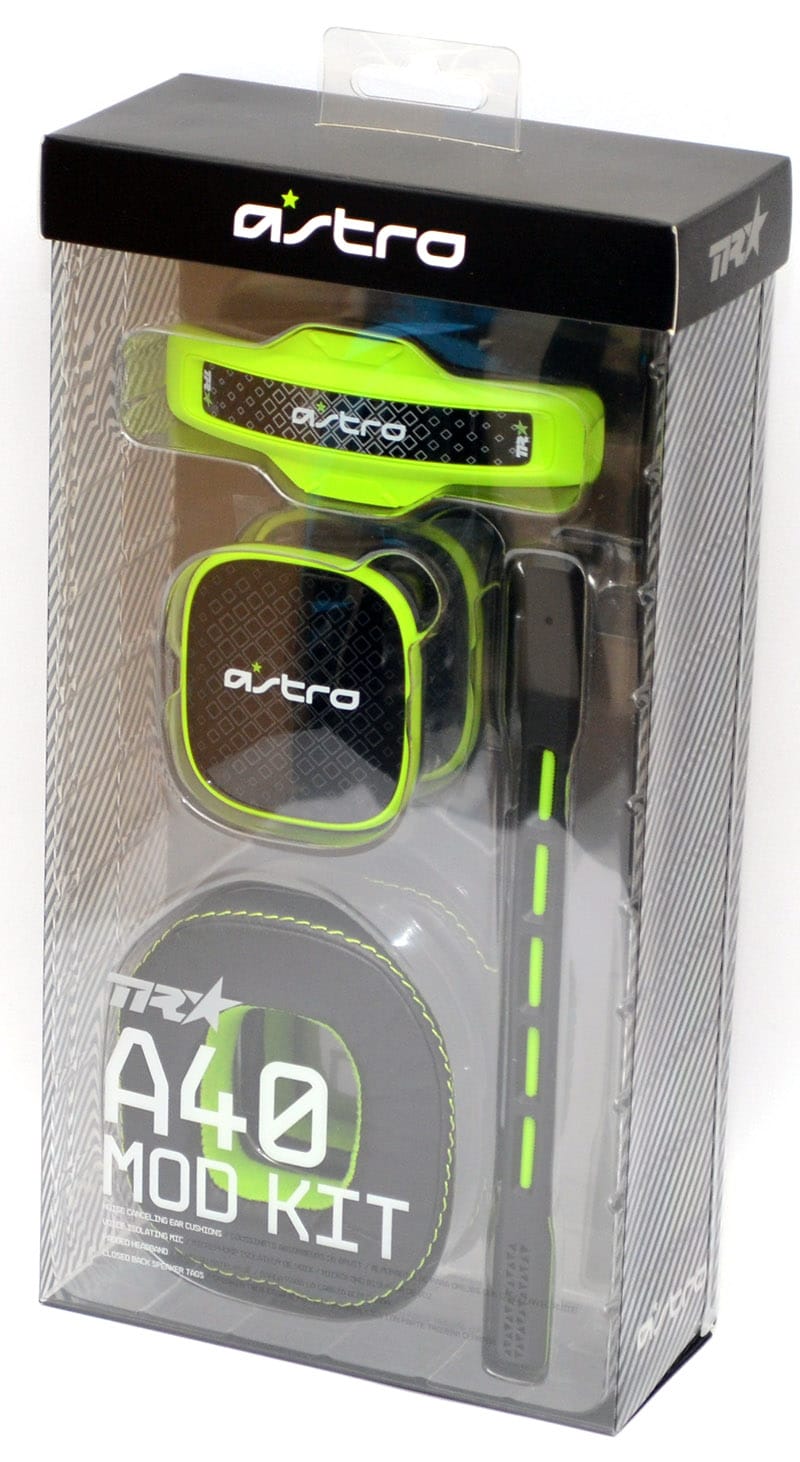 In the box, you'll find all the usual documentation covering warranty and the setup process, although there's also some very handy videos on the Astro YouTube channel for this, which we'll take a look at shortly.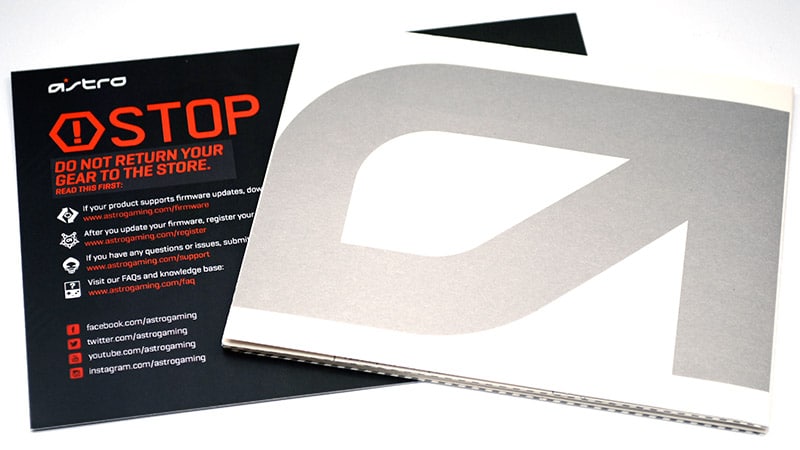 All of the included cables are finished to a high standard, with soft rubber tangle free coatings. There's a long optical cable (TosLink), 4-pole 3.5mm for the headset, with in-line controller, a propriatory link cable for daisy chaining multiple Astro headsets for team chat, and a long USB cable for primary power to the Mix Amp Pro.

There's a fully detachable microphone, with a flexible boom.

It's finished with a very durable metal housing around the gold jack-lug, as well as a metal finish on the head.