ASUS DSL-AC88U AC3100 Modem Router Review
---
---
---
Bohs Hansen / 4 years ago
Introduction
---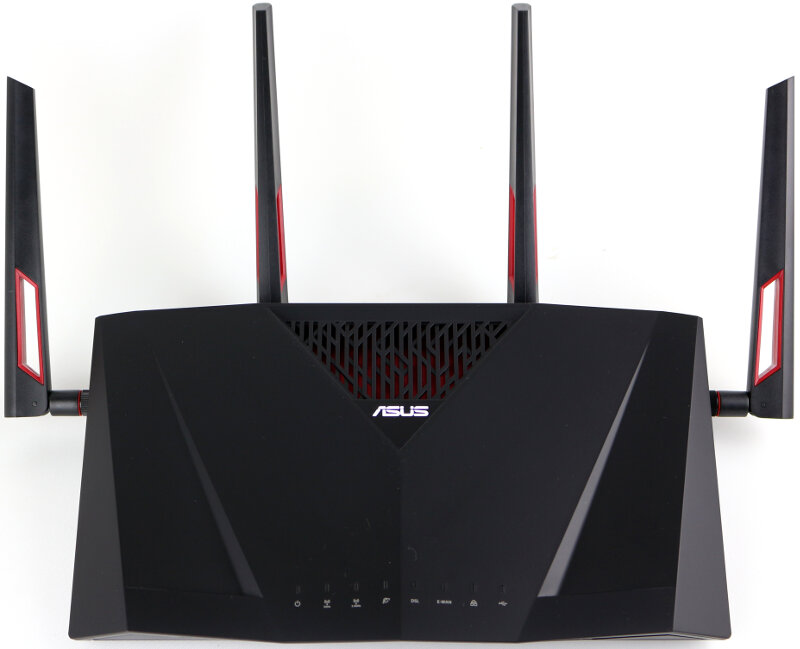 ASUS DSL-AC88U isn't like your everyday router. It sets itself apart with some of the fastest available wireless and internet speeds, multiple ISP connection options, and aggressive design.
Internet Connection Options
This router comes with one of the most impressive internet connection options available. The DSL-AC88U supports the latest G.fast technology which enables a total internet speed up to 900Mbps. It is naturally also compatible with ADSL, ADSL2/2+, VDSL2, and Vplus 35b. With such a complete compatibility, there shouldn't be a lot of ISPs where you can't use it.
But the internet options don't stop here. Users with cable and fibre optical Internet connections will also be able to use it. This kind of setup will require them to keep their modem, but the ASUS DSL-AC88U can easily take care of all the routeing jobs. Other DSL routers support a similar setup, but they share one of the LAN ports. Not so on this router which comes with an extra RJ45 port for the EWAN.
But there's more; we're not through the options yet. You can also attach a USB dongle for 3G and 4G cellular connections to the router.
There aren't just three different options for internet connections on this router; you can use the extra options as a failover protection. It can keep you connected to the internet even if your primary connection fails. You also gain a future-proof device that you won't need to upgrade or replace even if you change the type of your internet connection.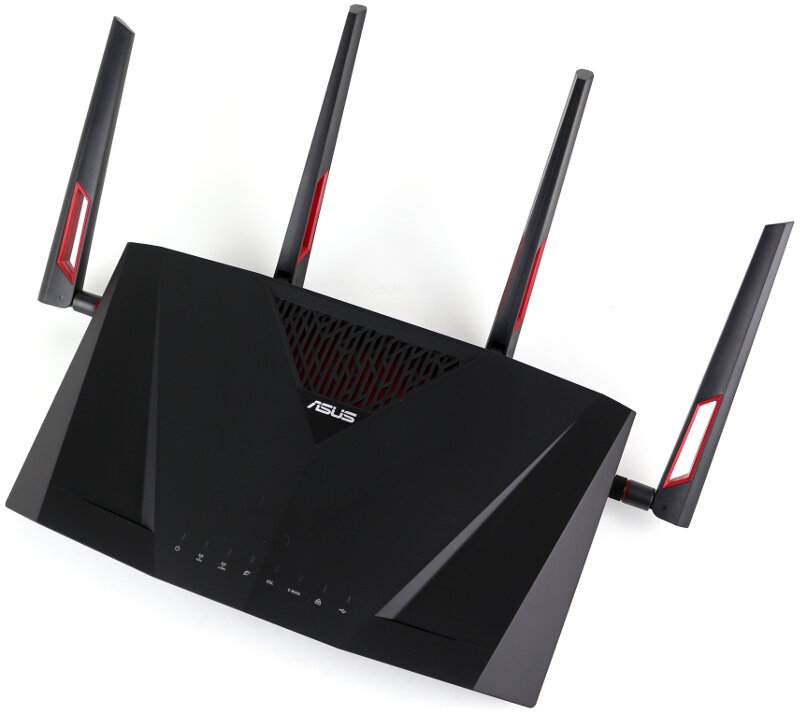 Wireless Networking Abilities
A router needs great internet abilities, and there's no doubt that we have that. As a wireless router, it needs great wireless abilities too. That's a given, and it's also a fact for the DSL-AC88U. The dual-band router can deliver up to 1000 Mbps on the 2.4GHz band and up to 2167 Mbps on the 5GHz band. That is impressive, and it is thanks to the 1024QAM technology. We'll get into a bit more details on this technology on the next page. With such speeds, you can watch 4K UHD streams, live events, game, and stream yourself with ease.
The 5GHz speed of 2167 Mbps is also one of the highest single-band speeds that we've seen so far. The AC rating can be quite confusing as it gives you the total throughput of all available bands. Routers come with 2, 3, and 4 bands these days, so make sure you check the bandwidth details over the AC rating.

Antennas and Coverage
Large homes and offices will love this router as it comes with excellent coverage. The antennas are external and detachable, allowing you to upgrade them or place them remotely with antenna extenders.
The DSL-AC88U features a four-transmit, four-receive (4T4R) antenna design. That doesn't just increase the range abilities; it also improves the signal stability dramatically. ASUS also added their AiRadar beamforming technology which focuses Wi-Fi signal towards your devices and thereby making your Wi-Fi connection faster, clearer and stronger.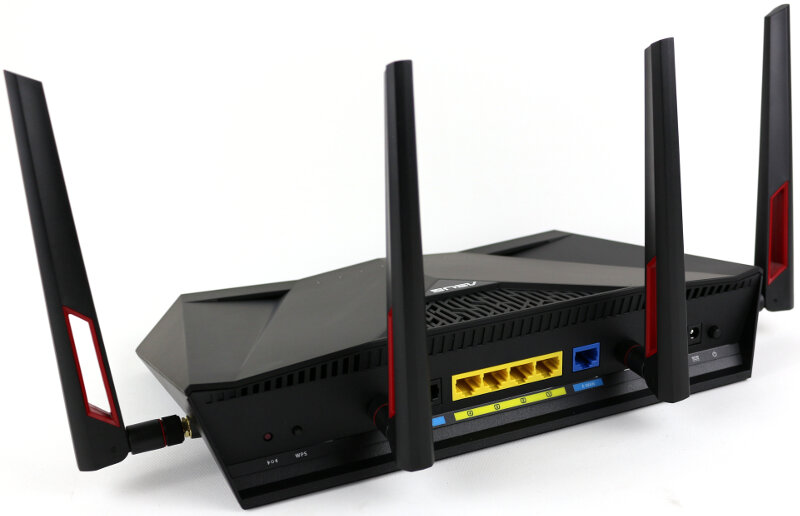 Network and USB Connections
Wireless networking is nice, but it isn't always a substitute for the stability of cables. No router is complete without wired connections, and the DSL-AC88U naturally has them too. You get four Gigabit Ethernet RJ45 ports. You wouldn't lose a LAN port if you chose to use EWAN as it comes with a dedicated port for this.
Everything has USB ports these days, and so do routers. On this device, you get a single USB 2.0 and a single USB 3.0 port. You can use these ports for file sharing from portable USB drives, or they can turn your USB printer into a network printer. As previously mentioned, you can also use them to connect a 3G/4G cellular dongle.

Other Features
The ASUSWRT firmware comes with all the basic features you expect in a router. It includes DHCP server, firewall/NAT, DynDNS, and Quality of Service (QoS). It also supports the setup of a VPN server (PPT/Open VPN), and it can run as a VPN client too (PPTP/L2TP/Open VPN). IPTV (VDSL/ADSL WAN) isn't a problem for this router either, and it also comes with a DSL feedback mechanism.