Asus GeForce GTX 650 Ti Boost OC Edition 2GB Graphics Card
---
---
---
Andy Ruffell / 10 years ago
There are various areas that a graphics card product can be aimed at, and this includes the budget segment, mid-range and high-end, but we also have to look at the offerings that give fantastic performance for a great price, no matter whether they are the best performer or a run-of-the-mill card. The 650 Ti Boost from Nvidia is aimed at that segment, by wanting to offer up 1080p rich quality with high graphical settings, and still letting the user witness admirable frame rates. In Nvidia's eyes, the 650 series of cards was planned to be the "gateway" for gamers, as it was meant to allow them to experience 1080p gaming for the first time but sadly there was something lacking and is was the raw compute power of the core.
Recently we saw AMD releasing their 7790 "Bonaire" graphics card to rival the original GTX 650 graphics card, but with a refresh offering more performance and some newer Nvidia technology, that we've seen lately applied to the GTX Titan, do Nvidia have the card they originally wanted in their 650 series lineup? The specs seem to suggest that it does with 768 CUDA cores, and a 192-bit memory interface, with our particular review today focussing on a 2GB overclock model. The stock 980MHz base clock gives a 5% increase over the original GTX 650 Ti and we see a higher texture fill rate of 62.7 Gigatexels/sec.
The Asus model we are looking at today however, is an OC edition, meaning that we have an even higher clock that surpasses the reference speeds, and includes their patented DirectCU II cooling solution which has given us some amazing results in the past. Lets see if the new GTX 650 Ti can outperform the AMD Radeon HD 7790 and if adding the new technology and improved performance really does make a difference.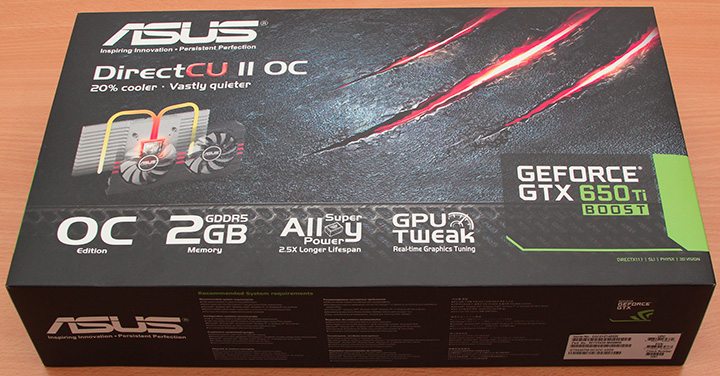 Within the box we find the standard array of included accessories with a speed setup guide, VGA/DVI adapter and twin Molex to 6-pin PCI-Express power adapter. No driver CD came bundled with our sample, but this may not reflect the final retail product, but we would always advise to get the latest drivers from the Nvidia website to stay up-to-date.