ASUS PCE-AC88 AC3100 PCIe Adapter Review
---
---
---
Bohs Hansen / 5 years ago
Introduction
---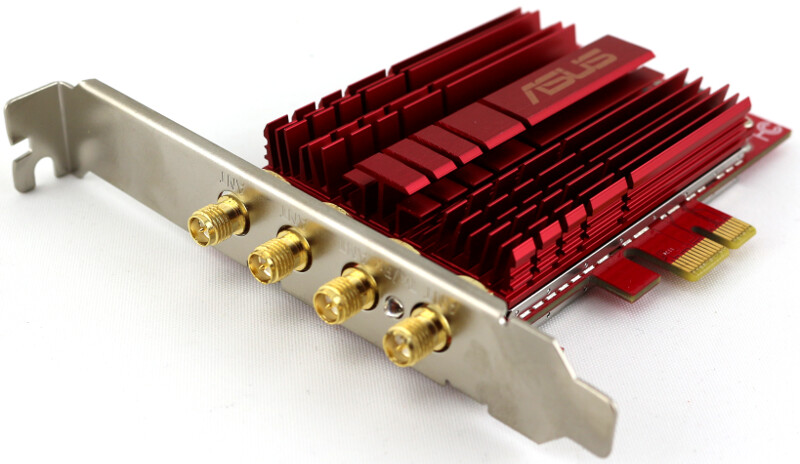 The wireless network speeds seemed like they were standing still for a while through the AC1200 and AC1900 times, but lucky for all of us, those times are gone and we've arrived at the AC3000 times. To use the newer and faster speeds, we also need new Wireless network cards and routers. Today I'm testing ASUS' latest PCIe adapter, the PCE-AC88 which is an AC3100 adapter with a total bandwidth capability of 3167 Mbps.
The ASUS PCE-AC88 is a dual-band AC3100 4×4 Wi-Fi PCI Express adapter for desktop PCs and since that name is way too long to keep repeating, I'll just call it the PCE-AC88 from now on. With its NitroQAM (1024-QAM) technology, it can deliver combined wireless speeds of up to 2167Mbps on the 5GHz band and 1000Mbps on the 2.4GHz band. That is up to 60% faster than 3×3 adapters and should ensure smooth high-resolution streaming and low-latency online gaming. This is also the first 4×4 802.11ac PCIe adapter to arrive on the market, giving you improved Wi-Fi reception, especially when paired with a 4×4 router.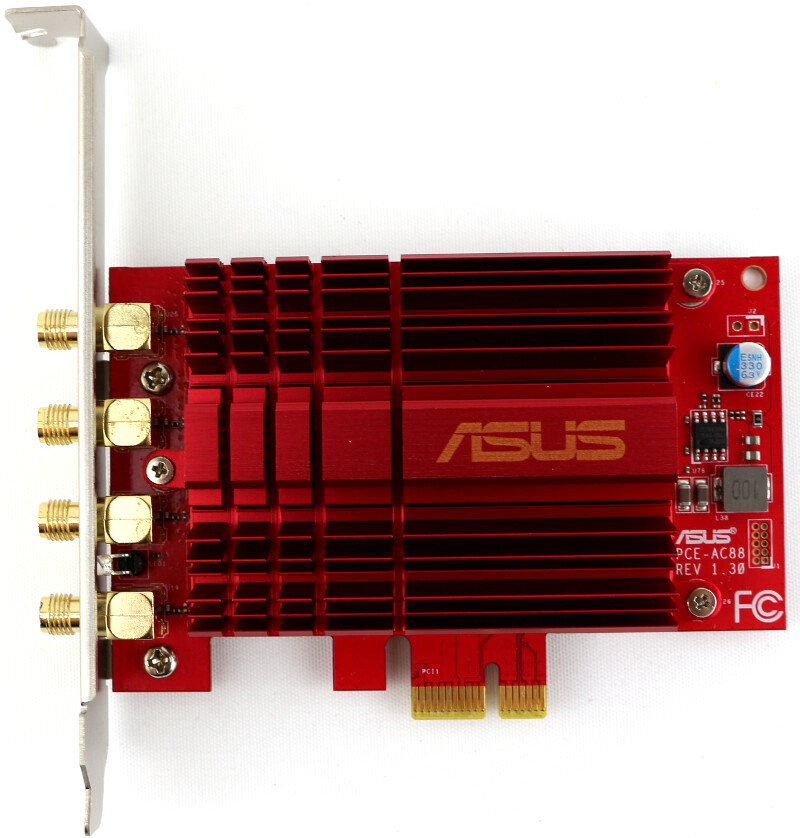 With the four-antenna design for transmitting and receiving, both the Wi-Fi range and the signal strength are improved dramatically for an even better, faster, and stronger wireless network connection. The best results will naturally be achieved when used in combination with a 4×4 router or access point, but it will still perform great when combined with a traditional 3×3 setup.
The PCE-AC88 comes with four dipole antennas included and you can mount them directly onto the card too if you want to, but that's not the smartest setup in most cases. Having the antennas on the rear of your system and maybe even tucked away under your desk isn't the best solution. The more things in the way of your signals, the worse the reception. Not so with the PCE-AC88 as it comes with an included antenna base for remote placement of the antennas.
The antenna base has fixed cables that you can run to the add-in card itself and then place horizontal or vertical on suited surfaces. It is magnetic, so you could, for example, place it on the side of your chassis. You can also easily mount in on the wall simply by hanging it on a nail, or you could put it on top of a shelve. The only limitation is the length of the cable and the distance to the system.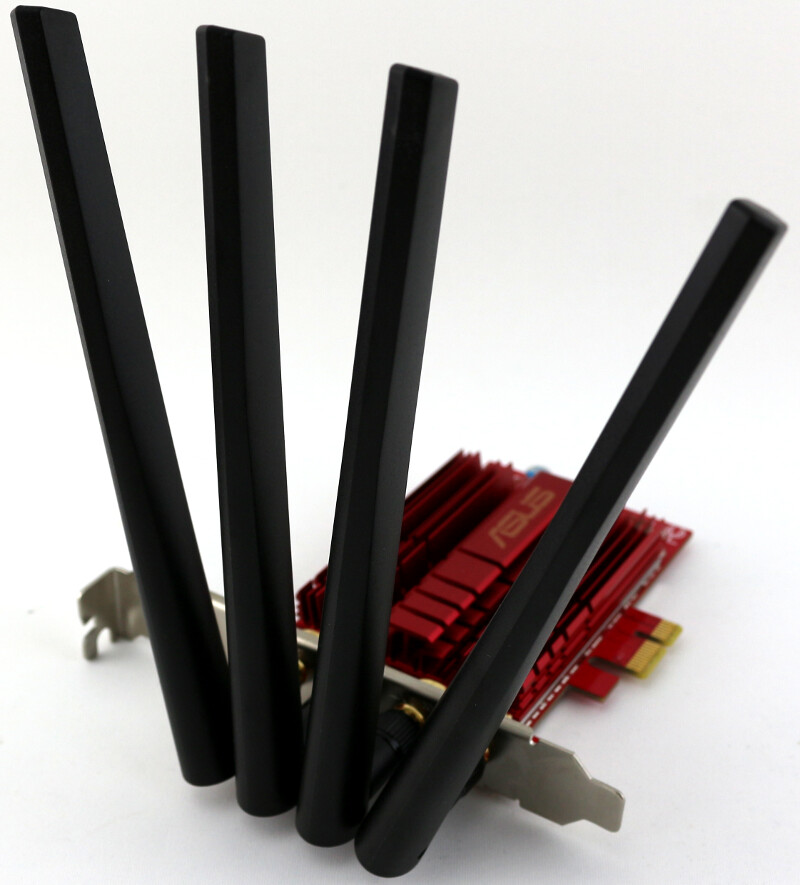 It can easily get hot inside of a system, especially for an add-in card that might be wedged between two hot running graphics cards. To make sure that the card runs great in all setups, ASUS equipped the PCE-AC88 with a large and stylish custom heatsink. It gives the card an improved stability and reliability for connections when running bandwidth-intensive network tasks in hot environments and it also gives the system some extra style over a bare-looking PCB.
Despite all the features, both the heatsink and four antenna mounts, the PCE-AC88 is still small enough to be used in small form factor systems (SFF). It comes with an included SFF bracket that will make it compatible with those smaller systems too.
Feature Highlights
Instantly upgrade your desktop to dual-band 4×4 AC3100 Wi-Fi with speeds up to 2100Mbps (5GHz band) and 1000Mbps (2.4GHz band).
60% faster Wi-Fi with better coverage than 3×3 AC adapters.
External magnetic antenna base allows flexible antenna placement for the best reception.
Custom heatsink ensures non-stop operation for improved stability and reliability.
Specifications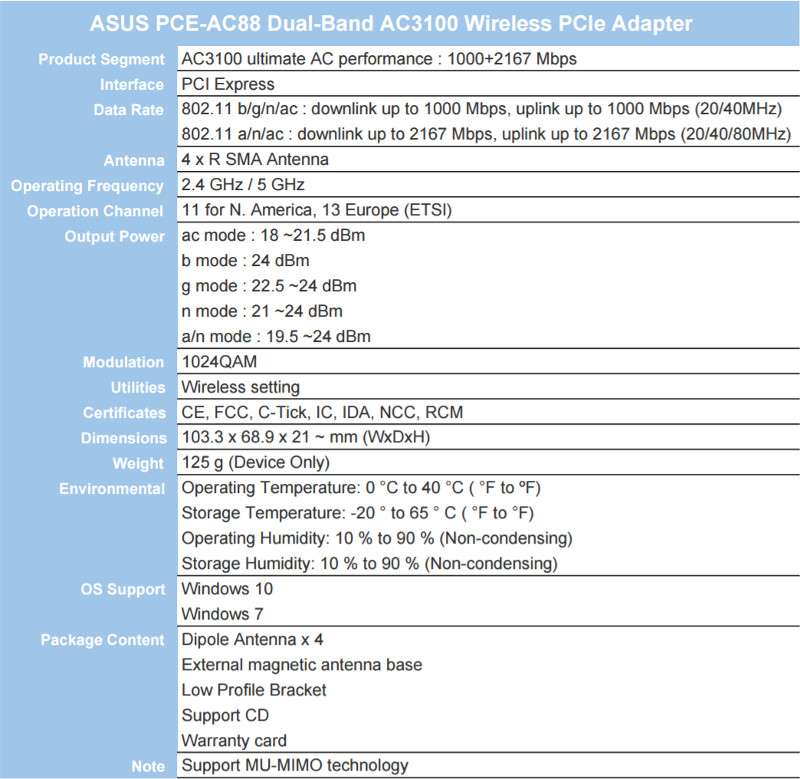 Packaging
We can instantly see that it is an ASUS product on the package, it's their classic design that makes it easy to recognize. The front has all the important features mentioned and the included antenna base is showcased through a transparent part.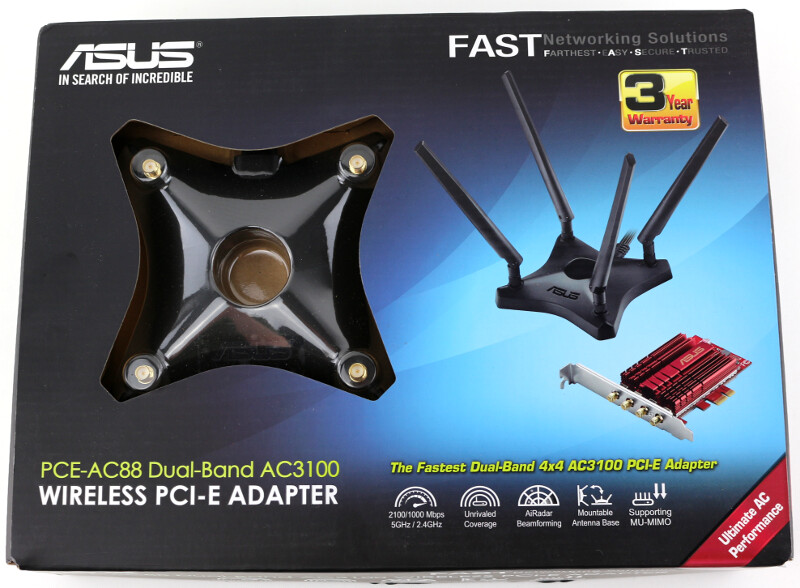 The rear of the box explains everything in more detail, the performance abilities, features, and comparison to other network standards.