ASUS ProArt B550-Creator Motherboard Announced
---
---
---
Peter Donnell / 1 year ago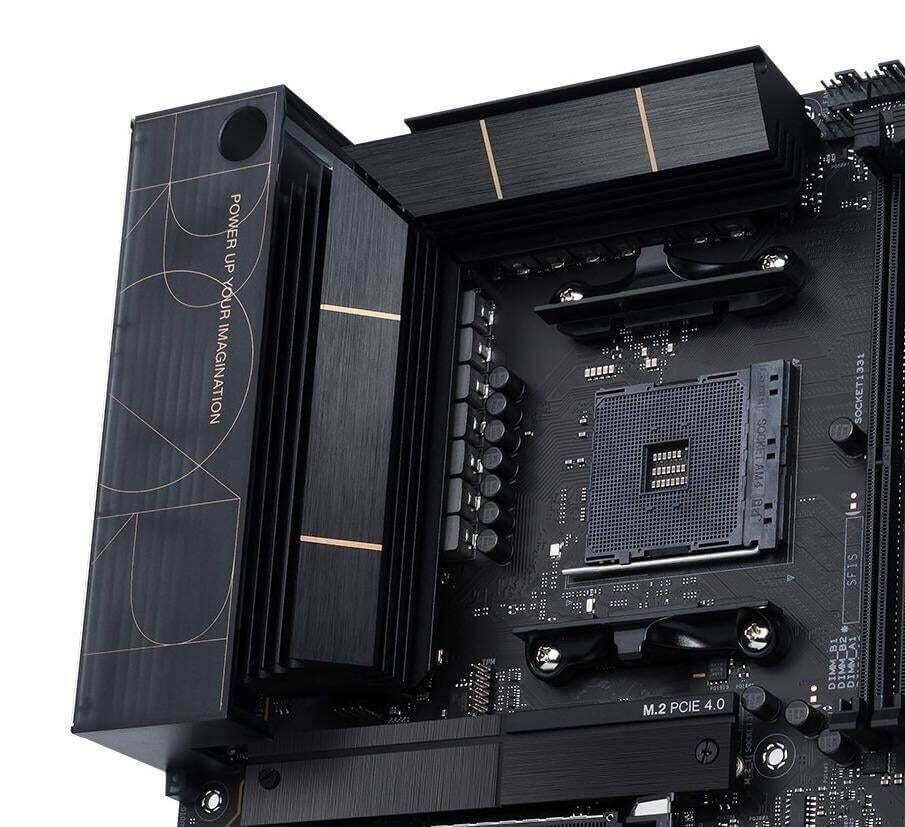 The latest motherboard from ASUS is certainly one that's gotten me excited, and rightly so. The ASUS ProArt B550-Creator Motherboard not only looks fantastic with its modern design, but it's also very well equipped, so don't let the B-Series aspect fool you.
It features the latest ultra-fast USB and Thunderbolt 4 connectivity. That actually makes it the first AM4 motherboard to feature Thunderbolt 4 without the use of an add-on card. Furthermore, it features dual 2.5 Gbps LAN, dual M.2 mounts, both of which feature their own built-in heatsinks, and ASUS M.2 Q-Latch technology; no more tiny screws! The board comes with support for both the Ryzen 3000 and 4000 series out-of-the-box.
ProART
The B550-Creator is certainly stylish, with a mostly black design giving way to some stunning gold accents. However, it's not all show and no go, as the board is packing some decent hardware too. Featuring teamed power stages comprised of a 12+2 VRM design and ProCool II power connectors, you can feel confident in the power delivery of the B550-Creator. The VRM is kept cool by two large VRM multi finned/ridged heatsinks that feature a dual contact design.
This design ensures thermal dissipation of the power stages as well as the inductors. Stack cool 3+ PCB design further aids in PCB temperature reduction and as always ASUS offers extensive VRM operating options that allow for tuning the VRM for maximum current performance or more balanced loading for improved thermals.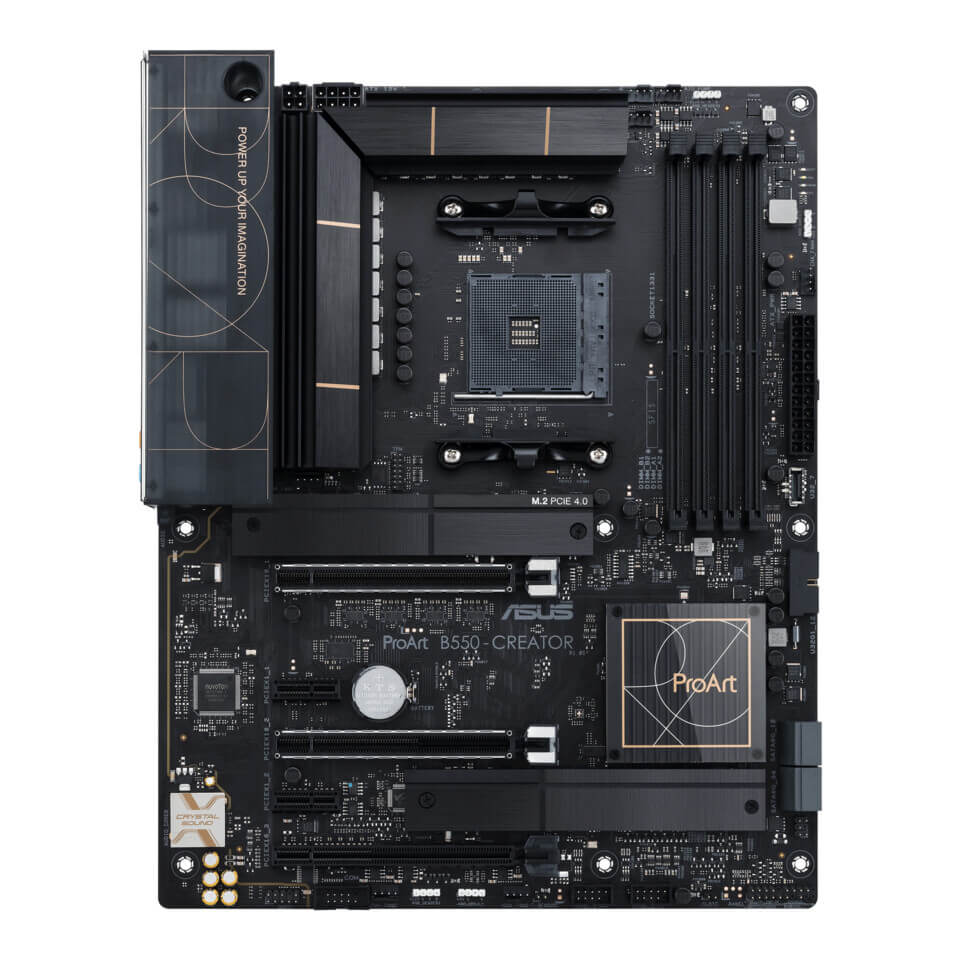 ASUS CrystalSound 3.0 and Two Way Ai Noise Canceling
The B550-Creator benefits from an isolated audio codec, the ALC 1220A featuring shielding, audio-grade capacitors, and an integrated amplifier. Whether listening to music, watching movies/videos, or listening back to content during workflow production you can enjoy a high-quality audio experience.
In addition, take advantage of ASUS AiNoise canceling which can help to considerbly improve audio quality by filtering out noises and distractions whether it be on your mic or incoming audio.
Leading ASUS memory (DRAM) interoperability and compatibility
With support for up to 128 GB as well as ASUS's exclusive DOCP XMP profile feature, you have extensive support for varied DDR densities and speeds.
ProArt Creator Hub
The creator hub offers a clean and modern UI for monitoring and management while also offering integration for calibration with ASUS ProART monitors. Furthermore, it simplifies workflows with convenient features like Task Grouping. Assign multiple apps to a group and launch them simultaneously.
ASUS Control Center Express
Remotely have access to your systems operating status, great for seeing if your system is still working on a project i.e a long export/render or batch conversion/compile. Check hardware operating values and even receive notifications.
Extensive testing
ProArt boards going through extensive validation during design and development including testing uptime for 168 hours at 45c and 80% relative humidity
Convient hardware designs
The creator comes with ASUS innovations like a pre-mounted IO shield not only making installation easier but also enhancing EMI protection.
ASUS M.2 Q-Latch for simple and tool-free M.2 installation.
QLED for quick visual POST troubleshooting of the CPU, DRAM, Graphics Card, or Boot Device.
ASUS LANGUARD significantly improves ESD and Surge protection by utilizing improved components alongside SMT PCB production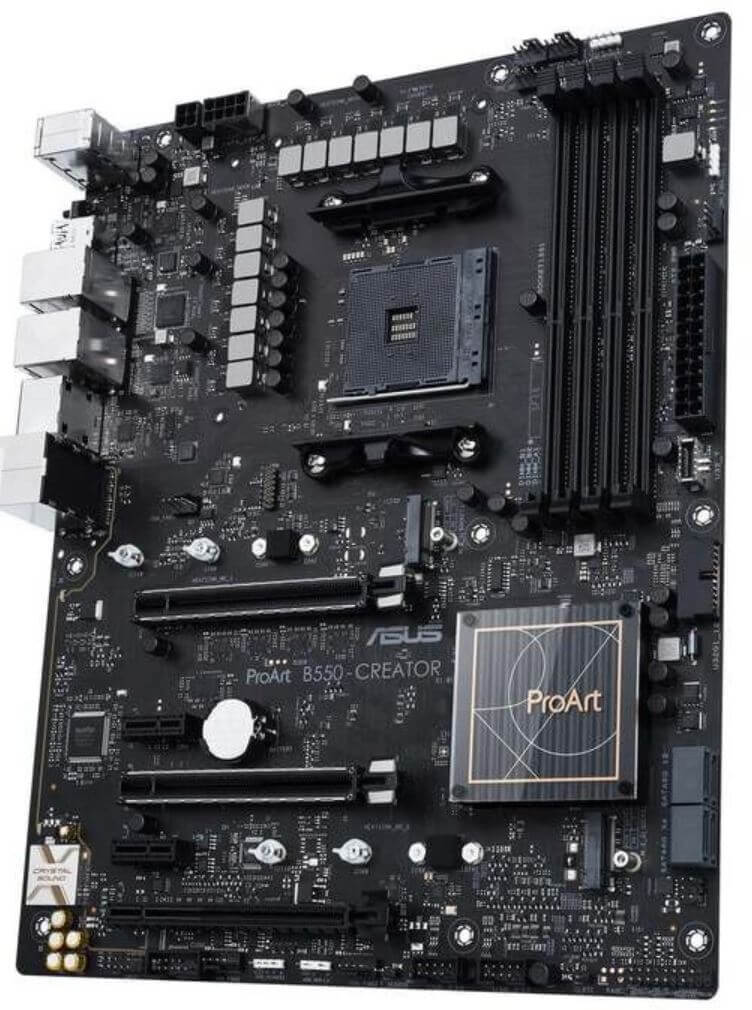 Pricing & Availability
The ASUS ProArt B550-Creator will be available next month for 299.99 USD. That's not exactly cheap, but keep in mind you're having to pay a premium for the Thunderbolt 4 hardware, and I suspect we'll see a more affordable version without it at some point. For content creators, however, this is a board you'll really want to watch out for.