Asus Radeon HD 7790 Graphics Card Review
---
---
---
Chris Hadley / 10 years ago

Having looked at a number of choices for the 7790 from MSI, Sapphire and Club3D, its time to see what is on offer from Asus and when we mention Asus, what comes to mind is DirectCU. We've seen some manufacturers use their own design of coolers across their own product ranges, but no-one it seems has been more successful at this over Asus. Bar only minor design tweaks to cater for different cards, the DirectCU II coolers inherently all look pretty much a part of the same family, each shrouded by the iconic black metal frame and three red stripes that run along the breadth of the cooler.
So what sets DirectCU apart from the competition ? Well we've found time and time again that they are some of the most efficient when it comes to cooling, especially on the acoustics front, with the top four spots on the charts taken up by a cooler of this design. This naturally gives this cooler a chance to join that group. On the basis of Bonaire, we've seen some impressive results to date and knowing that Asus don't like to displease their huge following of users, I'm sure there is going to be something special hidden somewhere inside this card.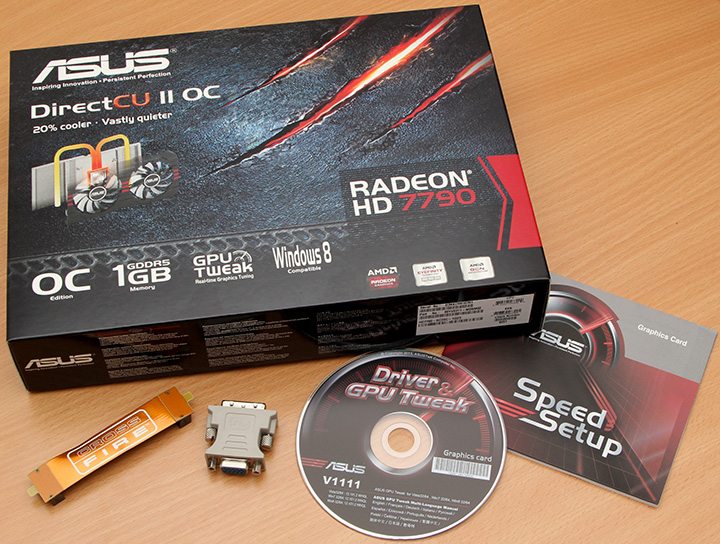 In a standard Asus fashion, we find the box decorated with an artistic breakdown of the cooler and the moniker three claw slashes that run to the top right hand corner. Inside we also find a standard accessory set that includes a legacy display adaptor, CrossFire bridge, driver CD with GPU Tweak and a setup guide.